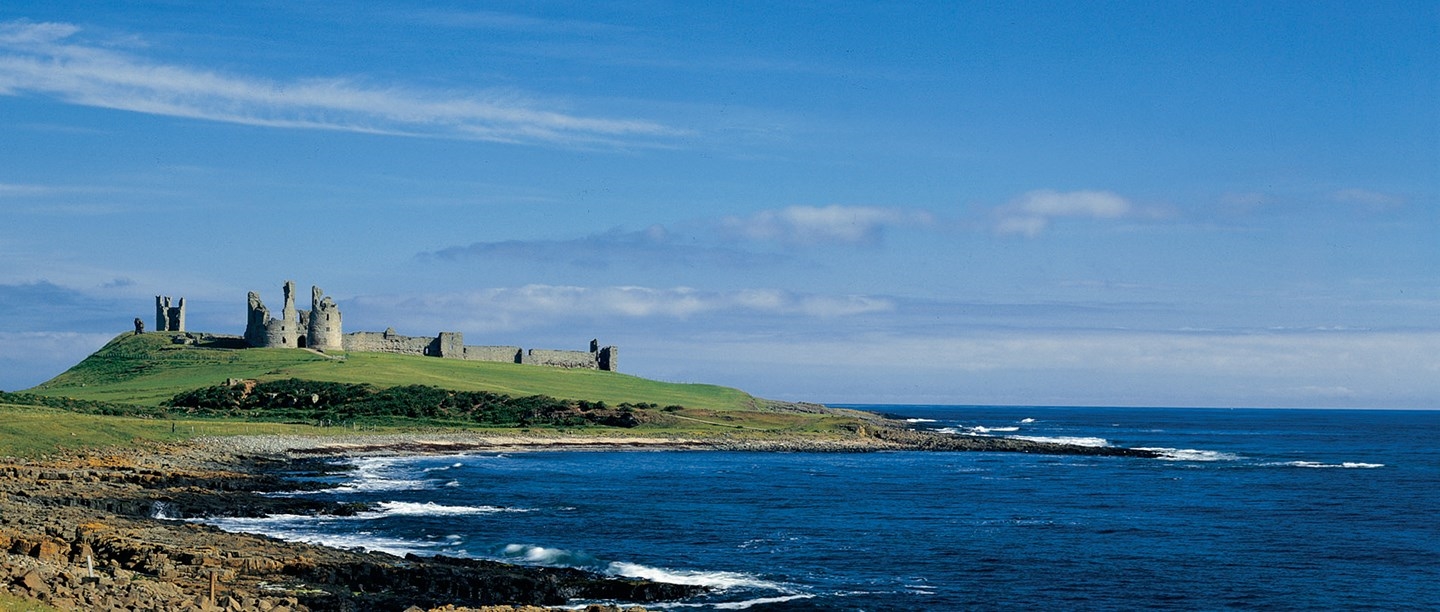 A Weekend on the Northumberland Coast
Why visit the Northumberland Coast?
The Northumberland coast is a place to feel close to nature and our ancestors. The seas, skies and ruins evoke a connection between the present day and life thousands of years ago which is almost impossible to ignore and easy to immerse yourself in for a weekend.
The stretch of coastline between Berwick upon Tweed and Warkworth is designated as an Area of Outstanding Natural Beauty with tranquil islands, wide beaches, marshes and saltflats, coves and cliffs to explore.
For over a thousand years, pilgrims have been drawn to the Holy Island of Lindisfarne. Back on the mainland there are castles, gardens, fishing ports - plus three long distance walking trails (the Northumberland Coast Path, St Oswald's and St Cuthbert's Way) to try and a stretch of two cycle routes - the North Sea Cycle Route and Coast and Castles South to sample.
Inland and closer to Newcastle, Belsay Hall, Castle and Gardens have extensive and unusual Grade 1 listed gardens (which have their own microclimate), a medieval castle and a Grecian-style Hall that showcases some incredible local craftmanship.
Things to do on the Northumberland Coast
Place(s) To Stay
Key:
Multiple places
Place
Castle
Other
Day 1: Explore the Islands
LINDISFARNE AND THE FARNE ISLANDS
Holy Island has drawn visitors for over 13 centuries - and still retains powerful memories of monks and saints of Anglo Saxon and medieval Northumbria. While the ruins retain a sense of peace, it's easy to imagine sails on the horizon and the terror of Viking raids.
It's a tidal island, cut off from the mainland twice a day - so make sure you check the tide times before planning your day. The Lindisfarne Priory was founded St Aidan in AD 635, but the most celebrated of the island's holy men was St Cuthbert. There's a long distance coastal walk named for him, but we'd suggest following in his wake today to the nearby Farne Islands where he sought solitude in his last years. Lindisfarne Castle punctuates the otherwise almost uninterrupted views of sea and sky.
Boats to the Farne Islands sail from the busy little port of Seahouses, about half an hour's drive south of Lindisfarne. Puffins, grey seals, arctic terns and eider ducks are just some of the species of wildlife you can see. To see breeding seabirds, it's best to visit between May and late July. While you're in Seahouses, there's excellent rockpooling, fish from the oldest smokehouse in the region and the RNLI lifeboat station to visit.
Day 2: Castles and Coastline
MIGHTY FORTRESSES IN OUTSTANDING LANDSCAPES
Warkworth Castle is among the biggest, strongest and most impressive medieval fortresses in northern England. It was the favourite home of the Percy family - the earls of Northumberland - and is a favourite with visitors today for its Great Tower and atmospheric riverside 'Hermitage'. This is little chapel, is only open on certain days so check before you visit.
The ruins of Dunstanburgh Castle are outstandingly dramatic and are best approached on foot for the biggest impact. You can walk from Craster or Embleton - or even further afield if you're following the Northumberland Coast Path or St Oswalds' Way. Embleton Bay, just below the castle, is a beautifully wide stretch of sandy beach backed by huge dunes. At low tide there are rock pools to explore, and the bay is good for swimming and watersports (including surfing) too.
Where to eat and drink
We asked our site staff and local members for their tips on places in Northumberland to eat and drink, and here's what they suggested. If you find somewhere you want to recommend, let us know on Facebook or Twitter.
On Lindisfarne, try the mead - it's brewed on the island by St Aidan's Winery. It's a blend of honey, fermented grape juice, spirits and locally drawn water - there are three types for you to try.
Lindisfarne oysters can be found in restaurants up and down the coast
Call into Craster and try smoked kippers when you're visiting Dunstanburgh Castle. L.Robson & Sons run the last traditional smokehouse in the village, which is right next to the harbour.
Where to stay
COASTGUARD'S COTTAGE, LINDISFARNE
Stay in serenity at our newest holiday cottage.
Converted with accesibility in mind, the Coastguard's Cottage sleeps 6 and includes a fully accessible en suite bedroom with its own garden terrace overlooking Lindisfarne Castle. Dogs are welcome too.
As Lindisfarne is a tidal island, twice a day you're cut off from the mainland - meaning that you can really experience island life as it has been for thousands of years. By day listen out for the calls of seals and seabirds or go rockpooling and hunting for sea coal.
At night, gaze at the stars and keep watch for the northern lights from September onwards - although Northumberland is outside of the Arctic Circle, there have been spectacular sightings in the last few winters.
Find out more
Getting there and getting around
Whether you explore with or without a car you'll find travelling around Northumberland easy. There are well-thought out local bus and train services making it simple to pick up cycle paths and walking trails.
Newcastle upon Tyne and Edinburgh both have international airports if you're coming from further afield.
Lindisfarne (Holy Island) is approximately 60 miles of scenic countryside north of Newcastle.
BY CAR: You'll find some of the country's most scenic driving along the Northumberland Coastal Route, a 39-mile stretch spanning the coastline, takes in seaside villages like Seahouses and Alnmouth.
BY BUS: The Coast and Castles service X18 runs from Newcastle to Berwick, with extra routes running during summer months and peak times.
BY TRAIN: There are train stations at Berwick-upon-Tweed, Alnmouth, Morpeth and Newcastle upon Tyne on the East Coast mainline.
BY BIKE: Northumberland is criss-crossed with long distance cycle ways, including the Coasts and Castles route.
Find out more about planning your travel to and around Northumberland on the Visit Northumberland website.
Members do more

Delve deeper into the past and enjoy unlimited access to over 400 historic places. Annual membership starts from £48.

Holiday Cottages

Immerse yourself in England's colourful past by staying in one of our unique and historical properties - choose from cosy cottages, gatehouse towers, beachside retreats and more.

Overseas Visitor Pass

If you're visiting from aboard, choose between a 9 or 16 day pass and receive unlimited access to England's greatest historic attractions from just £30

More Travel Guides

Discover more itinerary ideas for weekends away and short breaks in England with our Travel Guides