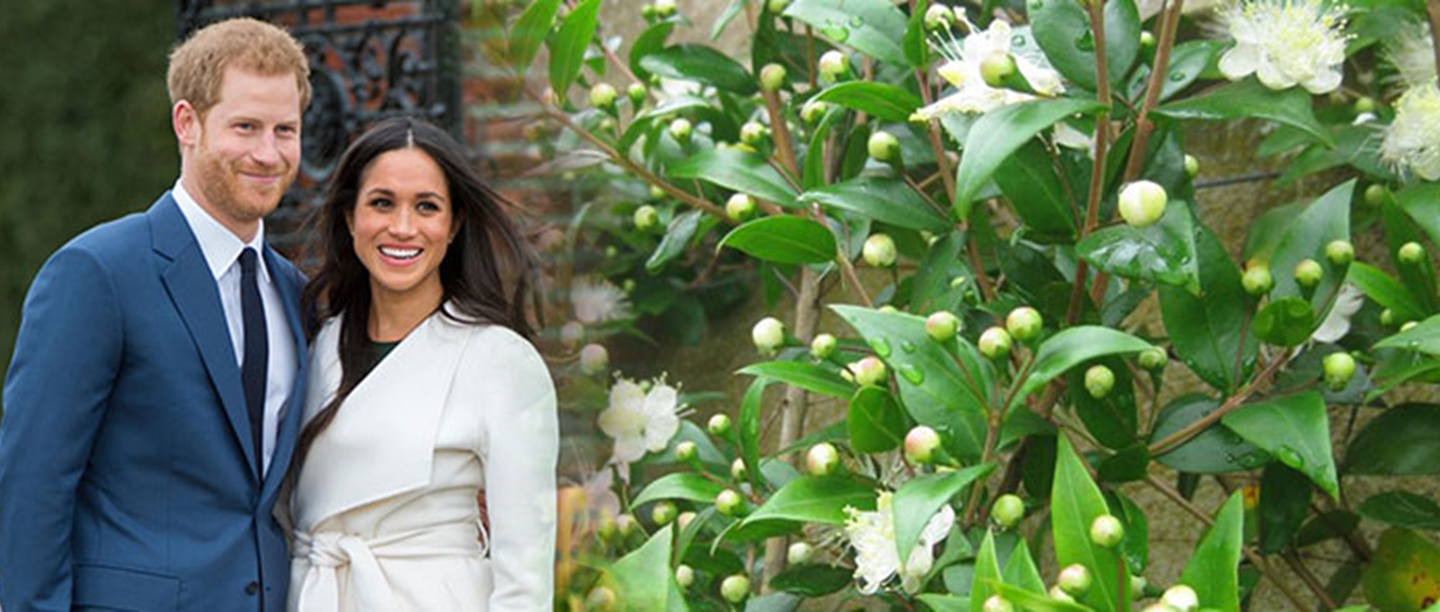 Published: 26 April 2018
Category: History In-depth
Since the reign of Queen Victoria there has been something that ties most English royal weddings together – and we're not talking about a white dress or a handsome groom. Myrtle, a delicate white flower that grows at Osborne, has been the flower of choice for royal brides since the 1850s.
The first known use of Osborne myrtle in a royal bouquet was at the wedding of Victoria and Albert's eldest daughter, also Victoria. Since then, flowers grown from the same plant have featured in the bouquets of several generations of royal brides from Queen Elizabeth II, to Diana, the Duchess of Cambridge, Catherine Middleton, and most recently the Duchess of Sussex, Meghan Markle.
In this blog we investigate the royal tradition and find out why myrtle is a popular choice for brides around the world.
The start of a royal tradition
Myrtle has been grown at Osborne, Queen Victoria's holiday home on the Isle of Wight, for about 170 years. It was originally given to Victoria in a posey by Albert's grandmother in 1845. The descendants of this plant are still in the grounds of the house today.
Osborne's Head Gardener Toby Beasley explains the significance.
'Sprigs from the Osborne plants were traditionally incorporated into royal bridal bouquets. It's a German tradition that signifies the innocence of the bride,' he says.

'The Royal Family's tradition started with Queen Victoria's eldest daughter, Princess Victoria's wedding in 1858, and it seems this continued with Victoria's other children.'
Queen Victoria described Princess Victoria's wedding as the 'second most eventful day in my life'. In fact, rather sentimentally, she wrote in her journal 'I felt almost as if it were I that was being married over again.' On 25 January 1858, Victoria wrote that her daughter's dress 'was of white moire antique, trimmed with 3 flounces of Honiton lace & wreaths & spray of orange flowers & myrtle.'
Victoria makes several subsequent comments about myrtle in her journal. Her youngest daughter Beatrice married in 1885 and Victoria wrote that 'Her dress was quite simple, in ivory white satin, very long, trimmed with my wedding lace, & some small garlands & sprays of orange blossoms, myrtle & white heather.'
Myrtle was even sent to Russia for the royal bouquet of the Grand Duchess Marie, who married Victoria's second son, Alfred, Duke of Edinburgh. In January 1874 the queen 'walked with the 3 Children & went to the garden to see about a sprig of myrtle…being sent to Russia for Marie's bridal nosegay.'
Love, marriage and mythology
It's no wonder myrtle is a favourite at weddings. Myrtle has represented love, fertility and innocence for thousands of years. It was used in Roman wedding rituals, a tradition that originated in ancient Greece. Philosophers like Pliny and Virgil associate it with love, though not always in relation to weddings.
Greeks received wreaths as athletic prizes and wore them at formal events. Some people were even buried wearing them. Often made of gold but resembling myrtle, these wreaths would have been too fragile for everyday use so would have only been worn on special occasions. A myrtle wreath made of gold from 300-30 BC was discovered in 1977 at Vergina.
Myrtle increased in popularity during the 19th century in Germany, and myrtle wreaths worn on the head became the bridal emblem. Hermann Kindt wrote about German wedding traditions in Notes and Queries: A Medium of Inter-Communication in 1868. He explained how the bride was blindfolded in the evening dances after the wedding, with the younger girls dancing around her. When the dancers stopped, the wreath was put on the head of the girl who would marry next – much like our tradition today of throwing the bridal bouquet.
The Victorian language of flowers, known as floriography, also connects myrtle with love and romance. According to floriographies, orange blossom stands for eternal love and purity, so it's often paired with myrtle in bridal bouquets.
Myrtle and the modern wedding
The tradition of Royal brides having myrtle in their bouquets has continued into the 20th century and beyond.
'Queen Elizabeth II definitely did, as did Catherine, Duchess of Cambridge and Meghan, Duchess of Sussex, who is the most recent royal to have some myrtle from Osborne in her bouquet. However, Camilla, Duchess of Cornwall didn't have any Osborne myrtle in her bouquet – instead, she had flowers from Cornwall.'
Myrtle also featured in Diana's iconic bouquet, arranged alongside cascading gardenias, Stephanotis and Lily of the Valley.
Where to find myrtle at Osborne
As well as its use in wedding bouquets, Queen Victoria enjoyed the presence of myrtle in her gardens. In August 1873 she described how she 'walked for some time up & down on the Terrace. The scent of the honeysuckle, magnolias, myrtle & roses, of an evening, is quite delicious. These fine nights, when not a sound is to be heard & all is still, are most enjoyable & peaceful.'
Today at Osborne you can still see the myrtle that started this royal tradition. These days our gardeners train it against the terrace walls. It's also planted near the estate roads and pathways, and it grows in the children's garden at Swiss Cottage.
The best place to see myrtle at Osborne is on the terraces, where it has been grown since 1852. If you walk down to the lower terrace, you'll see myrtle planted against the base of the stairs.
When visiting Osborne, look out for the two small plaques behind the myrtle growing by the wall of Victoria's chapel -now the Terrace Restaurant.
The plaques read: 'This MYRTLE was raised from a sprig cut off the Nosegay presented to THE QUEEN on leaving GOTHA Sept. 3rd, 1845, by H.R.H. the DOWAGER DUCHESS OF SAXE GOTHA and ALTENBURG (Grandmother to H.R.H. the PRINCE CONSORT).
Toby's tips: How to care for your own myrtle
Myrtle has been cultivated in the UK since the 16th century. It's said that it was introduced by Sir Walter Raleigh on his return from Spain in 1585. Today it's available to purchase from nurseries across the UK.
If you're feeling inspired, Osborne's Head Gardener has some top tips for growing your own myrtle, and perhaps start a family tradition of your own.
Get the climate right – Myrtle originates from southern Europe and western Asia where the climate tends to be warm and dry. This sort of climate is probably the most important thing to get right for your myrtle. In the milder parts of the UK it tends to grow well (especially along south and west coastlines) but in colder areas, myrtle will need to be given a warm sheltered spot. This could be against a sunny south-facing wall. If exposed to cold winds the leaves will turn brown, but exposure to a prolonged period of cold can kill myrtle outright.
Use a greenhouse (if you have one) – If you have young plants in pots it would be a good idea to place them inside a greenhouse in very cold weather. Otherwise, you can place them under the eaves of your home where it might be a bit warmer. For myrtle planted in the garden, wrap them in horticultural fleece in cold spells. If you live in a colder area of the UK it's also worth taking cuttings at the end of summer. Myrtle cuttings root very easily and young plants tend to grow quickly.
Consider the soil – Where myrtle grows naturally, the soil will be dry, often stony and free draining. If you have a heavy clay soil that holds on to water for a long time you may have problems. You could try improving this sort of soil by adding sand, grit and organic matter, but if all else fails myrtle will still grow well in pots.
Keep it warm – Once happy, myrtle is an easy plant to look after. It needs a sunny position and on warm sunny days you will smell the scent of aromatic oil given off by the leaves. It will grow to a maximum of 4 to 5 metres if left to its own devices. It should also produce an upright, evergreen, shrubby shape reminiscent of a smaller, more delicate bay (Laurus nobilis). If it sounds like it will be too large for the spot you have in mind, it can be kept in shape by clipping. If you trim your plants you will lose the small black berries the plant often has through the winter, but this may be a small price to pay for a neat and tidy shrub that fits your space.
WHAT CAN HISTORY TEACH US ABOUT THE LANGUAGE OF FLOWERS?