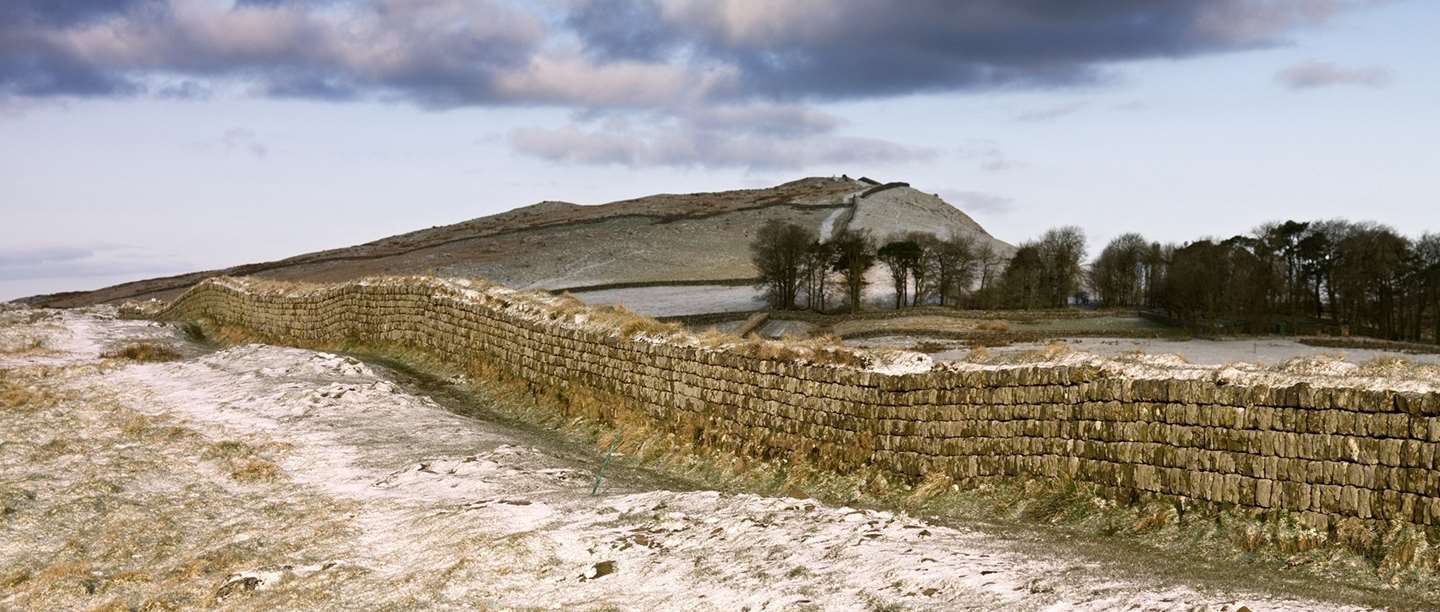 Spotlight on: Hadrian's Wall
Marching 73 miles across the north of England, Hadrian's Wall is the former frontier of the Roman Empire and offers all sorts of opportunities for exploration.
Discover treasure hoardes of exquisite objects, see how our ancestors lived in the remains of barracks and bathhouses, and walk along sections of the Wall itself through some of the wildest and most dramatic country in England.
Which Bit of Hadrian's Wall Should You Visit?
Housesteads Roman Fort - Once known as Vercovicium, this incredibly complete fort is set high on an escarpment with amazing views over the landscape. There's also an interactive museum and a mini cinema to take you on a journey through time.
Corbridge Roman Town - Not all the sites on Hadrian's Wall were heavily guarded fortresses. Visit the largest collection of Hadrian's Wall artefacts which includes over 34,000 fascinating objects.
Chesters Roman Fort and Museum - Explore a riverside bath house and cavalry fort, discover the 'saviour of the Wall' John Clayton and stop off for afternoon tea in the Chesters Tearoom.
Birdoswald Roman Fort - The perfect place to see the longest continuous remaining stretch of Hadrian's Wall, and features like mile castles and signalling towers which would have been built along it, within a short walk of the fort itself.
Explore Hadrian's Wall
Why We Love Hadrian's Wall
"It's the surroundings that I like at Birdoswald, it's very atmospheric. Especially on winter days when it's really misty, you can feel like a Roman soldier looking out - it would have been a very similar experience." - Guy Moody, Operations Manager
"There are lots of reasons why I love Hadrian's Wall and my job. Each of the forts along the Wall is truly unique - once you've visited them all you build up a picture of life during Roman Britain." - Emily Railton, Marketing Manager
"Being part of such an iconic site helps make for an incredibly rich experience. I love to hear about visitors' experiences - I enjoy listening to their stories of exploring the fort, walking the Wall, or how they were able to dress as a Roman soldier during the season's many different activities. They truly bring me back to Housesteads every season." - Craig Beckham, Historic Properties Steward - Housesteads Roman Fort
Plan your visit
Did You Know?
Hadrian's Wall was manned by auxiliaries who came from practically every province in the Roman Empire except Britain. Roman troops were all multilingual as they required a working knowledge of Latin and the language of the indigenous people who lived either side of the frontier, as well as their native tongue.
discover the history of Hadrian's Wall
Experience Life At the Edge of the Empire
For over 300 years Roman Britain was a vibrant multi-cultural place, where the mighty Empire and indigenous culture collided. Their roads, religion and ruins are all part of a fascinating legacy which you can to explore today.
In September 2015, Roman legionary patrols and gladiators returned to four sites along the Wall for Hadrian's Wall Live. Don't miss your chance to be part of the event in 2016 along with a range of other Roman events at Hadrian's Wall. You can also discover more about what the Romans did for us all over the country by reading this chapter of the Story of England.
Learn more about Roman Britain
Days out with Dogs

Plan a great day out at an English Heritage property with your dog - discover our dog-friendly sites around the country and bring your canine companion along for the day.

What's On?

Whether you want to make the most of your membership at one of our exclusive events or are planning a day out for the family, find out what's on near you.

1066 and the Norman Conquest

Find out more about the Battle of Hastings and the events of 1066, and discover where to find some of the most spectacular castles and abbeys the Normans built across England.