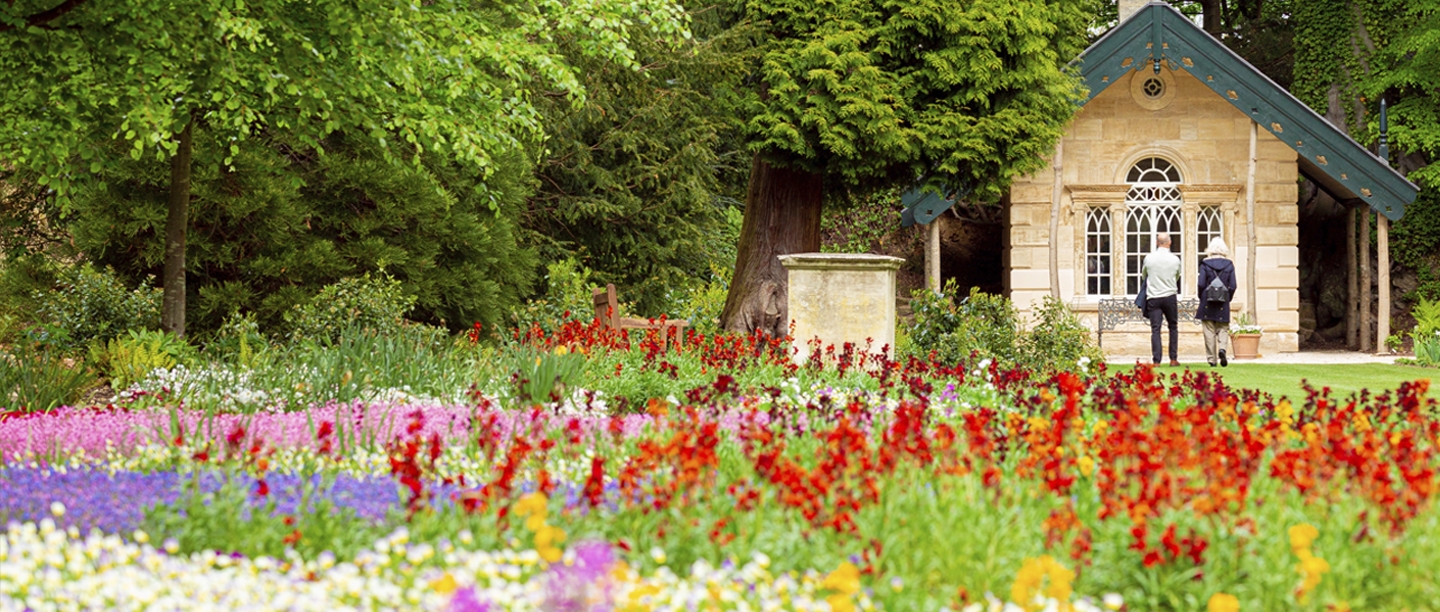 TOP 5 THINGS TO DO IN APRIL
This April, we've got plenty of ideas to help you to step into history.
Experience exciting events, learn about the everyday lives of people from our past and make the most of spring with expert gardening advice. Read on to discover fascinating people, must-see properties and captivating videos.
The month in history
Sir Robert Walpole became the first British Prime Minister on 3 April 1721. You can visit the London address he lived at on Arlington Street, St James's, which is today commemorated with a blue plaque.
Rosalind Franklin, a pioneer in the study of molecular structures (including DNA) died on 16 April 1958. Franklin was recognised with a blue plaque at the Chelsea home she lived in between 1951 and 1958.
Writer Bram Stoker, who wrote the literary classic Count Dracula, died at his London home at the age of 65 on 20 April 1912. Count Dracula was inspired by Stoker's 1890 visit to the harbour town of Whitby, where you'll find the gothic ruins of Whitby Abbey.
At the age of 17, a youthful Henry VIII succeeded his father Henry VII as King of England on 21 April 1509. Driven by fears of invasion by Catholic Europe, he went on to build more than 30 coastal forts between 1539 and 1547, including Pendennis and St Mawes in Cornwall, and Walmer and Deal in Kent.
This year marks 110 years since the infamous RMS Titanic hit an iceberg in the North Atlantic on 14 April 1912; the ship eventually sank on the morning of 15 April.
1. Join Members' Week
Members' Week is returning for 2022 from the 18-24 April. We want to celebrate all of our Members who so generously enable us to continue our work in preserving England's historical treasures. Members can enjoy a week jam-packed with activities and events, both virtually and at many sites. You can also revisit our online events from last year, such as an informative Q&A session with our talented historic gardeners, or an absorbing re-enactment event of William Cavendish's Riding School at Bolsover Castle.
There will also be a 20% discount in our cafes and shops during Members' Week: simply show your Membership Card, or check the Members' area of the website for an online discount code (some exclusions may apply).
Booking opens on 21 March, so why not become a Member and enjoy 60 free events both on-site and online.
Discover Members' Week
2. Learn England's Story
Improve your historical general knowledge by following our time-line of England's past chronologically, and discover which English Heritage sites are most closely related to these key historical milestones. Delve into the daily lives of ordinary people in these ages and find out more about the events, conflicts and rulers that shaped the nation.
This year marks 1900 years since work began on Hadrian's Wall. Why not find out more about the Roman occupation of Britain? The traces of Roman life remain evident today from the footprints of many of the roads we still use to the introduction of Christianity, which remains England's predominant religion. Many Roman artefacts have been uncovered and give us great insight into Roman Life, such as the intriguing collection at Corbridge Roman town, which includes hair pins, armour and a gaming board with counters. Artefacts also tell us about the more creative side of the Romans occupiers as they brought their own preferred styles of art in their mosaics and pottery.
Find out more
4. Get gardening
Spring is upon us and flowers are starting to bloom. Make the most of the season by immersing yourself in nature and getting involved with the great outdoors.
Our online shop has a selection of products ideal for garden lovers, with everything from pots, planters and birdhouses to gardening tools, seeds and quirky watering cans.
If you fancy exploring the stunning historic gardens we look after, then check out our list of spring garden recommendations to embrace the growing season in all its glory. Find out more about landscape conservation, get gardening tips from our historic gardeners, or explore our top 10 gardens recommendations for keen gardeners.
Gifts for gardeners
5. Celebrate St George's Day
This year St George's Day falls on Saturday 23 April. Join us in celebrating England's patron saint and get involved with the biggest most action-packed St George's Day in the country.
Wrest Park will be transformed with this year's festivities, hosting a weekend of shows, re-enactments, games, performances and activities for the family. The event culminates in an epic showdown between St George and his fiery nemesis. Youngsters hoping to become Knights of the Realm can immersive themselves in fun-filled training, try their hand at archery and junior jousting or even attend sword school. There will also be plenty of entertainment for the family as a whole, including historical musicians, captivating storytellers, awe-inspiring falconry displays and even Roman infantry demonstrations celebrating the 1900 year anniversary of Hadrian's Wall.
But who was the man behind the legend of St George? And how would medieval people have viewed dragons? Find out more in our articles on the origins of dragons and 9 things you didn't know about St George.
Find out more