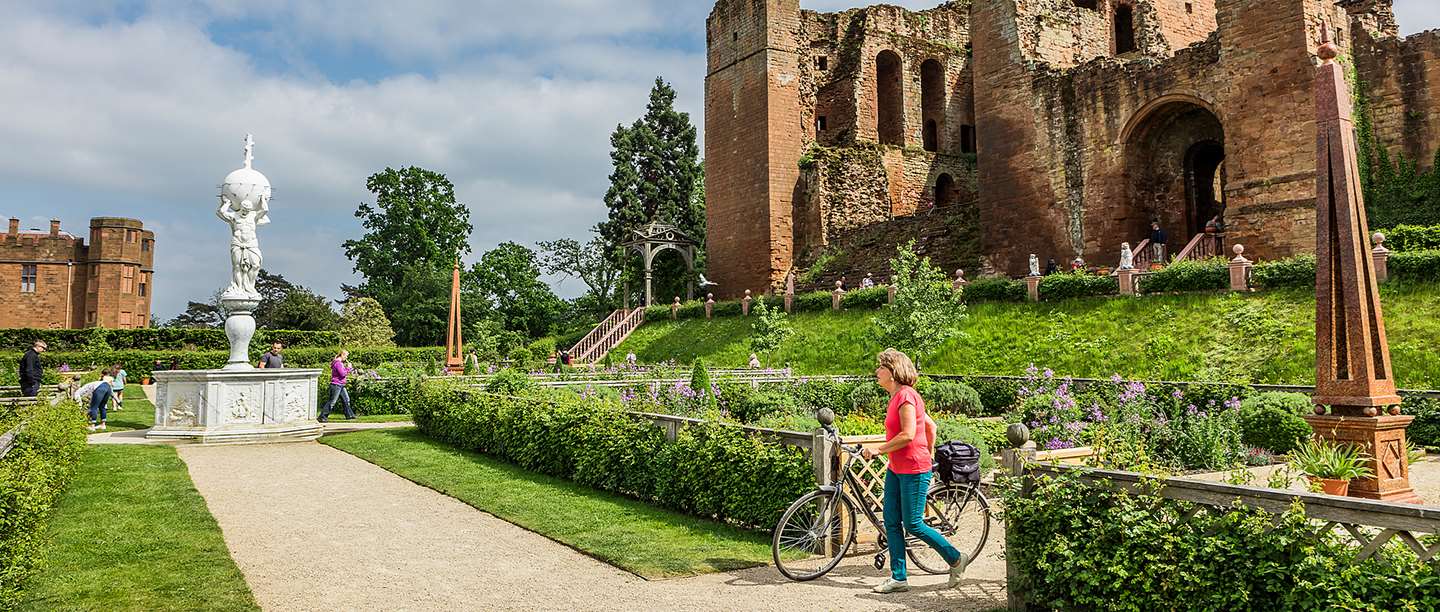 A Short break in the West Midlands
Why visit the West Midlands?
Birmingham is one of England's largest cities, known for its manufacturing heritage as a centre of the Industrial Revolution. But despite its roots going back to Roman Britain, the surrounding area encompassing Leicester, Warwick, Coventry and Shrewsbury is often overlooked as a region of historical interest. Kenilworth Castle was once home to Rubert Dudley, a favourite of Queen Elizabeth I. Today you can walk in the beautifully recreated Elizabethan garden and scale the heights of the tower that was built to woo the Queen. Hailes Abbey to the south was the centre of Christian pilgrimage for 300 years, owing to a phial said to contain the blood of Christ. Nearby Witley Court is a rare treat, the ruined shell of a once lavish manor house on the grandest scale, which played host to elaborate parties and royal visitors. A long weekend in the West Midlands has a lot to offer, so we've put together this guide to the best things to see and do in the region.
Day 1 & 2 | Day 3 & 4 | Where to stay | Getting there are around | Extend your stay
Place(s) To Stay
Key:
Multiple places
Place
Castle
Ecclesiastical
Other
Day 1: North Cotswolds
GOODRICH CASTLE AND HAILES ABBEY
Built in the 11th century and eventually falling to a dramatic Civil War attack in 1646, Goodrich Castle has a chequered and varied history. Despite being the subject of numerous sieges, the Norman defence remains one of the best-preserved medieval castles in the country. Discover what life was like in a medieval fortress at the exhibition and see the famous 'Roaring Meg', the only surviving Civil War mortar. The weapon was cast at Goodrich Forge and used by Cromwell's army under Colonel Birch to conquer the fortress, and the cannon balls used are also on display today.
About an hour away by car is Hailes Abbey, a tranquil 13th-century monastery in the beautiful Cotswold countryside. Hailes was home to monks for nearly three centuries, and a shrine believed to contain the blood of Christ made the abbey a site of pilgrimage to Christians from all across Europe. The Reformation under Henry VIII exposed the phial of blood as fake and its shrine was destroyed. Opened in June 2017, a new museum explores the remarkable story of Hailes Abbey. It features rare artefacts including a fragment of a monk's spectacles, a new development in the 14th century.
Day 2: South of Birmingham
WITLEY COURT AND KENILWORTH CASTLE
A short drive north-west of Worcester is Witley Court and Gardens. Firmly established as one of the great country houses of England during the Victorian period, Witley was well-known for hosting extravagant parties for the rich and famous. It even played host to royalty. However, a devastating fire in 1937 left only an empty carcass of the former mansion, and one of the country's most spectacular ruins. Witley is a rare example of a ruined stately home, a shell that echoes with Victorian opulence and excess.
An hour from Witley Court, the spectacular red stone of Kenilworth Castle is a sight to behold. Originally a medieval fortress, but later extended by Robert Dudley as a lavish palace to win over Queen Elizabeth I, Kenilworth's history is a fascinating 900-year story. Today, you can scale the heights of the tower for views of the castle, Elizabethan garden and the Warwickshire countryside from above. Step into the Gatehouse to explore the exhibition about Robert Dudley's connection to Elizabeth I. A new museum for 2017 explores the story of Sir John Siddeley who rescued the castle in the 1930s to return it to public care.
Day 3: North East
KIRBY MUXLOE AND ASHBY DE LA ZOUCH CASTLES
Surrounded by a broad moat in the Leicestershire countryside, the fortified mansion of Kirby Muxloe was built for the ill-fated William, Lord Hastings. On Friday 13 June 1483, Hastings was dramatically executed without trial at the Tower of London by Richard III, having walked into what he believed was a routine meeting. As a close friend of Edward IV, Hastings was a powerful figure, and his fashionable family home at Kirby Muxloe stands as a memorial of his great ambition and sudden death.
Nearby Ashby De La Zouch Castle was also built by Hastings, at the height of his influence. Building on the existing manor house in 1472-3, Hastings' grand vision for his family seat was cut short by his execution, leaving the creation only half completed. The castle remained the Hastings family seat, playing a key part in the Civil War when it was held by royalist forces. Ashby De La Zouch began to attract visitors again in the 19th century after the great poet and writer Sir Walter Scott used the castle as the setting for a part of his novel, Ivanhoe. Visiting both castles in the same day is an opportunity to get an insight into the rise and fall of this powerful 15th-century nobleman.
Day 4: North West
BUILDWAS ABBEY, WENLOCK PRIORY AND WROXETER ROMAN CITY
Rounding off our historic tour of the West Midlands are two tranquil medieval monasteries and the fourth largest city in Roman Britain.
The Norman building of Wenlock Priory was founded by Cluniac monks. The Cluniac love of elaborate decoration is evident even now, and parts of the 13th century church still stand high. On the fringe of the beautiful parish town of Much Wenlock, the priory sits in a peaceful wooded space. Much Wenlock was also home to Dr William Penny Brookes, originator of the Wenlock Olympian Games, an inspiration for the modern Olympics. Visit the town to learn more about the Olympian Society and Brookes' legacy.
About three miles north of Wenlock sit the spectacular ruins of Buildwas Abbey, the remains of a Cistercian monastery. Explore a rare example of an unaltered 12th-century church, and the nearby chapter house with beautiful vaulting, decorative stonework and incredibly well-preserved tiled floor.
Six miles north-west from Buildwas, the ancient city of Wroxeter (originally Viriconium) offers a tangible insight into life in Roman Britain. Discover the daily lives of the townspeople when you wander around the remains of a bathhouse and reconstructed urban home from 2000 years ago. An audio tour, along with objects found at the site, bring the story of this once important metropolis to life.
Staying for longer?
DON'T MISS...
Stokesay Castle, around 40 minutes south of Iron Bridge, is a beautiful fortified medieval manor house and lasting time capsule of medieval life in England. Enjoy stunning views of the Shropshire countryside from the gable windows of the great hall, and explore the intricate rooms, each with its own fascinating story.
Plus, for another bite of history in the West Midlands, pay a visit to Iron Bridge. Not far from Buildwas Abbey, the world's first iron bridge was erected over the River Severn in 1779 and marked a major landmark in the story of British design and engineering. It set the trend, as cast iron was widely used in bridges, aqueducts and buildings throughout the 19th and 20th centuries. The Gorge that was the cradle of the Industrial Revolution is now a World Heritage Site, and a major conservation project will soon begin to protect the immense structure for future generations to enjoy.
Where to stay
Pool House, Witley Court and Gardens
Located with Witley Court's gardens and close to the lakeside walk, Pool House sleeps up to 8 people with a glass-canopied patio and spacious private garden. Check availability for your travel dates.
Alternatively, there are many accomodation options ranging from hotels to B&Bs across the West Midlands. Stay in Leicester to be close to Kirby Muxloe Castle, Coventry for a short drive to Kenilworth, or Telford for easy access to Buildwas, Wenlock and Iron Bridge.
Availability and Prices
Getting there and Getting around
BY CAR: The M1 runs north from London, from which the M6 takes you across to Birmingham and surrounding areas. Use the M42 and M40 to reach the southern and eastern parts of the region on days 1-3. The M6 and M54 will take you north-west to reach Buildwas, Wenlock and Wroxeter. The M6 can be busy at peak times, but the M6 Toll road can be used to avoid this for a fee.
BY TRAIN: Birmingham New Street is a major national exchange, with services arriving from all large UK stations, including London Euston, Bristol Temple Meads and Manchester Piccadilly. From Birmingham, local services run to Warwick and Coventry for Kenilworth, Droitwich for Witley Court, Leicester for Kirby Muxloe and more. Check National Rail for all services.
Places to visit in the West Midlands
Associated Attractions
If you're looking to fill your stay in the West Midlands with even more to see and do, there are many other attractions across the region, some of which offer discounts for English Heritage members.
Warwick Castle. Open 364 days a year, guests can enjoy shows and attractions that bring history vividly to life with a 50% discount on castle entry for English Heritage members.
British Motor Museum. Discover the world's largest collection of historic British cars. Experience sights, sounds and stories of the motor industry with £2 off entry per person for up to 5 people.
The Wedgewood Museum. Discover the story of Josiah Wedgwood, the company he founded and its craftsmanship throughout Wedgwood's 250-year heritage. Enjoy 25% off standard tickets as an English Heritage member.
Full details and conditions
Places to visit

Explore the full range of places to visit in the West Midlands.

Members do more

Join today and save straight away as an English Heritage member.

Overseas Visitors Pass

If you're travelling from overseas, save with an OVP pass.

More Travel Guides

Plan a visit to other regions of the UK, whether its London, Kent or Cumbria.