Significance of Ashby de la Zouch Castle
Ashby de la Zouch is an outstanding example of a late medieval castle developed by a single family as its principal seat up until the Civil Wars of the 1640s. It is also significant for the unusual amount of evidence that survives for the surrounding landscape in the 16th and 17th centuries.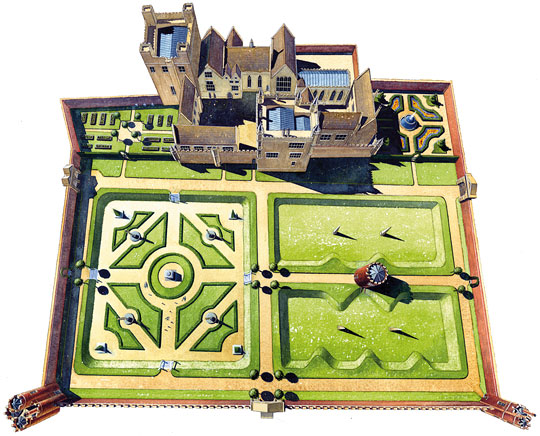 15th-Century Buildings
The late 15th-century buildings that constitute the bones of the present ruins – notably the chapel, kitchen tower and great tower – were paid for by one of the leading figures in the English court, William, Lord Hastings. They are structures of outstanding quality that inform our understanding of the most sophisticated architectural developments of this period. Analysis of their fabric, furthermore, offers important and vivid insights into the realities of life on the grand scale in Yorkist England.
Landscape at Ashby De La Zouch
From the surviving evidence in the surrounding landscape an unusually full picture emerges of the former setting of the castle with its gardens and parks.
The principal garden enclosure with its substantial earthworks set immediately beneath the great tower is thought to date from the mid-16th century. If so, it is one of the best-preserved and most important early Tudor gardens in England. The two surviving brick towers, moreover, at the angles of the garden, were probably inspired by lost counterparts at Hampton Court created in the 1530s by Henry VIII.
Other surviving 17th-century garden structures, together with a wealth of documentary material – much of it still to be properly explored – testify to the development of the castle surrounds on a lavish scale into the 17th century. These were used for entertaining several important visitors from the Stuart court.
Associations
Following the partial destruction of the castle in the 1640s the surviving castle buildings remained in partial occupation. One figure of particular interest was Selina Hastings, Countess of Huntingdon (1707–91), the founder of the church known as the Countess of Huntingdon's Connexion.
The use of Ashby as the setting for a fictional scene in the once hugely popular historical novel Ivanhoe (1819) by Sir Walter Scott lends the site an unusual literary association.
READ MORE ABOUT ASHBY DE LA ZOUCH CASTLE