Research on Ashby de la Zouch Castle
Ashby de la Zouch Castle has been in the care of English Heritage since 1983, which continues to research and conserve it. In 2006 the gardens were the subject of excavation and documentary research.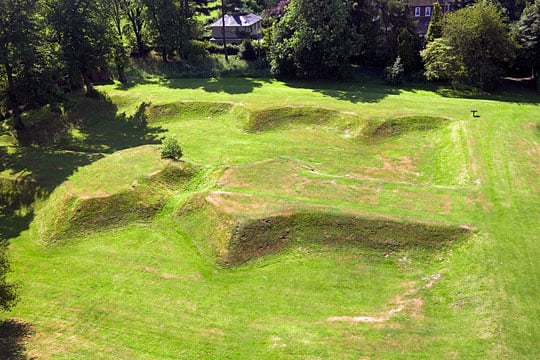 Research to Date
Most antiquarian accounts focus on the lineage and history of the Hastings family and only briefly or incidentally describe the buildings.[1] It is clear from artistic depictions of the site that the castle ruins had been cleared of rubble by the 1770s, but no record of this huge labour seems to survive.
It was not until the work of the Leicester architect Thomas Fosbrooke (1862–1925) that the fabric of the castle received proper study for the first time. His measured drawings of the ruins, published in 1911 with an accompanying historical narrative, constitute the first authoritative account of the building.[2]
An attempt to reappraise the history of the castle with archaeological investigation of the garden and an exploration of the Huntington Library archive was undertaken by English Heritage in 2006.[3]
Questions For Future Research
Areas of Ashby's history that would merit further research include:
basic questions about the layout of the castle, such as the position of the principal gatehouse and its precise relationship with the town
further analysis of the castle buildings, which might reveal a great deal more about them and supplement the surveys drawn up in the early 20th century by Fosbrooke
the form of the 16th-century gardens and their development, not answered by recent documentary research
details of the Civil War siege and the extent and nature of the fortifications erected at Ashby
the history of Ashby Place, the house erected here after the Civil War, and the use of the site throughout the 18th century, both of which are poorly understood.
Footnotes
1. Examples include William Dugdale, The Baronage of England (London, 1675), and John Nicols, The History and Antiquities of the County of Leicestershire, vol 3, part 2 (London, 1804).
2. TH Fosbrooke, Ashby de la Zouch Castle (Leicester, 1911).
3. S Newsome et al, Ashby de la Zouch Castle, Leicestershire: A Multidisciplinary Investigation of the Castle Garden, English Heritage Research Department Report 52-2008 (London, 2008).