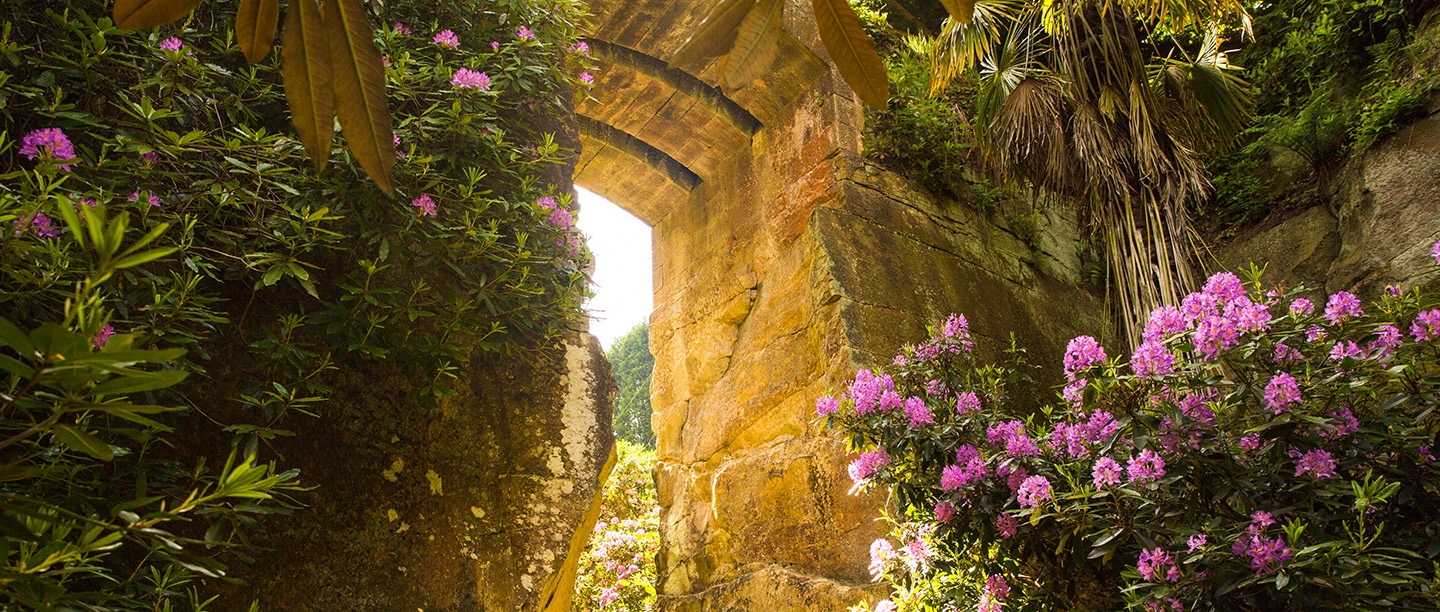 Belsay Awakes
A major project is underway at Belsay Hall, Castle and Gardens.
Crucial conservation work is safeguarding the hall and castle for years to come, and fresh planting is bringing the gardens back to their glorious best. New storytelling features and an imaginative play area will open up the site's history for families to enjoy. Improved access and vital new facilities will make sure that all our visitors get the warm welcome they deserve. And with a revamped education programme, new apprenticeships, a range of volunteering roles and exciting opportunities for the community to get involved, we're putting local people right at the heart of Belsay's brilliant future.
Belsay Awakes has been made possible thanks to National Lottery players and a grant of £3.4 million from The National Lottery Heritage Fund.
A large scale project
Belsay Awakes began in autumn 2021, and it will be completed in 2023. It's a huge project involving specialist conservation, community involvement and exciting new additions for visitors to enjoy.
The hall, grounds and gardens will remain open for you to enjoy, and a conservation-in-action programme will give behind-the-scenes access to the conservation work and project plans which are transforming the Belsay.
Find out the latest updates about the project here, or read on for an overview of what's taking place.
Conserving Belsay Hall
Scaffolding now surrounds Belsay Hall so we can carry out vital conservation work to the roof of the hall. The hall remains open whilst the work takes place, so you can see first hand the conservation in action. You can also join scaffolding tours, which can be pre-booked with your site admission ticket. Find out more here.
Throughout the project we're also running a series of special events to showcase our work – check back soon to find out more details.
Later in the project we'll be installing new information boards, family trails and activity sets to bring the stories of the hall to life.
Improving the gardens
Belsay's grounds and gardens are being reinvigorated. Internationally renowned garden designer Dan Pearson has created a new plant scheme in the formal gardens. Around the grounds we're removing invasive species, adding trails and information and enhancing habitats for wildlife and native plants
The quarry gardens won't be changing much, although we'll also be installing information panels to give you more insight into some of the wonderful plants that thrive in its unique microclimate.
The Castle Complex
Conservation work is taking place to protect and repair the castle's medieval stonework. New interpretation will bring the stories of the castle back to life with panels and a sound installation on the ground floor, which will be more accessible thanks to a new ramp.
Near the castle, the old coach house building is being transformed into a bright and welcoming new café with its own renewable energy and rainwater harvesting. And in the woodland just beyond the café we're creating a fantastic children's play area themed around the legend of the Wild Man of Belsay.
Making Belsay Accessible for all
We want to share Belsay with as many people as possible. Parking and pathways will be improved, and the coach house café and woodland play area will be accessible. A new ramp will give better access to the interpretation on the ground floor of the castle, and learning resources will be created for schools and groups with a variety of abilities and learning needs. A Changing Places space was installed in July 2021.
New opportunities
During the project there will be a range of behind-the-scenes tours, themed events and activities you can take part to find out more about the conservation work, the garden transformation and our native wildlife.
There'll also be opportunities for people to take part in skills training, work experience, traineeships and research.
Current volunteer roles
We're incredibly grateful for the support we've received so far, but we still need your help to bring Belsay back to life. Take a look at how you can support the project below.
How your donations can help
50 donations of £20 will fund five new benches to make the site more accessible for all

30 donations of £50 will plant and maintain flowering meadows to encourage wildlife and increase biodiversity

20 donations of £100 will help us plant hundreds of heathers, peonies and shrubs to rejuvenate the Winter Garden
Thank you
We would like to thank The National Lottery Heritage Fund, Garfield Weston Foundation, The Foyle Foundation, Historic Houses Foundation, The Catherine Cookson Charitable Trust and other generous supporters.
A project made possible thanks to a £3.4m grant from The National Lottery Heritage Fund.
Please visit The National Lottery Heritage fund website
Follow @HeritageFundUK on Twitter, Facebook and Instagram and use hashtag #NationalLotteryHeritageFund