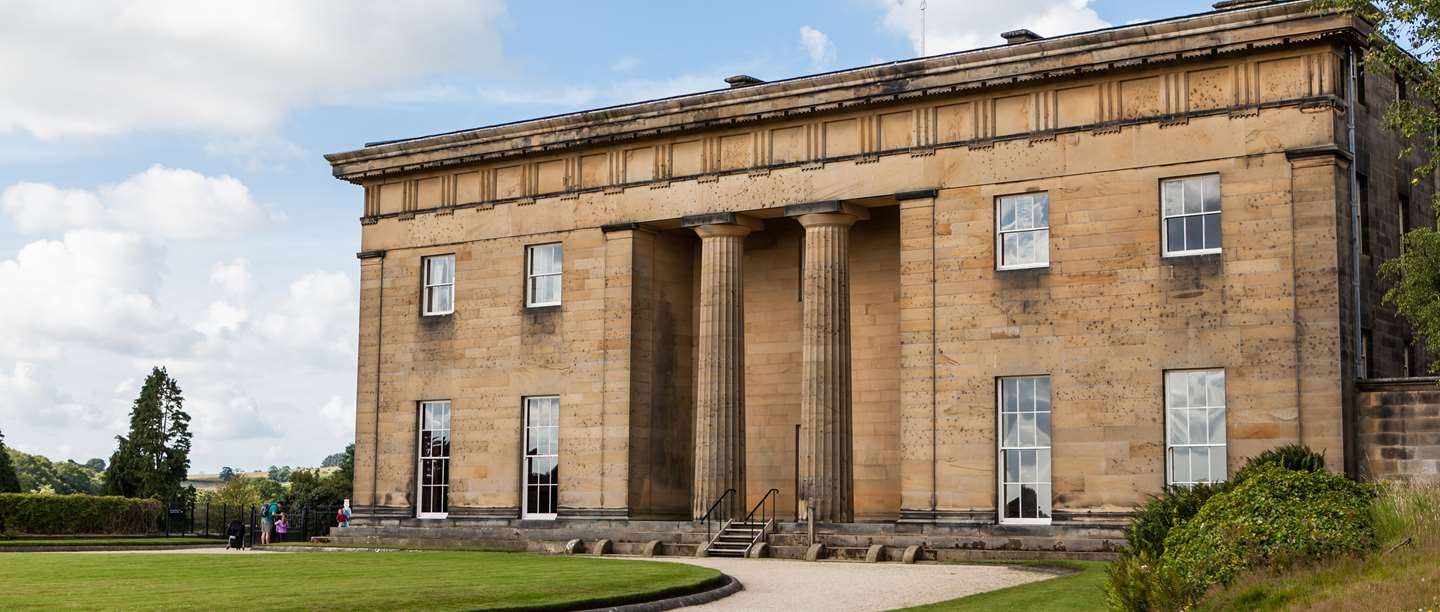 Schools
Explore 700 years of history at Belsay Hall, Castle and Gardens through the story of the Middleton family. From the medieval castle to Ancient Greek inspired architecture and stunning gardens, there are plenty of learning opportunities to support your teaching across the curriculum and bring learning to life.
Curriculum Links
Visit Belsay Hall, Castle and Gardens to support your teaching in a fun and engaging way, and cover multiple topics accross the curriculum.
KS1 History: Significant historical events, people and places within the locality
KS1 Science: Identify and name a variety of common wild and garden plants, including deciduous and evergreen trees, identify and describe the basic structure of a variety of common flowering plants, including trees. Identify that most living things live in habitats to which they are suited, identify and name a variety of plants and animals in their habitats, including microhabitats
KS1 Geography: Use geographical skills and fieldwork
KS2 History: Local history study. Study of an aspect or theme in British history that extends pupils' chronological knowledge beyond 1066
KS2 Science: Working scientifically. Identify and name a variety of living things in the local and wider environment
KS2 Geography: Use geographical skills and fieldwork. Understand the strategic significance of the castle's position
KS3 History: Local History study. Development of Church, state and society in Britain 1066-1509 and 1509-1750
GCSE History: Study of the historic environment
Free self-led visits
Book a free self-led visit to Belsay Hall, Castle and Gardens and organise your day to suit your curriculum objectives. Discover the medieval castle with its impressive tower, and learn how it changed over time to match the needs of the Middleton family. See the Ancient Greek inspired architecture in the hall, and visit the beautiful gardens to explore the vast range of plants and habitats.
Enquire now
Plan Your Trip
We have a wide range of materials to support your visit and make school trip planning easy. Download our free resources to help you make the most out of your visit and create unique learning experiences before, during and after your trip.
We also offer free planning visits for group leaders once you have made a booking. Our Education Booking Team is on hand to advise and help you create the best possible school trip to suit your needs and area of study.
Facilities

PARKING: Free parking is available. The main car park is located next to the entrance to the site. Disabled parking is available in the main car park, which is close to the shop and admissions with ramp access to the hall and tearoom. Disabled visitors can also be set down outside the entrance to the site
TOILETS: Toilets including accessible toilets are located in the main car park
LUNCH: You are welcome to bring a picnic to enjoy at one of the picnic tables which are located on the grassed area off the main car park. There is also a tearoom located in the original kitchen of the hall, serving cream teas, cakes, hot and cold sandwiches, soup and baked potatoes
SHOP: There is a gift shop on-site selling a range of English Heritage gifts and souvenirs. We recommend you bring your class in small groups at a time
ACCESSIBILITY: Wheelchair access to to the ground floor of the hall and the tea room via a ramp from the car park. Access to the ground floor of the castle via a ramp at the rear of the castle. Wheelchairs as well as a mobility scooter are available to borrow for free. RADAR key access for level access route to the hall and gardens available at the shop for a refunded hire charge. Shop has level access but a narrow doorway
How To Book

0370 333 0606

Education opening times

January and February: Saturday and Sunday 10.00 – 16.00
March: Tuesday, Saturday and Sunday 10.00 – 16.00
April to September: Monday to Sunday 10.00 – 18.00
October: Monday to Sunday 10.00 – 17.00
November: Tuesday, Saturday and Sunday 10.00 – 16.00
December: Saturday and Sunday 10.00 – 16.00