Cavalier Horses at Bolsover
Experience the Riding School brought dramatically to life as the Bolsover Castle horses perform the spectacular art of dressage. Check our event pages to find 2023 dates.
With just four schools of classical dressage remaining in the world, Bolsover Castle is the only place in the country staging regular performances of this breathtaking art.
The intricate displays of circles, turns and leaps are performed to evocative Baroque music, with riders dressed in the frills, feathers and high boots of the Cavalier period.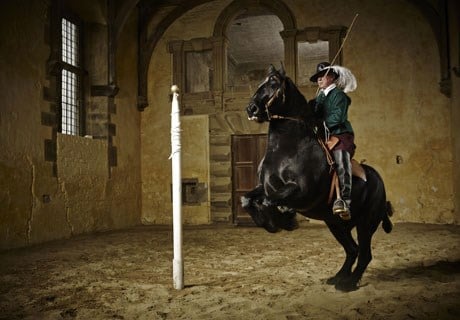 William Cavendish - Father of Dressage
Dashing playboy and poet, William Cavendish, is widely credited as being the 'father' of modern dressage. The royal horse master and first Duke of Newcastle introduced the highly skilled art in the 17th century.
Today you can watch horses being trained at the 'pillar' - the white post Sir William used to encourage the horses to move in ever-decreasing circles. He was known for using kinder training techniques than many of his contemporaries.
Expert commentary explains the techniques being used as horses trot, canter and ultimately attempt the difficult 'airs above the ground' as a spectacular finale to the 20-minute performance.
Book your tickets
You can book your tickets online at the same time as your entry tickets.
These unique performances recreate the sights and sounds of fine horses going through their balletic paces in the grand Riding House.