BRODSWORTH HALL'S ITALIAN GARDENS
Brodsworth Hall's gardens as you see them today were largely laid out in the 1860s to complement the new Italianate house built by the owner Charles Sabine Augustus Thellusson.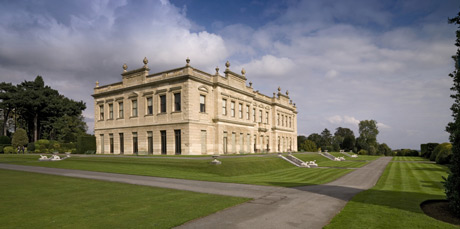 Work started in 1861 and it is thought that the design is by Thellusson himself along with his head gardener, Samuel Taylor. An Italian sculptor, Chevalier G.M Casentini, was brought in to advise on the sculptures.
Charles had been born in Florence which might have given him his taste for everything Italian and around the garden you can see fountains, urns and tazzas (saucer-shaped pots) as well as classical statuary often framed within dark clipped evergreens.
The new house and garden were near to the site of old Brodsworth Hall, a mid-18th century house which had been the subject of a long-running legal wrangle over inheritance.
Indeed it's thought that the labyrinthine case, of which old Brodsworth Hall formed a part, was the inspiration for Charles Dickens in his book 'Bleak House' where the protracted court case known as Jarndyce vs Jarndyce squanders both lives and money.
When Charles inherited he was presumably eager to put 60 years of legal dispute behind him. He set about creating a substantial new property whilst incorporating some features of the old garden and park such as a woodland known as the Grove, with serpentine paths threading through it and a magnificent cedar of Lebanon tree in the main lawn which date from this period.
By the time the new gardens had been laid out and planted in 1868 they consisted of formal gardens where the flowering displays were changed up to four times a year.
There was a Grotto created from a redundant quarry planted with hundreds of ferns, a shrubbery richly planted with a wide variety of evergreens, an elevated summerhouse from which to view the gardens and a series of walks through ornamental woodland.
In recent years Brodsworth has also provided a place for a number of valuable plant collections, some dating back to Victorian times such as holly, and others introduced by English Heritage like roses, geraniums, ferns and alpine plants not to mention the thousands of snowdrops that appear each winter beneath the white marble statues.
See more things to see and do at Brodsworth Hall and Gardens. Plan your visit today.