History of Caister Roman Fort
The Roman site at Caister was part of a chain of coastal forts along what the Romans knew as the 'Saxon Shore', from the Wash down round the east and south coast of England. They are thought to have acted as a defence against Saxon seaborne raiders.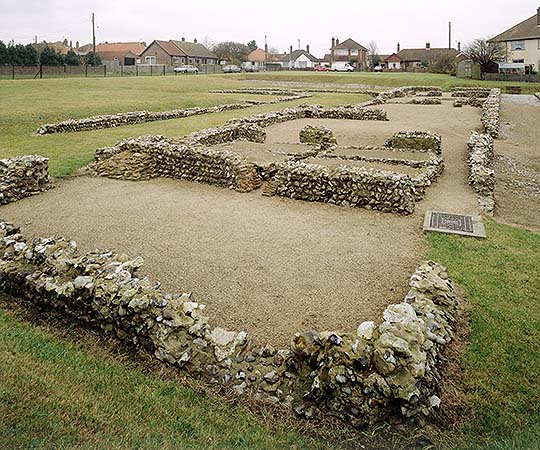 The Roman Fort
Caister-on-Sea Roman Fort was built about AD 200 as a base for a unit of the Roman army and navy. It was occupied until the end of the 4th century, when Roman forces were withdrawn from Britain.
The fort had a garrison of between 500 and 1,000 men who fought against Rome's enemies on land and at sea. By the 4th century their main opponents were Anglo-Saxons from north-west Europe. These raiders came silently in fast ships to plunder local settlements.
The fort occupied a small island on the north side of a large estuary, where the rivers Ant, Bure, Yare and Waveney entered the sea. What was the estuary in Roman times is now mostly dry land occupied by Great Yarmouth.
The rivers were important routes into East Anglia, where Roman and native people lived in towns, settlements and farms. The most important was a large town at Caistor-by-Norwich, about 25 miles from Caister-on-Sea.
Sometime after AD 260 another fort was built on the opposite side of the estuary at Burgh Castle. Both forts served to protect merchant ships in the estuary and supported military operations. One of these forts is known to have been called Gariannonum.
Part of the fort defences and a building inside the fort were revealed between 1951 and 1955 during archaeological excavations.
Life in the Fort
Objects found inside and near the fort reveal wide trading links and a comfortable military and domestic life. Finds from Caister have provided us with a vivid picture of life and trade between the fort and the wider Roman world.
Finds of personal items such as brooches, beads, bracelets, necklaces, rings and hairpins suggest that women and children lived in the fort, perhaps as families alongside the soldiers. From the military side of life are parts of old and broken equipment including spearheads, arrowheads and belt buckles.
Clues as to what people ate are provided by charred grain, fish bones, over 10,000 oyster shells, and the bones of cows, hares, foxes, badgers and ducks.
Further Reading
Darling, MJ, with Gurney, D, Caister-on-Sea: Excavations by Charles Green, 1951–55, East Anglian Archaeology Report 60 (Gressenhall, 1993)
Gurney, D, 'The Saxon Shore in Norfolk', in A Festival of Norfolk Archaeology, ed S Margeson, B Ayers and S Heywood, Norfolk and Norwich Archaeological Society (Norwich, 1996)
Gurney, D, Outposts of the Roman Empire: A Guide to Norfolk's Roman Forts at Burgh Castle, Caister-on-Sea and Brancaster (Norwich, 2002)
Wilmott, T, Saxon Shore Forts (Introduction to Heritage Assets, English Heritage, Swindon, 2011)