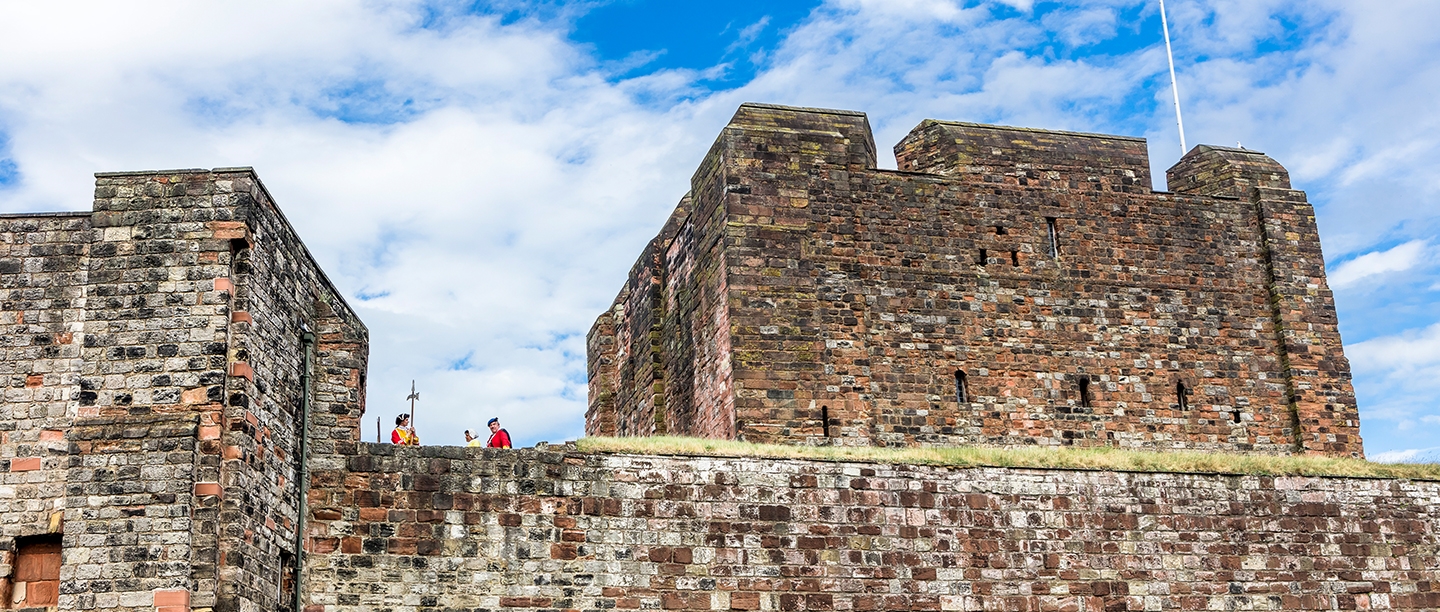 Group visits to Carlisle Castle
Squat and thick-walled, Carlisle Castle emanates strength and menace. It needed both, because for many centuries it commanded the wild west end of the Anglo-Scottish frontier - guarding the most frequently attacked town in Britain. Continuously updated over the centuries, this hard-bitten old campaigner of a castle can now reveal its secrets to your group.
Group Discount
We offer a 15% discount (10% for Stonehenge) for travel trade and organised groups of 11 or more paying visitors when payment is made in a single transaction.
Per group you also receive:
free entry for one tour leader
free entry for one coach driver
The tour leader, coach driver and any English Heritage members do not count towards the group totals.
Booking information
Trade admission prices and opening times:
Please refer to our Trade Admission Prices & Site Opening Times brochure for pricing and opening times information at our top sites for groups.
Making a booking:
Contact information for making your group booking can be found in the Visit & Contact Information section below.
Please include the property name and date of visit in the subject line of your email along with the following information:
Group name
Name of property
Tour reference/booking reference (if applicable)
Date and time of arrival
Number of visitors
Payment method:
Payment can be made on arrival by: cash, credit/debit card, cheque (made payable to The English Heritage Trust), Agency Voucher Scheme (AVS).
Visit & Contact information
Joint ticket: A great value joint ticket with Cumbria's Museum of Military Life is available.
Coach parking: No coach parking on site. Park in Devonshire Walk car park(CA3 8UL)(pay & display), adjacent to the west side of the castle, approx. 5 minute walk to property entrance.
Catering: Vending machine selling hot drinks. Shop sells a selection of snacks including crisps, cold drinks, confectionery and ice cream
Exhibition: Fascinating exhibition about the history of Carlisle Castle. This highlights key moments and stories from the castle's history, including a reconstruction graphic of its original Norman Keep; its role in Anglo-Scottish border warfare; the Civil War and Jacobite Rising sieges and the fortress's long connection with the King's Own Royal Border Regiment. It is wheelchair accessible. There is also an interactive audio-visual display allowing visitors to explore the castle.
Access: Wheelchair access is limited. The new exhibition and grounds are accessible. However, the shop, Keep, Ramparts and Captain's Tower are not wheelchair accessible.
Average length of visit: 1.5 hours
Address: Castle Way, Carlisle, Cumbria, CA3 8UR
Email: bookings@english-heritage.org.uk (group bookings)
Telephone: Carlisle Castle: 01228 591922 (general enquiries only)
Local TIC: Please call 01228 598596 if you would like information on other things to do in the area.
Guided tours
Make your group visit extra special by adding one of our guided tours.
Please allow for the indicated minimum notice below when booking a guided tour.
The Story of the Medieval Castle
Let our expert guide reveal to your group the story of this commanding fortress on the Anglo-Scottish frontier - guarding the most frequently attacked town in Britain. Carlisle Castle was the very last English fortress ever to suffer a siege.
Duration: 1.5 hrs
Minimum-maximum pax: minimum 11 pax.
Advance booking required: Yes, a minimum of 14 days notice is required
Price: Price on enquiry.
Aerial fam trip
Take flight above the squat and thick-walled Carlisle Castle. It commanded the wild west end of the Anglo-Scottish frontier - guarding he most frequently attacked town in Britain.
Group Travel Support
Further support and useful resources available to group travel organisers can be found on our dedicated Group Visits webpages.
For educational groups, please visit our School Visits webpages.