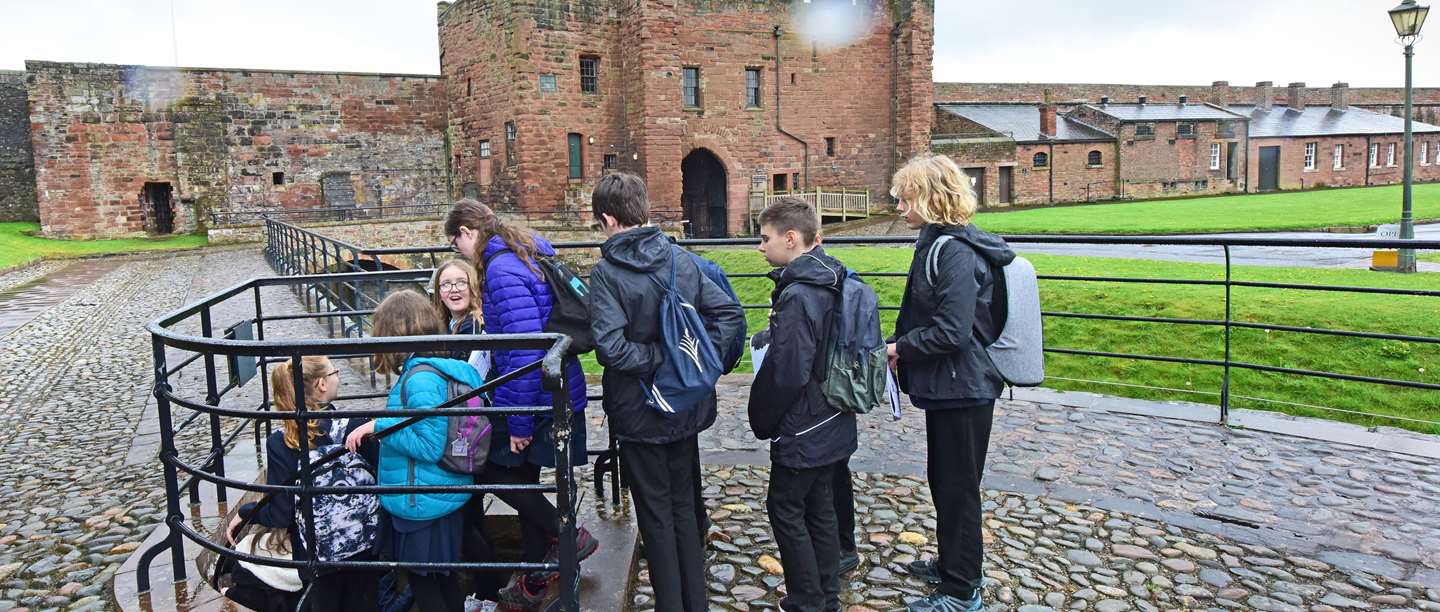 Schools
Carlisle Castle is a unique place to help you bring history to life. Discover the most beseiged castle in England and let your class explore as part of a free self-led visit, or interact with stories and artefacts as part of an immersive expert-led workshop.
Curriculum Links
A visit to Carlisle Castle offers curriculum learning across the key stages:
KS1 History: Significant historical events, people and places in the locality
KS1-3 History: Local History Study
KS2 History: The Roman withdrawal from Britain in c. AD 410 and the fall of the western Roman Empire; a study of an aspect or theme in British History that extends pupils' chronological knowledge beyond 1066
KS3 History: The development of church, state and society in Britain 1066-1509 and 1509-1745; ideas, political power, industry and empire: Britain 1745-1901
KS4 History: OCR History B: History around us
Free Self-Led Visits
Book a free education visit and organise your day to suit your curriculum needs. Explore Carlisle Castle at your own pace, including the Warden's Apartments, once the bedroom of King Richard III, the Captain's Tower, one of the best preserved gatehouses in the country, and the turret in which Mary, Queen of Scots was held captive. Discover the stories of the castle's most famous inhabitants in the exhibition, from Mary, Queen of Scots and Bonnie Prince Charlie, to notorious Border Reiver Kinmont Willie Armstrong.
Download our free Teachers' Kit to help you plan your visit to Carlisle Castle, including site details, historical information and activity suggestions for before, during and after your visit.
Find out more
Expert-led Discovery Visit
We aren't running Discovery Visits at this site at the moment – we're unable to adapt our sessions in a way that would still provide a quality, immersive education experience.
Plan Your Trip
We have a wide range of materials to support your visit and make school trip planning easy. Download our free resources to help you make the most out of your visit and create unique learning experiences before, during and after your trip.
We also offer free planning visits for group leaders once you have made a booking. Our Education Booking Team are on hand to advise and help you create the best possible school trip to suit your needs and area of study.
Enquire now

School visits from September 2020

Education bookings for learners of all ages and abilities are now open and you'll be able to make provisional bookings for visits from September 2020 to March 2021. Please be aware that it may take us a little longer than usual to come back to you as we continue to review and update our offer.

In the meantime if you have a query related to an existing booking or would like more information please email bookeducation@english-heritage.org.uk

We look forward to seeing you again soon.