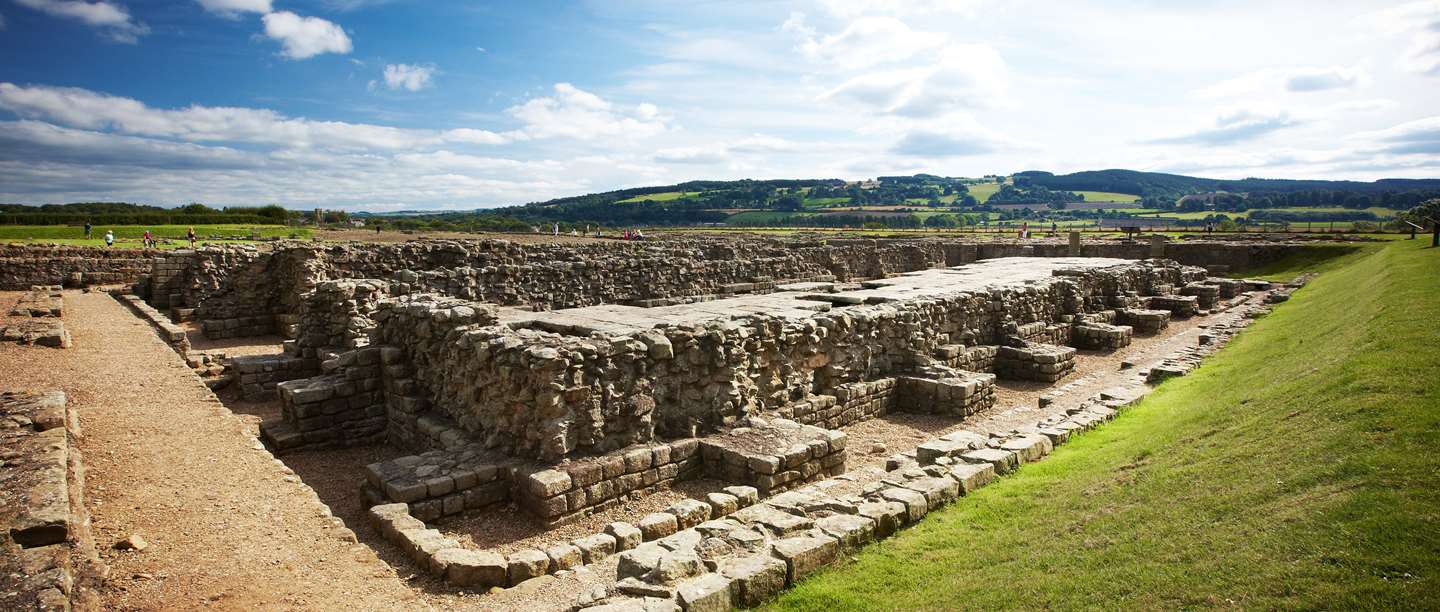 Schools
Book your school visit to Corbridge to walk through Roman streets and experience a different side to life on the frontier of the empire. Set back from the iconic Hadrian's Wall, this site offers a perfect opportunity for your students to imagine what life was life in Roman Britain, in this once bustling, vibrant community with people from different cultures and backgrounds.
Curriculum Links
Bring your teaching on Roman Britain to life and cover key curriculum objectives, with a visit to Corbridge Roman Town:
KS1-3 History: Local history study
KS2 History: The Roman Empire and its impact on Britain; the 'Romanisation' of Britain and the impact of technology, culture and beliefs
KS2-3 Geography: Consider why the town was built in this location
KS3 History: A study of an aspect or theme in British history from before 1066
Free Self-led Visits
Book a free self-led visit and plan your trip to fulfil your curriculum needs, as you and your class explore the history of Corbridge Roman Town. Walk in the footsteps of Romans down the high street and imagine collecting supplies from traders, then discover the stories of Corbridge's Roman residents in the museum, with objects on display including armour, tools, inscriptions on stone, ceramics, and jewellery, all found at the site.
Find out more
Pre-visit learning
Hadrian's Wall was an unprecidented project in ancient Europe, but why did the Romans build it, and how did they manage it? Watch this animation to find out more about this ingenious structure.
PLAN YOUR TRIP
We have a wide range of materials to support your visit and make school trip planning easy. Download our free resources to help you make the most out of your visit and create unique learning experiences before, during and after your trip.
We also offer free planning visits for group leaders once you have made a booking. Our Education Booking Team is on hand to advise and help you create the best possible school trip to suit your needs and area of study.
Facilities

PARKING: Free parking for approx. 20 cars is available about 10 metres from the entrance. Additional (free) parking is available in Corbridge near the river, about 1 1/4 miles away.
TOILETS: Toilets, including accessible toilets, are available on site.
LUNCH: You are welcome to bring a picnic to eat in the grounds. There are picnic benches on site.
SHOP: There is a small shop selling a selection of English Heritage gifts and Hadrian's Wall and Roman themed souvenirs.
EXHIBITION: The museum contains wide range of items which cover every aspect of Roman life.
Find out more

03703330606

School visits from September 2020

Education bookings for learners of all ages and abilities will be open from 31 August, and you'll be able to book for visits from September 2020 to March 2021. If you already have a booking with us in that time, we'll be in touch over the next few weeks.

In the meantime if you have a query related to an existing booking or would like more information please email bookeducation@english-heritage.org.uk

We look forward to seeing you again soon.