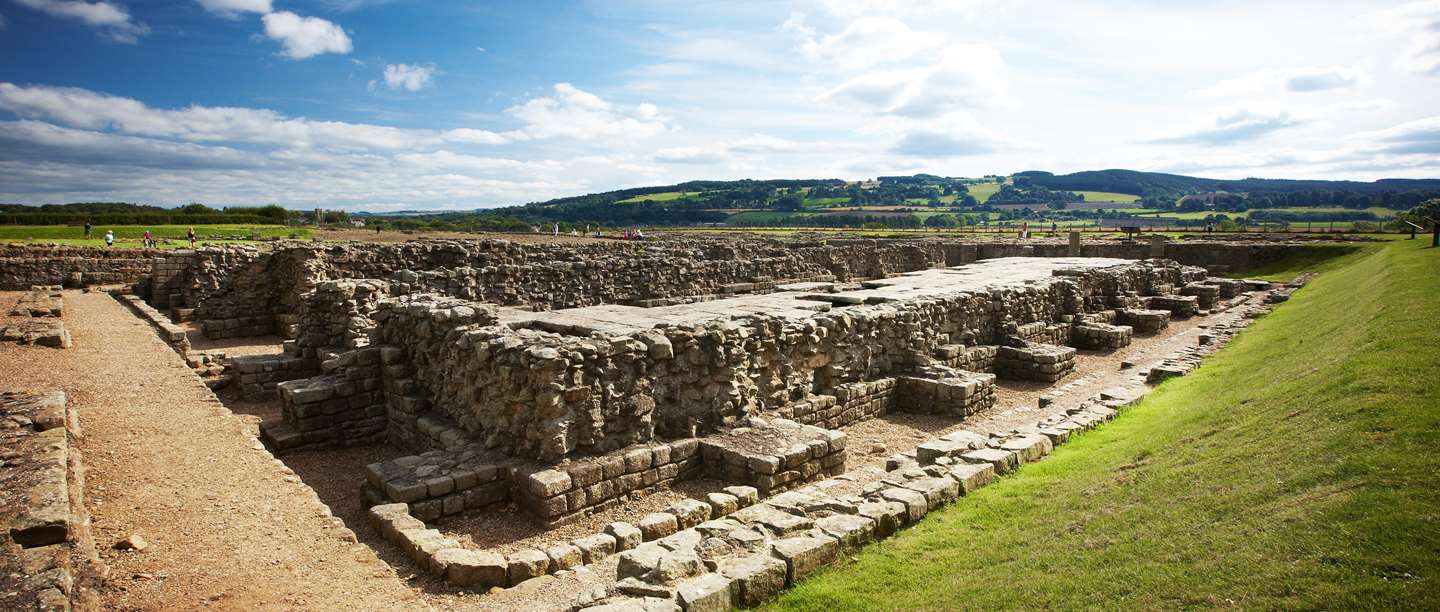 Schools
Book your school visit to Corbridge to walk through Roman streets and experience a different side to life on the frontier of the empire. Set back from the iconic Hadrian's Wall, this site offers a perfect opportunity for your students to imagine what life was life in Roman Britain, in this once bustling, vibrant community with people from different cultures and backgrounds.
Information about your visit
Our number one priority remains the health, safety and security of all of our visitors, staff and volunteers. Our staff are still working hard to keep everyone safe and make sure you and your group have an enjoyable visit.
Important information to consider before you book:
To keep everyone safe we're continuing to limit visitor numbers at some sites and in some indoor spaces. Please book as soon as possible to secure your preferred trip date and times.
Find out more about what to expect on your school visit and make sure you download our COVID risk assessments; download a free copy of managing education visits during the pandemic and if you're participating in a Discovery Visit download our managing Discovery Visits during the pandemic risk assessment
To make the planning process as easy as possible, make sure you check our Plan Your School Trip section at the bottom of this page, for updated information on the facilities at the site as well as our free resources.
You'll need to book your visit at least 14 days in advance. Please check our terms and conditions for full details.
Although is it not a requirement, any teachers, parents, or students aged 16 years can check in via the NHS Test and Trace app, using the NHS QR code posters displayed at the site entrance. Please factor this into your travel/arrival time. For more information about how we are handling your personal data for NHS Test and Trace please visit this page.
Our staff are continuing to wear a face covering in our busy areas and indoor spaces, and we encourage you and your group to do the same where possible.
At some sites you might not be able to use our handling collections or costumes as part of a free self-led visit, but where we can provide hands-on items in a safe way we will. We've adapted our Discovery Visit workshops to keep you and your group safe at all times, but for certain sessions we're still working on this – please check the Discovery Visit section and Facilities section on this page below for further information.
Curriculum Links
Bring your teaching on Roman Britain to life and cover key curriculum objectives, with a visit to Corbridge Roman Town:
KS1-3 History: Local history study
KS2 History: The Roman Empire and its impact on Britain; the 'Romanisation' of Britain and the impact of technology, culture and beliefs
KS2-3 Geography: Consider why the town was built in this location
KS3 History: A study of an aspect or theme in British history from before 1066
Free Self-led Visits
Book a free self-led visit and plan your trip to fulfil your curriculum needs, as you and your class explore the history of Corbridge Roman Town. Walk in the footsteps of Romans down the high street and imagine collecting supplies from traders, then discover the stories of Corbridge's Roman residents in the museum, with objects on display including armour, tools, inscriptions on stone, ceramics, and jewellery, all found at the site.
Enquire now
Pre-visit learning
Hadrian's Wall was an unprecidented project in ancient Europe, but why did the Romans build it, and how did they manage it? Watch this animation to find out more about this ingenious structure.
PLAN YOUR TRIP
We have a wide range of materials to support your visit and make school trip planning easy. Download our free resources to help you make the most out of your visit and create unique learning experiences before, during and after your trip.
We also offer free planning visits for group leaders once you have made a booking. Our Education Booking Team is on hand to advise and help you create the best possible school trip to suit your needs and area of study.
Facilities

PARKING: Free parking for approx. 20 cars is available about 10 metres from the entrance. Additional (free) parking is available in Corbridge near the river, about 1 1/4 miles away.
TOILETS: Toilets, including accessible toilets, are available on site.
LUNCH: You are welcome to bring a picnic to eat in the grounds. There are picnic benches on site.
SHOP: There is a small shop selling a selection of English Heritage gifts and Hadrian's Wall and Roman themed souvenirs.
EXHIBITION: The museum contains wide range of items which cover every aspect of Roman life. This is a small enclosed space so we ask that you split your class into small groups when visiting the exhibition.
Learning Resources

English Heritage has commissioned a series of portraits depicting six historic figures from the African diaspora whose stories have contributed to England's rich history. The paintings will be hung at the English Heritage sites connected to their subjects this summer.

Find out more about African-born Roman Emperor Septimius Severus in our learning pack and artist Elena Njoabuzia Onwochei-Garcia who created his portrait. It will be on display at Corbridge Roman Town throughout the summer.
Enquire now

0370 333 0606

School visits

We're here to support your school trip planning this term. Book your visit online. All bookings must be made at least 14 days in advance. Please make sure you check our terms and conditions ahead of your visit.

If you'd like more information about a site or one of our workshops, get in touch to speak to your local Education Visits Officer.