The Corbridge Hoard: A Roman Time Capsule
See a fascinating display at Corbridge Roman Town, which shows one of the most significant finds in Roman history. The Corbridge 'Hoard' is one of the most influential Roman 'Time Capsules' ever discovered in Hadrian's Wall Country.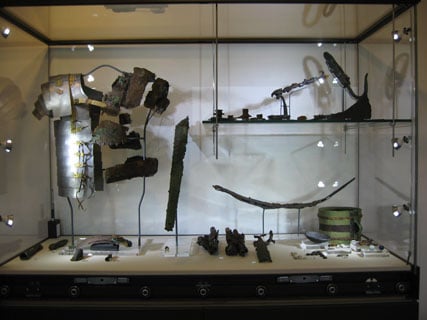 Display and Interactive Exhibit
A display and interactive digital exhibit tells visitors all about this incredible find of treasures. The Corbridge Hoard is an almost 2,000-year-old Roman time capsule.
The well preserved objects include the contents of a Roman workshop and many of a Roman soldier's worldly goods - armour, tools, weaponry, wax writing tablets and papyrus.
Dating from between AD122 and 138, the contents of the hoard were found in excellent condition, due to the way that they were buried in an iron-bound, leather-covered wooden chest. Explore some of the highlights from the Corbridge Hoard and other collection items.
Excavation Footage
The display at Corbridge features never before seen film footage of the actual excavation of the hoard back in 1964, along with a striking new display of the armour in its original state, next to a replica which will help visitors imagine how the armour once looked.
With kind permission of Mrs A. Luscombe.
Why Is The Hoard So Important?
Roman specialists have long debated why such a collection of possessions should have been buried.
Our curators here at English Heritage believe it was most likely a way of looking after the material until its owner was able to come and retrieve it. It would seem, on this occasion, the owner never came back for it.
The Corbridge Hoard is one the most remarkable Roman finds of the past century. The armour, found during the 1964 excavations, has since helped to shape Roman historians' understanding of Roman armour.
The intricate designs and astonishingly preserved leather and textiles, helped people to understand how Roman armour was assembled and it was this discovery that made it possible to produce accepted reconstructions of this type of armour.
When the hoard was first discovered, it was like finding a time capsule from the past. A stunningly preserved piece of history, found in an iron-bound, leather-covered wooden chest buried in the ground, which revealed a great deal about our Roman ancestors.
Find out more about visiting Corbridge Roman Town and Hadrian's Wall.