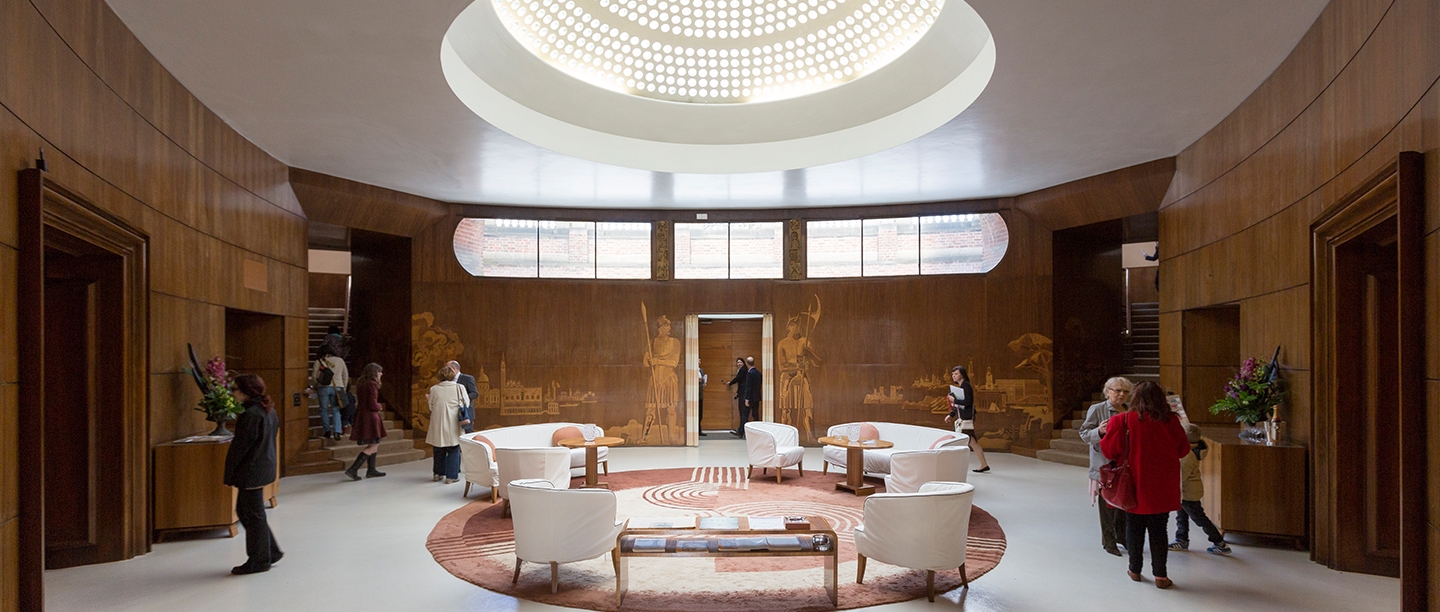 Group visits to Eltham Palace and Gardens
Once a favoured medieval palace and then royal Tudor residence, Eltham Palace was transformed into a striking art deco mansion by millionaires Stephen and Virginia Courtauld. Your groups can see how they incorporated historic features of the ancient palace and enter into their fashionable world by exploring their eccentric ultra-modern 1930s home, set in 19 acres of award-winning gardens.
Group Discount
We offer a 15% discount (10% for Stonehenge) for travel trade and organised groups of 11 or more paying visitors when payment is made in a single transaction.
Per group you also receive:
free entry for one tour leader
free entry for one coach driver
The tour leader, coach driver and any English Heritage members do not count towards the group totals.
Booking information
Trade admission prices and opening times:
Please refer to our Trade Admission Prices & Site Opening Times brochure for pricing and opening times information at our top sites for groups.
Making a booking:
Contact information for making your group booking can be found in the Visit & Contact Information section below.
Please include the property name and date of visit in the subject line of your email along with the following information:
Group name
Name of property
Tour reference/booking reference (if applicable)
Date and time of arrival
Number of visitors
Payment method:
Payment can be made on arrival by: cash, credit/debit card, cheque (made payable to The English Heritage Trust), Agency Voucher Scheme (AVS).
Visit & Contact information
Coach parking:Coaches can drop off next to the visitor centre before being advised where to park.
Catering: The bright and airy glasshouse cafe serves hot and cold locally-sourced food including light lunches, afternoon teas and cakes. There is seating inside and outside, but seats can't be reserved. Groups are advised to contact the site in advance for further details.
Orientation map: Download a copy of our Eltham Palace orientation map to help with your planning.
Average length of visit: 3 hours
Address:Court Yard, Eltham, Greenwich, London, SE9 5QE
Email: eltham.palace@english-heritage.org.uk
Telephone: 020 8294 2548
Guided tours
Make your group visit extra special by adding a guided tour.
Guided tours must be booked in advance and are always subject to availability.
Guided Tour of House
Visit this magnificent Art Deco Mansion, set in a medieval palace setting. The tour will take you around the house, showing off the stunning interiors and furnishing, reflecting the high fashion of 1930s. We will also be visiting the medieval Great Hall, the childhood home of Henry VIII.
Duration: 60 minutes
Minimum-maximum pax: 11 - 25 pax.
Advance booking required: Yes, a minimum of 30 days notice is required
Price: Price available on enquiry.
Garden Tour
Visit a truly outstanding period garden, matching the Art Deco Mansion with an exclusive tour by the Head Gardener. Boasting a medieval bridge and a moat, this 19-acre garden is beautiful in each season.
Duration: 60 minutes
Minimum-maximum pax: 11 - 25 pax.
Advance booking required: Yes, a minimum of 30 days notice is required
Price: Price available on enquiry.
Aerial fam trip
Take flight and explore the once favoured medieval palace and then Tudor royal residence. Eltham Palace was transformed by eccentric millionaires Stephen and Virginia Courtauld. Discover the Courtauld's extravagant lifestyle as you explore their stylish home which incorporates original medieval features into an otherwise ultra-modern 1930s design.
Group Travel Support
Further support and useful resources available to group travel organisers can be found on our dedicated Group Visits webpages.
For educational groups, please visit our School Visits webpages.