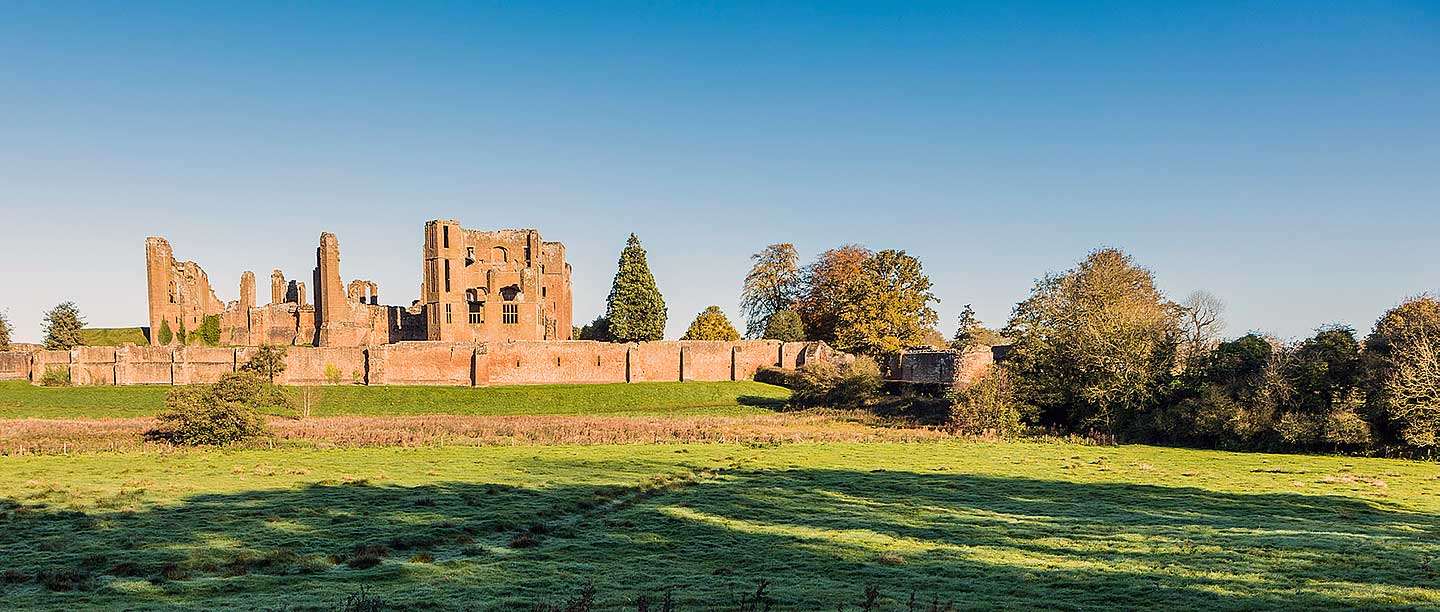 Kenilworth Castle: History and Stories
Kenilworth Castle is one of the great historical sites of the United Kingdom. First built in the 1120s and a royal castle for most of its history, it was expanded by King John, John of Gaunt and Henry V. In 1563 Elizabeth I granted it to her favourite, Robert Dudley, Earl of Leicester, who converted the castle into a lavish palace fit to entertain his queen.
Although the castle's fortifications were dismantled in 1650, many of the buildings remain unaltered since Elizabeth I's reign, and the spectacular ruins reveal much of Kenilworth's medieval and Tudor past.
Key facts
The first castle was established in the 1120s by the royal chamberlain, Geoffrey de Clinton, who built most of the Norman keep.
In the early 13th century King John added an outer circuit of stone walls and a dam to hold back a great lake, so creating one of the most formidable fortresses in the kingdom.
In 1266 Simon de Montfort held Kenilworth against the king through an extraordinary six-month siege – the longest in English medieval history.
In the 14th century John of Gaunt, son of King Edward III, developed the castle into a palace, building the great hall and lavish apartments.
The castle was a favoured residence of the Lancastrian kings in the later Middle Ages – Henry V even built a retreat here at the far end of the lake.
In 1563 Elizabeth I granted the castle to Robert Dudley, Earl of Leicester, who transformed Kenilworth into a magnificent palace. Famously he entertained the queen here for 19 days of festivities in 1575.
The castle's fortifications were dismantled in 1650 after the English Civil War. Later, the ruins became famous thanks in part to Walter Scott's 1821 novel Kenilworth, which romanticised the story of Robert Dudley, his wife Amy Robsart, and Elizabeth I.
Discover the castle's history
Kenilworth Castle's Elizabethan Garden

Use this interactive tour to explore the castle's Elizabethan garden, a recreation of the one built by Robert Dudley for Elizabeth I's visit in 1575.

Description of Kenilworth Castle

The spectacular ruins, built mostly from the local red sandstone, reveal much of the castle's long history as a royal residence.

Download a plan

Download this PDF plan of Kenilworth Castle to see how the castle developed over the course of its 900-year history.
Plan your visit to Kenilworth Castle

Scale the heights of the tower built to impress Eliizabeth I, marvel at the mighty Norman keep, and explore the recreated Elizabethan garden.

Buy the guidebook

This comprehensive guidebook includes a tour and history of the house, with many reconstruction drawings and historical images.

A short break in the West Midlands

A long weekend in the West Midlands has a lot to offer. We've put together this guide to some of the best historic places to see in the region.