History of the Old Blockhouse
This small blockhouse was built between 1548 and 1554 to defend the harbour of Old Grimsby, on the east coast of Tresco in the Isles of Scilly.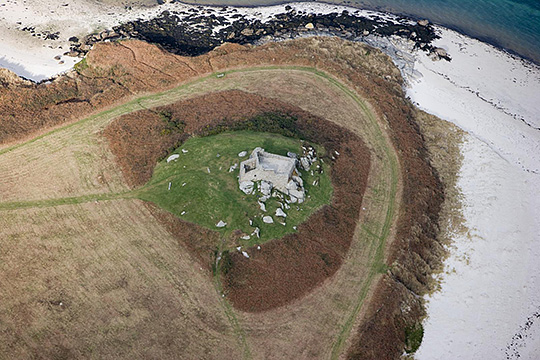 The Old Blockhouse formed part of a series of forts built on the Isles of Scilly during the reigns of Edward VI and Mary I, and followed the attempt to build a large artillery fort, known as Harry's Walls, on St Mary's.
In fact, the blockhouse did not see action until the 17th century, during the English Civil War. In 1651 a Royalist garrison was defending the islands against attack by a Parliamentarian fleet commanded by the famous Admiral Blake.
Blake attacked Tresco first, capturing its fortifications without difficulty, and then used the island as a base to assault the main Royalist stronghold at Star Castle on St Mary's. Though vigorously defended, the Old Blockhouse clearly proved of little value against the longer-range guns of Blake's ships.
It was replaced afterwards by the much stronger gun fort, called Cromwell's Castle, on the other side of the island, though it was still considered serviceable in the 18th century.
Description
Blockhouses are small, strongly-built defensive structures, often built in forward positions. Designed to house guns and protect gunners and their ammunition from attack, they were used from the late 14th to mid-17th centuries.
The Old Blockhouse sits at the south-east edge of Old Grimsby harbour, from where it commands a field of fire to the north-west, across the entrance to the harbour, and to the north-east, across the waters between Tresco and Tean, one of several points of entry into the Scilly archipelago.
The simple structure here consists of a rectangular gun platform, 23 feet (7 metres) by 20 feet (6 metres), built on a natural rocky outcrop and approached by a flight of seven steps. It was once surmounted by a parapet with splayed gunports; although now partly demolished, the parapet remains up to 3 feet (1 metre) thick in parts.
A small lean-to in the south-west corner was designed to accommodate the handful of men charged with keeping watch. In the south wall there is a small recess which may have been an ammunition store. To the right of the entrance is a second room, with a fireplace and chimney, which was probably the later living quarters, added when the blockhouse was reoccupied during the Civil War.
The approach to the Old Blockhouse is defended by a U-shaped rampart, visible as a turf-covered bank up to 33 feet (10 metres) wide and 6 feet (2 metres) high, around the crown of the hill, while two lower ramparts survive lower down, covered in blown sand.
Further Reading
Bowley, RL, Scilly at War (St Mary's, Isles of Scilly, 2001)
Morley, B, Henry VIII and the Development of Coastal Defence (HMSO, London, 1976)
Tolhurst, M, The English Civil War (English Heritage, London, 1992)