History of King Charles's Castle
Although taking its name from its occupation by Royalist forces in 1651, this small artillery fort on Tresco, in the Isles of Scilly, was built 100 years earlier, during the reign of King Edward VI (1547–53).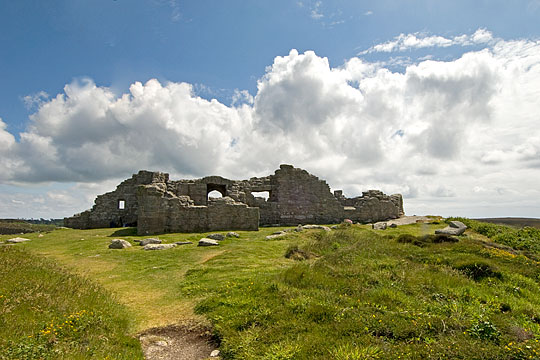 The fort was intended to protect the narrow strait leading past New Grimsby harbour and on towards St Mary's, but proved to be badly sited to withstand attack or to fire on ships in the channel below.
Its guns would have to point down at so steep an angle to hit ships in New Grimsby Channel that the cannonballs would have rolled out of the cannons before they fired.
After an abortive attempt in 1551 to build an artillery fort on St Mary's, the remains of which are now known as Harry's Walls, Edward VI's engineers focused instead on strengthening Tresco.
Paradoxically, the design of King Charles's Castle seems to look backward, recalling the angular gun forts built during King Henry's reign, whereas the arrow-headed bastions of the unfinished Harry's Walls on St Mary's resembled those found in the most up-to-date forts in Italy and the Low Countries.
Despite its initial importance, King Charles's Castle was soon superseded as the islands' chief stronghold by Star Castle on The Garrison, St Mary's, in the 1590s. The main reason seems to have been the castle's poor position, perched on a crest 40 metres above sea level.
It was garrisoned by the Royalists during the Civil War, but when the Parliamentarians took Tresco in 1651 they simply bypassed the castle by landing on the other side of the island. The castle seems to have been partially dismantled to provide stone for Cromwell's Castle, which was built on lower ground.
Description
Despite its partial demolition, the plan of the castle is reasonably clear. Cruciform in shape, it was originally two storeys high. It is entered on the eastern side by a guardroom.
An arched doorway, which still has its drawbar slot, leads into a big rectangular hall which has two large fireplaces. One contains a bread oven, suggesting that this part of the main living space was partitioned off as a kitchen. Two small chambers at either end were probably sleeping quarters.
A doorway in the centre of the west wall of the hall leads onto the ground floor of the semi-hexagonal gun platform. Five gunports survive at ground level, and two on the upper storey have been reconstructed.
During the Civil War period (1642–51) attempts were made to strengthen the fort on its vulnerable landward side by means of a new earth-and-stone rampart.
The much-eroded remains of further outworks can be traced eastwards across Castle Down, where a large bastion of uncertain date is set amid prehistoric cairns and field systems.
Further Reading
Bowley, RL, Scilly at War (St Mary's, Scilly, 2001)
Miles, TJ and Saunders, AD, 'Kings Charles's Castle, Tresco, Scilly', Post-Medieval Archaeology, 4 (1970), 1–30
Morley, B, Henry VIII and the Development of Coastal Defence (HMSO, London, 1976)
Spreadbury, ID, Castles in Cornwall and the Isles of Scilly (Redruth, 1984)
Tolhurst, M, The English Civil War (English Heritage, London, 1992)