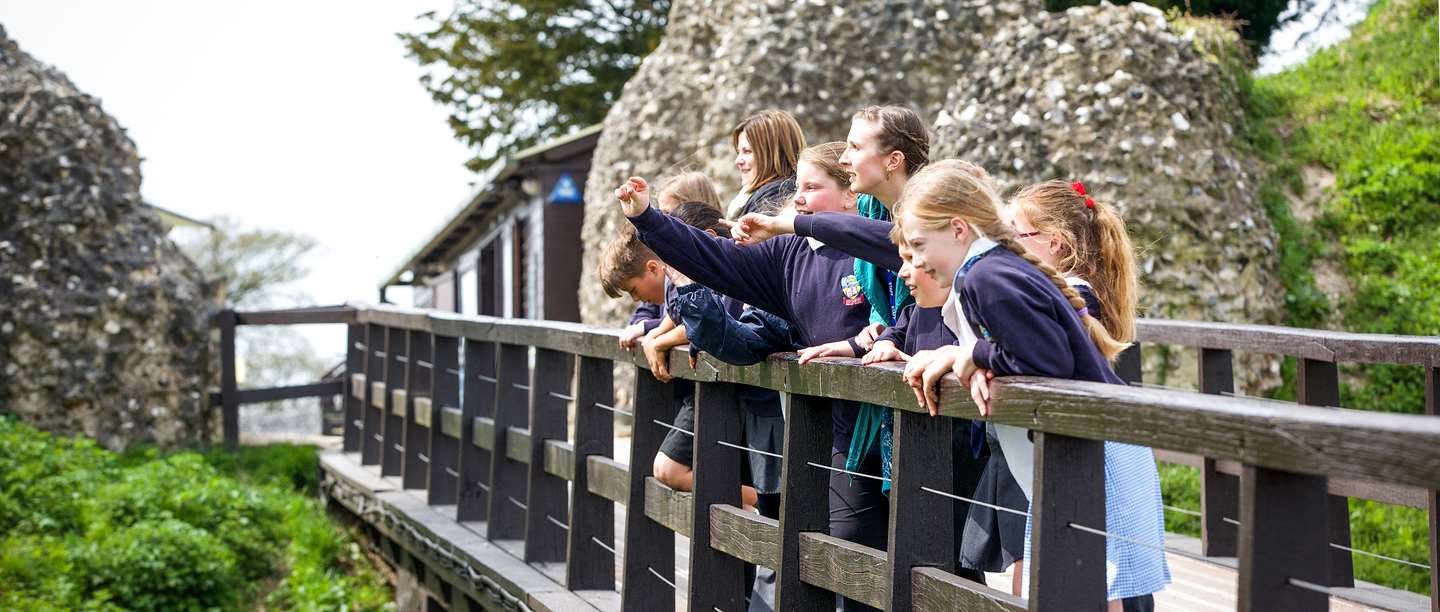 Schools
A mighty Iron Age hill fort where Salisbury's first cathedral once stood, Old Sarum is a unique location where people from prehistory to the Middle Ages have invaded and settled.
"We had a great day, thanks very much. Staff were very friendly and well organised!"
KS2 Teacher
Churchfield Church School
Curriculum Links
KS1 History: How people's lives have shaped this nation and how Britain has influenced and been influenced by the wider world
KS1-3 History: A local history study
KS1-3 Geography: Human and physical geography, geographical skills and fieldwork
KS2 History: Changes in Britain from the Stone Age to the Iron Age; Viking and Anglo-Saxon struggle for the Kingdom of England to the time of Edward the Confessor; study of an aspect or theme in British history that extends pupils' chronological knowledge beyond 1066
KS3 History: The development of Church, state and society in Medieval Britain 1066-1509, challenges for Britain, Europe and the wider world 1901 to the present day, causes and events of the civil wars throughout Britain
KS3 Art and Design: The history of art, craft and architecture
KS4 History: OCR Specification B 2c. Introduction to history around us
Free self-led visits
Book a free self-led visit to Old Sarum to explore William the Conqueror's castle and stand in the footprint of Salisbury's original cathedral. Learn about the people who lived and worked at Old Sarum using our range of free resources, including our 'Hidden Now Heard' activity backpacks with character cards, maps, handling objects and activities to discover the following time periods:
Early: Iron Age to Vikings, 120BC-1003AD
Middle: Medieval, 1086-1260
Modern: Victorian to the 21st century, 1830-2008
Reserve our activity backpacks when you book your visit, and download the free resources below to help you plan and organise your day.
Enquire now
Plan Your Visit
We have a wide range of materials to support your visit and make school trip planning easy. Download our free resources to help you make the most out of your visit and create unique learning experiences before, during and after your trip.
We also offer free planning visits for group leaders once you have made a booking. Our Education Booking Team is on hand to advise and help you create the best possible school trip to suit your needs and area of study.
Facilities

PARKING:

Free coach parking available for up to two coaches,

please contact the site on 01722 335398 to book. Parking is also available in the lay-by on Castle Road

TOILETS: Toilets, including an accessible toilet are situated next to the car park
SHOP: There is a gift shop selling souvenirs, we recommend you bring your class in small groups at a time
LUNCH: Picnic areas are available outdoors. Unfirtunately there is no undercover space for lunch or bag storage
EDUCATION ROOM: Education tents that hold up to 30 pupils are available on request in advance. Please note that staff may not be able to put these up in strong winds
Learning Resources

This Organiser Pack is designed to help you plan your visit. It includes a site map and facilities information.


This document provides you with a range of free resources to help you with teaching and learning at Old Sarum. Each section will give you an overview of the resources available and advice on how best to use them during your visit.


These resources will help you plan a visit to Old Sarum. Includes activity ideas for use before, during and after your visit.


These resources provide all of the background information you need to plan lessons and your visit to Old Sarum.


With all history GCSEs now requiring a study of the historic environment, we've also created a site proposal form to help you with your planning in conjunction with OCR.
How to book

0370 333 0606

Education opening times

April to September: Monday to Sunday 10.00 – 18.00
October to 3 November: Monday to Sunday 10.00 – 17.00
4 November to March: Monday to Sunday to 10.00 – 16.00