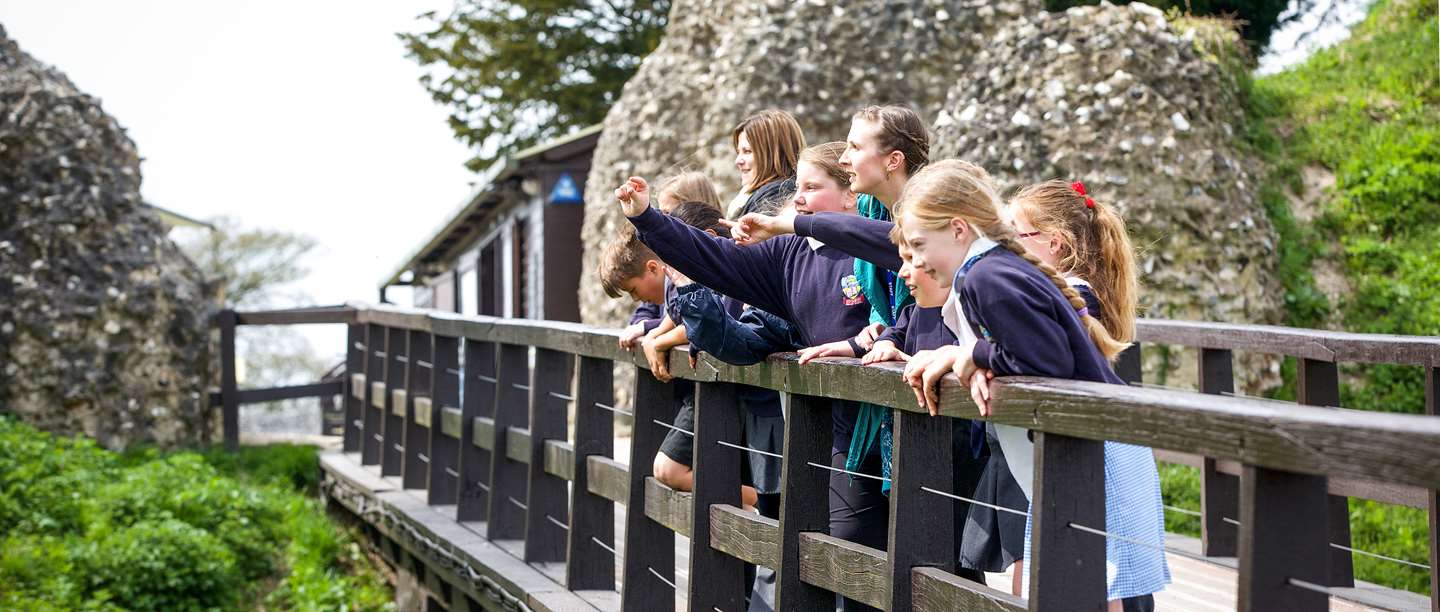 Schools
This mighty Iron Age hill fort is a unique location where Iron Age people, the Romans, Saxons and Normans have all left their mark on an impressive landscape. Once home to Salisbury's first cathedral and William the Conqueror's castle, Old Sarum was a major centre of royal and religious power for 150 years. Today, it offers an opportunity to cover multiple topics across the curriculum.
"We had a great day, thanks very much. Staff were very friendly and well organised!"
KS2 Teacher
Churchfield Church School
Curriculum Links
KS1 History: Significant historical events, people and places in the locality. Similarities and differences in ways of life in different time periods
KS2 History: A local history study. Changes in Britain from the Stone Age to Iron Age. The Roman Empire and its impact on Britain. The Viking and Anglo-Saxon struggle for the Kingdom of England to the time of Edward the Confessor. A study of an aspect or theme in British history that extends pupils' chronological knowledge beyond 1066
KS2 Geography: Human geography: types of settlement and land use, identify the manmade defensive features of the site
KS3 History: A local history study. The development of Church, state and society in Medieval Britain 1066-1509. Challenges for Britain, Europe and the wider world 1901 to the present day. A study of an aspect or theme in British history that consolidates and extends pupils' chronological knowledge from before 1066
KS3 Geography: Understand the key processes in human geography; understand how human and physical processes interact to influence and change landscapes
KS4 History: OCR Specification B: Introduction to history around us
Free self-led visits
Book a free self-led visit to Old Sarum and organise your day to suit your curriculum needs. See the impressive ramparts of the original Iron Age hill fort, and cross the wooden bridge to explore the ruins of William the Conqueror's royal castle built in the centre of the site. You can also stand inside the footprint of Salisbury's original cathedral in the outer bailey, and see the layout of the buildings. Download our free resources below, with site information and activity suggestions to help you make the most of your visit to Old Sarum.
Find out more
Plan Your Trip
We have a wide range of materials to support your visit and make school trip planning easy. Download our free resources to help you make the most out of your visit and create unique learning experiences before, during and after your trip.
We also offer free planning visits for group leaders once you have made a booking. Our Education Booking Team is on hand to advise and help you create the best possible school trip to suit your needs and area of study.
Facilities

PARKING:

Free coach parking is available for up to two coaches,

please contact the site on 01722 335398 to book. Parking is also available in the lay-by on Castle Road

TOILETS: Toilets, including an accessible toilet are situated next to the car park
LUNCH: Picnic areas are available outdoors. Unfortunately there is no undercover space for lunch or bag storage
SHOP: There is a gift shop selling souvenirs, we recommend you bring your class in small groups at a time
EDUCATION ROOM: Education tents that hold up to 30 pupils are available on request in advance. Please note that staff may not be able to put these up in strong winds
ACCESSIBILITY: There is one disabled parking bay which cannot be reserved. Visitors with disabilities can be set down at the bottom of the bridge. If the driver is disabled, they are welcome to leave the car there, but this must be arranged with the site in advance. There is a ramp into the shop. The ground level is accessible in the ruins and there is a slope leading to the upper levels (assistance may be required)
Learning Resources

This Organiser Pack is designed to help you plan your visit. It includes a site map and facilities information.

These resources provide all of the background information you need to plan lessons and your visit to Old Sarum.


With all history GCSEs now requiring a study of the historic environment, we've also created a site proposal form to help you with your planning in conjunction with OCR.
Enquire now

School visits from September 2020

Education bookings for learners of all ages and abilities are now open and you'll be able to make provisional bookings for visits from September 2020 to March 2021. Please be aware that it may take us a little longer than usual to come back to you as we continue to review and update our offer.

In the meantime if you have a query related to an existing booking or would like more information please email bookeducation@english-heritage.org.uk

We look forward to seeing you again soon.