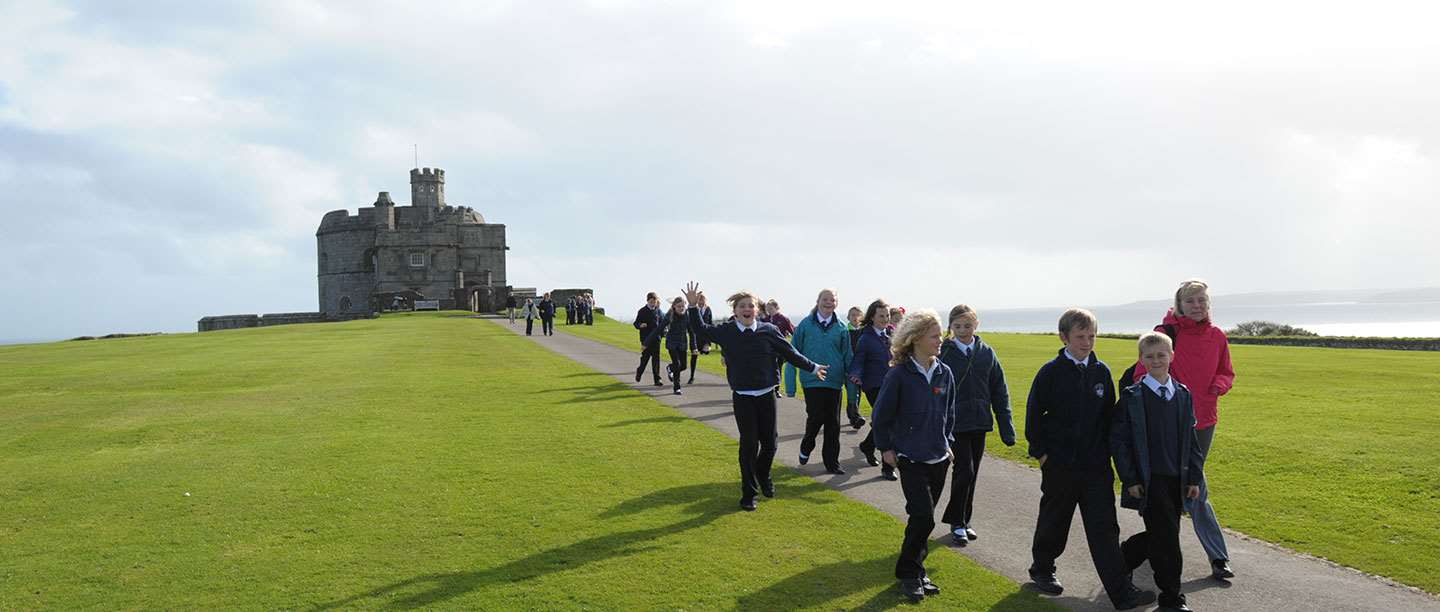 Schools
Help your class explore the history of Pendennis, from Tudor times to today, with one of our many ways to learn.
"Thank you for a stimulating and brilliant workshop and visit. Will come back again!"

KS1 Teacher
on our Now and Then Discovery Visit
Welcome back
We're looking forward to welcoming you back this September. We'd like to reassure you that we're following Government guidance to make your trip as safe and enjoyable as possible.
After months of disruption and home-schooling, there's never been a better time to explore the places where history happened. A trip to one of our sites will inspire and motivate your students, and get the new academic year off to a great start.
To keep everyone safe we've introduced limits on visitor numbers and school groups, so please bear this in mind when booking your trip. Please also note that some sites will be very limited in their capacity, and they may not be able to offer visits for large groups.
Click here for more information about the safety measures you can expect when visiting, as well as our Covid 19 Risk Assessment.
We want to make the planning process for your school trip as easy as possible. Make sure you check our Plan Your School Trip section, for updated information on the facilities at the site as well as our free resources.
As usual, you'll need to book your visit at least 14 days in advance, and 14 days for some of our Discovery Visits. Please check our Terms and Conditions for full details.
Curriculum links
KS1-3 History: Local History Study
KS1 History: Significant historical events, people and places in their own locality
KS2 History: Study of an aspect or theme in British history that extends pupils' chronological knowledge beyond 1066
KS3 History: Development of Church, state and society in Britain 1066-1509 and 1509-1745, ideas, political power, industry and empire in Britain 1745-1901, and challenges for Britain, Europe and the wider world 1901 to the present day
GCSE History: Study of the historic environment
Free Self-led Visits
One of the finest of the mighty fortresses built by Henry VIII to defend the country against invasion, Pendennis Castle remains one of Cornwall's greatest fortresses. With over 400 years of defending Britain's coasts, and a range of ways to learn on-site, we've got everything you need to help you cover a wide range of cross-curricular topics. Explore the Gun Tower and use our Tudor Discovery Chest and resources to help you with learning in and out of the classroom.
The Cornwall Heritage Trust offer funding for school transport to eligible schools. Find out more and fill out an application form to see if you can cover the costs of transport on your trip to Pendennis.
Find out more
Expert-led Discovery Visits
Bring Pendennis Castle to life and let us lead a Discovery Visit for you. Our sessions have been specifically designed to meet the needs of KS1-3 students.
Our Discovery Visits have been adapted to follow health and safety guidelines and will still offer your students a quality and fun learning experience. Please note, only our Enemies on the Horizon (KS2-KS3) Discovery Visit session is currently available.
FIND OUT MORE
Plan Your Visit
We have a wide range of materials to support your visit and make school trip planning easy. Download our free resources to help you make the most out of your visit and create unique learning experiences before, during and after your trip.
We also offer free planning visits for group leaders once you have made a booking. Our Education Booking Team is on hand to advise and help you create the best possible school trip to suit your needs and area of study.
Enquire now

School visits from September 2020

Education bookings for learners of all ages and abilities are now open and you'll be able to make provisional bookings for visits from September 2020 to March 2021. Please be aware that it may take us a little longer than usual to come back to you as we continue to review and update our offer.

In the meantime if you have a query related to an existing booking or would like more information please email bookeducation@english-heritage.org.uk

We look forward to seeing you again soon.