History of Penrith Castle
Penrith Castle was built at the end of the 14th century by Ralph Neville, who played a key role in the defence of the Scottish border.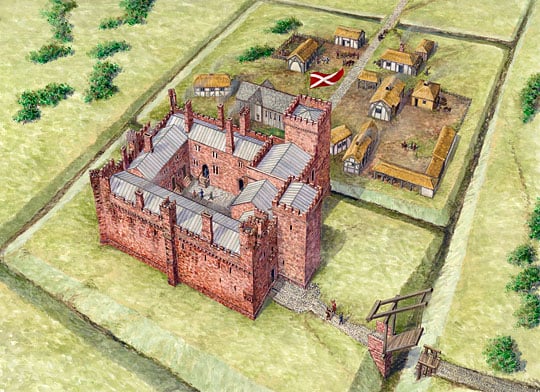 Defending the Border
Penrith Castle was built at the end of the 14th century by Ralph Neville, who played a key role in the defence of the Scottish border.
Ralph Neville (about 1364–1425) was granted the manor of Penrith in 1396 and built the castle soon afterwards. As warden of the West March, he was responsible for the defence of this area against the Scots.
Contrary to what might be expected, the castle was not built at the highest point of the hill, which lies 170 metres away. Its location was chosen because it was probably the site of an old Roman fort, the banks and ditches of which could be conveniently re-used for their defensive function.
The castle demonstrated Ralph's powerful position and his dominance over this area of Cumbria. His son Richard, 5th Earl of Salisbury (1400–60), made it his headquarters, probably building the 'Red Tower' and improving the entrance defences.
It has long been thought that Penrith Castle was built by William Strickland, later Bishop of Carlisle, but there is no direct evidence for this. The licences granted to him in 1379 and 1399 to build a fortified tower may have referred instead to Hutton Hall, a 14th-century tower near the church.
Home for a Future King
Following the death of Richard Neville ('the Kingmaker'), 16th Earl of Warwick and 6th Earl of Salisbury, in 1471, the castle was granted to Richard, Duke of Gloucester (1452–85), who later became King Richard III.
The future king resided at the castle for periods between 1471 and 1485, as he held the position of sheriff of Cumberland. His role was to secure the county against the Scots and keep rival local families under control.
Richard carried out alterations at the castle, transforming it into a suitable residence. Large windows, probably to light private apartments, were inserted in a raised external wall. A new gatehouse and a tower were also constructed at this time.
After Richard became king, the castle remained Crown property, but it was not used again as a permanent residence. Surveys from the mid-16th century describe the castle as partly decayed.
After brief use during the Civil War in 1648 as the headquarters for the Parliamentarian general John Lambert, the castle was further dismantled. Various farm buildings and a house were cleared from the site before Castle Park was laid out in 1920.
Note
The text on this page is derived from the Heritage Unlocked series of guidebooks, published in 2002–6. We intend to update and enhance the content as soon as possible to provide more information on the property and its history.