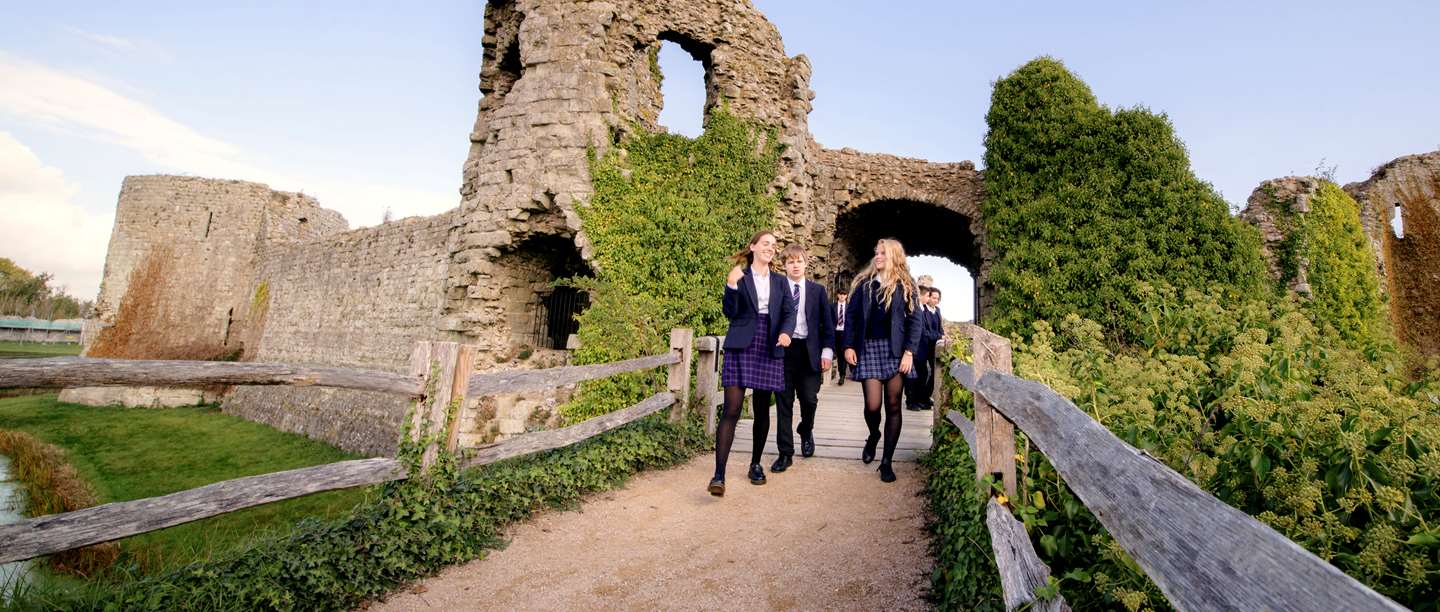 Schools
Pevensey Castle has a long history dating back over 16 centuries, which began with the Romans in the fourth century and was famously the place where William the Conqueror landed in 1066. Bring your teaching to life and stand at the spot where history happened.
"Visiting sites such as Pevensey Castle is great for taking learning out of the classroom and making it much more real - helping increase pupil engagement and developing greater depth of understanding". James Whitaker, Head of History Bede's School
This site is open exclusively to schools on Tuesday mornings.
Information about your visit
A visit to one of our sites will inspire your students and bring your teaching to life. We'd like to reassure you that we're following Government guidance to make your trip as safe and enjoyable as possible.
Important information to consider before you book:
To keep everyone safe we've introduced limits on visitor numbers and school groups, so please bear this in mind when booking your trip.
Find out more about what to expect on your school visit, which also includes our Covid 19 Risk Assessment.
To make the planning process as easy as possible, make sure you check our Plan Your School Trip section at the bottom of this page, for updated information on the facilities at the site as well as our free resources.
As usual, you'll need to book your visit at least 14 days in advance. Please check our Terms and Conditions for full details.
Although is it not a requirement, any teachers, parents, or students aged 16 years can check in via the NHS Test and Trace app, using the NHS QR code posters displayed at the site entrance. Please factor this into your travel/arrival time. For more information about how we are handling your personal data for NHS Test and Trace please visit this page.
We're continually updating our education offer in line with government guidance. Most of our English Heritage sites are now open, including indoor spaces and cafes. At some sites you might not be able to use our handling collections or costumes as part of a free self-led visit, but where we can provide hands-on items in a safe way we will. We've adapted our Discovery Visit workshops to follow government guidelines, but for certain sessions this hasn't been possible – please check our schools webpages for further information.
There may be areas of our sites which are closed, so please check what's available for your school group on our property webpages and with our booking team. They can put you in touch with our Education Visits Officers who can offer help and guidance, so you can make the most of your school trip.
Curriculum Links
Bring history to life with a visit to Pevensey Castle and inspire your students. Not only can you cover multiple time periods and topics during a visit, but cross curricular links too.
KS1-3 History: Local history study
KS1 History: Significant historical events, people and places; study of castles
KS2 History: The Roman Empire and its impact on Britain; a study of an aspect or theme in British history that extends pupils' chronological knowledge beyond 1066
KS3 History: The Norman Conquest; The development of Church, state and society in Medieval Britain 1066-1509
KS3-4 Geography: Understand the strategic significance of the castle's position
KS4 History: AQA Section B: British depth studies including the historic environment, Norman England; Edexcel Paper 2B1; Anglo Saxon and Norman England 1060-1088; OCR History A; Study of the historic environment; OCR History B; History around us, British depth study, The Norman Conquest 1060-1087
KS5 History: OCR Unit Y102/Y132: Anglo Saxon England and the Norman Conquest 1035-1107; AQA Unit HIS2A: Conqueror and Conquest c1060-1087; Edexcel Paper 2, Option 2A.1: Anglo Saxon England and the Anglo-Norman Kingdom c1053-1106
Free Self-Led Visits
Discover the place where the Norman Conquest of England began, on a free visit with your class. Retrace the steps of William the Conqueror after he landed at Pevensey on 28th September 1066, as he prepared to march his army into the now famous Battle of Hastings, and explore how the original Roman fort developed into a medieval fortress. Download our Teachers' Kit, including site details, historical information and activity suggestions to support learning before, during and after your visit.
Enquire now
Plan your trip
We have a wide range of materials to support your visit and make school trip planning easy. Download our free resources to help you make the most out of your visit and create unique learning experiences before, during and after your trip.
We also offer free planning visits for group leaders once you have made a booking. Our Education Booking Team is on hand to advise and help you create the best possible school trip to suit your needs and area of study.
Facilities

CASTLE AND GROUNDS: The grounds outside the castle and the castle ruins are open. The Dungeon and North tower viewing platform are also open. However, the North tower basement will remain closed.
MUSEUM: The castle museum is open.
PARKING: Parking is available at a charge for 50 cars approximately 300 meters from the entrance and there are three coach parking spaces.
TOILETS: The locally managed public toilets adjacent to Pevensey Castle will remain open.
LUNCH: Students are welcome to bring packed lunches and picnic in the grounds.
SHOP: The small shop is open. Please bring your students in small groups at a time.
EDUCATION ROOM: The education room is currently unavailable.
FACE MASKS: Face coverings must be worn in Pevensey Castle's indoor shop and all other indoor spaces. We won't be able to give you a face covering, so please come prepared so you don't miss out.
Learning resources

A Teachers' Kit is a free educational tool packed with everything you need to give your group a deep insight into the place you are visiting. Featuring historical information, suggestions for activities, and high-quality images, this resource is a comprehensive toolkit for group leaders of various subjects and key stages. Teachers' Kits also include key site information, facilities and plans.

We recently worked in partnership with AQA to create a resource pack to support the 'Norman England, 1066–c.1100' module, for exams in 2019. The information and sources in this pack continue to be a valuable aid for GCSE history teachers interested in studying Pevensey Castle in more depth.
Enquire now

School visits

We're pleased to confirm we're now taking bookings online until 30 September. All bookings must be made at least 14 days in advance.

Our site staff and education team are still working hard to keep everyone safe and we continue to follow government guidance.

Due to the current situation we can't answer calls as quickly as we'd like to. If you'd like more information about a site, email us and we'll put you in touch with an Education Visits Officer.