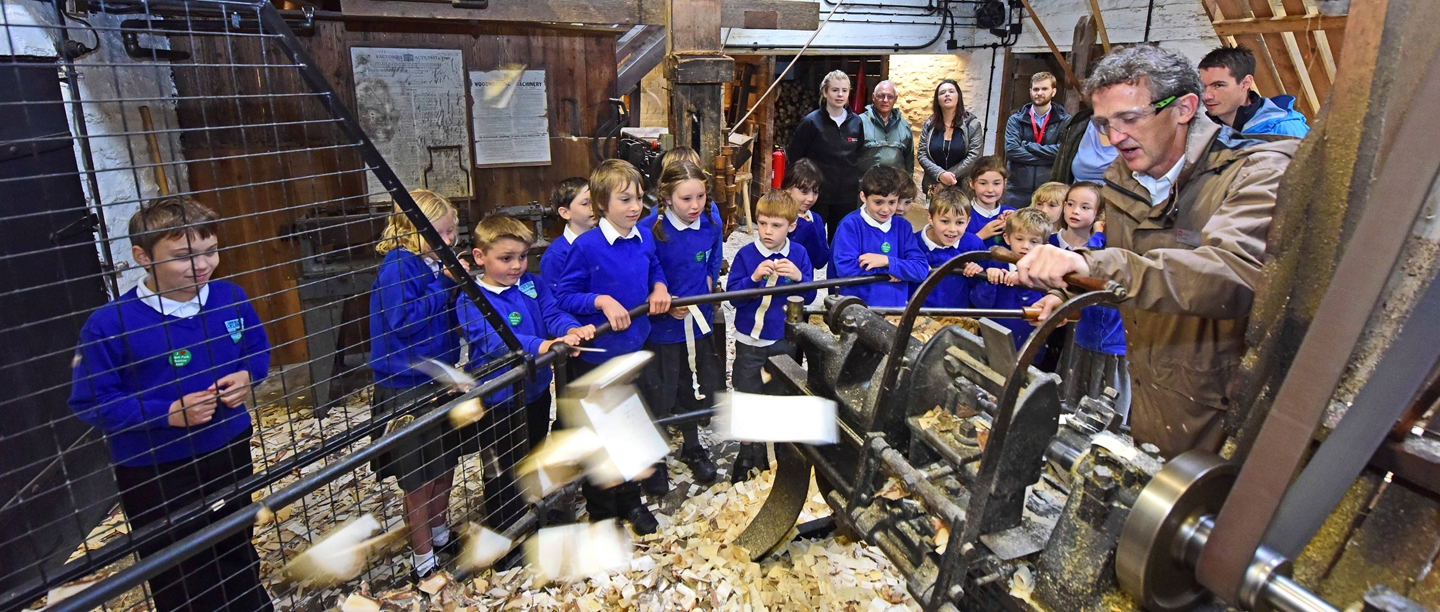 Schools
Stott Park Bobbin Mill is a unique example of the local history and heritage of Cumbria. It began to produce wooden bobbins in 1835 for the Lancashire spinning and weaving industries, with up to 300 men and boys working here over the years in often arduous conditions. It closed in 1971 and is the last surviving example of its kind.
Please note: Education visits are currently not available at this site
Curriculum Links
Bring your teaching of the curriculum to life with a visit to Stott Park Bobbin Mill.
KS1 History: Significant historical events, people and places in their own locality
KS1-3 Design Technology: Material choices and processes, technological developments over time
KS1-3 Geography: Human Geography, Geographical skills and fieldwork
KS2-3 History: A local history study
KS3 History: Ideas, political power, industry & empire: Britain 1745-1901, Britain as the first industrial nation and its impact on society
Expert-led school visits
We aren't running Discovery Visits at this site at the moment – we're unable to adapt our sessions in a way that would still provide a quality, immersive education experience. We'll update this page regularly with any changes so please do check back in future or get in touch with bookeducation@english-heritage.org.uk for more information.
Find out more
Plan your trip
We have a wide range of materials to support your visit and make school trip planning easy. You can find all our site-specific information and tools below, and for Covid-19 risk assessments and measures we've got in place please visit our what to expect page.
Download our free resources to help you make the most out of your visit and create unique learning experiences before, during and after your trip. We also offer free planning visits for group leaders once you have made a booking. Visit our bookings page to start planning your trip!
Facilities

PARKING: The lower mill car park has seven spaces and three designated disabled spaces. This car park is 50 metres from the reception and mill entrance. The top car park has parking for 15 cars and up to three coaches and is 200 metres from the mill reception
LUNCH: Vending machine selling hot drinks. Shop sells a selection of snacks including crisps, cold drinks, confectionery and ice cream. You are welcome to bring a picnic to eat in the grounds. There are picnic tables and benches available
SHOP: There is a small gift shop where bobbins made in the mill can be purchased.
TOILETS: Toilets available on site. Additional sanitising stations also available.
MUSEUM: Stott Park Bobbin Mill is an industrial museum which explains the process of bobbin making in the Lake District. The Drying Barn has a permanent exhibition tracing the history of bobbin making
FACE MASKS:Face coverings are not mandatory but we do encourage you and your group to wear them where possible in other enclosed spaces. Our staff and volunteers will continue to wear face masks in indoor spaces for your safety. We won't be able to give you a face covering so if your group do want to wear them please come prepared.
Risk Assessments

Our ready-made Discovery Visit Risk Assessment takes the hassle out of planning.