History of Temple Manor
The stone hall of the manor house of the Knights Templar lies to the west of the River Medway in Strood. Now surrounded by an industrial estate, it once stood in farmland, which in the 13th century provided it with a substantial income. A leafy garden now provides a fitting setting for this fine medieval building.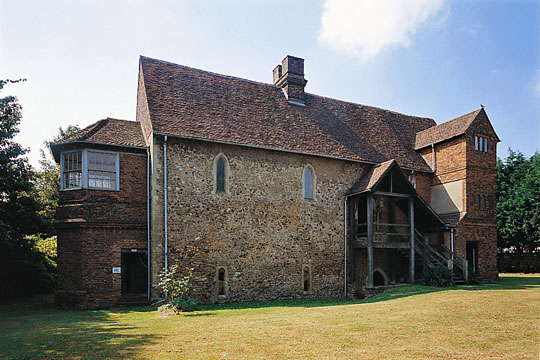 The manor of Strood was given to the Knights Templar by Henry II in 1159.
The Knights Templar was a military and religious order that was established at the time of the Crusades to protect pilgrims travelling to the Holy Land and to defend the holy places there. It acquired extensive possessions in Europe and became rich and powerful.
Probably no more than two knights of the order would have lived permanently at Temple Manor. A bailiff may have run the estate.
The hall was built about 70 years after the Templars had acquired the estate and was designed to provide suitable lodging for dignitaries travelling between Dover and London. A kitchen range and other service buildings would have been part of the complex. By the early 14th century the Templars had converted the manor into a farm, which was rented out to tenants.
In 1307 King Philip of France first seized the possessions of the Templars, whose wealth and influence had made them unpopular, and in 1324 the manor of Strood was formally ceded to Edward II. In 1336 Edward III gave Temple Manor to the Countess of Pembroke, and the income from it was used to endow an order of Franciscan nuns.
Following the Suppression of the Monasteries, the property was granted to Edward Elrington in 1539. It passed through many hands and was eventually divided up. In the 1930s the city of Rochester acquired the remaining part of the estate for industrial development. The manor house became derelict and was restored by the Ministry of Works after the Second World War.
Description
The hall is an impressive two-storey flint and stone structure consisting of a first-floor chamber supported by a fine undercroft, or vaulted cellar. Brick extensions were added at each end in the 17th century.
The ornate chamber was used by the knights for both residential and business purposes. The main doorway has Purbeck marble shafts to either side and complex carved mouldings. The walls are of flint rubble but were originally plastered and painted to simulate smooth stone.
The upper floor was reached via an external stair, which was reconstructed in the 1950s. In the 17th century a fireplace was inserted into the chamber at its eastern end.
Archaeological excavation has revealed that a timber hall was added to the north side of this building in the early 14th century and that further buildings were constructed in the 15th century. No trace of these remains today.
Further Reading
Rigold, SE, Temple Manor, Strood, Rochester, Kent (English Heritage guidebook, London, 1990)