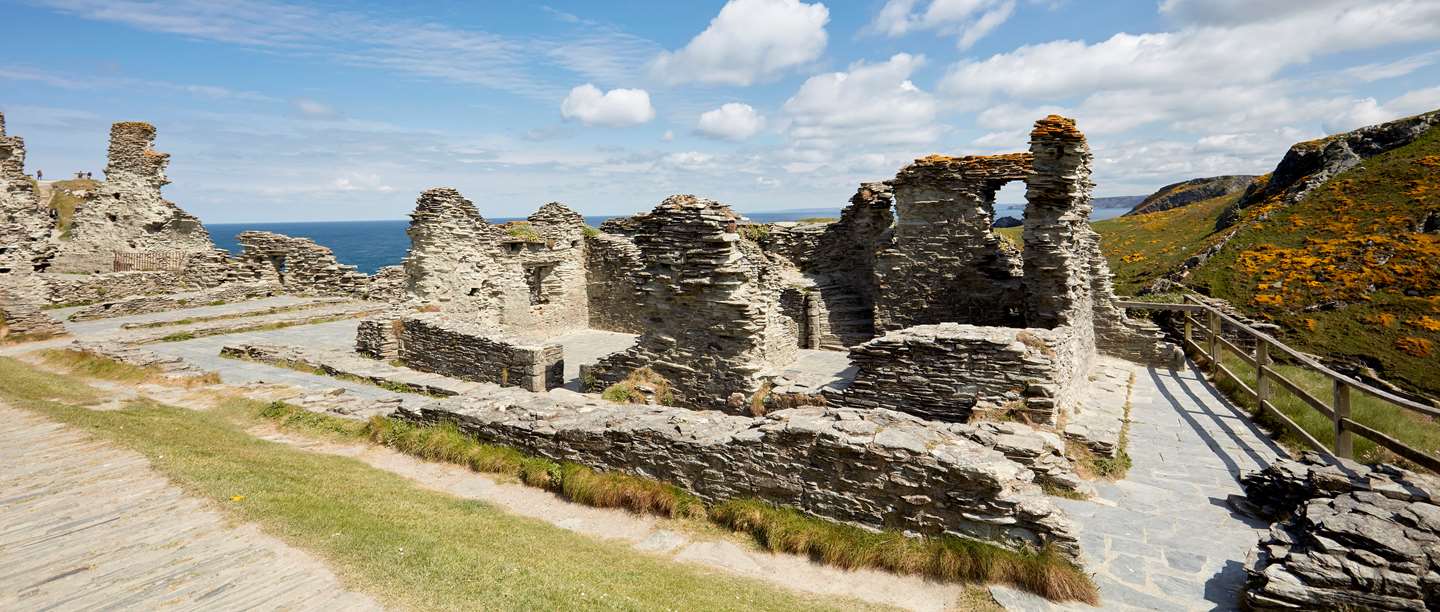 Schools
With a history stretching as far back as the Romans, and the ruins of a medieval castle to explore, Tintagel Castle is an ideal destination for inspirational learning.
"Enjoyed the fantastic scenery and the stories and I'm sure that most will return again and again!"

KS2 Teacher
Wadebridge, Cornwall
Curriculum links
KS1-3 History: Local History Study
KS1 History: How people's lives have shaped this nation and how Britain has influenced and been influenced by the wider world.
KS2 History: How several aspects of national history are reflected in the locality, a study of history or a site dating from a period beyond 1066 significant in the locality.
KS3 History: Development of Church, state and society in Medieval Britain 1066-1509, ideas, political power, industry and empire in Britain 1745-1901.
Free Self-led Visits
Standing half on the mainland and half on a jagged headland projecting into the Atlantic, Tintagel Castle is one of the most spectacular historic sites in Britain. Its association with King Arthur also makes it one of the most famous, although the history of the site stretches back centuries before the first tales of Arthur. Use our downlaodable Hazard Information sheet below, to help you plan your trip.
Find out more
Plan Your Visit
We have a wide range of materials to support your visit and make school trip planning easy. Download our free resources to help you make the most out of your visit and create unique learning experiences before, during and after your trip.
We also offer free planning visits for group leaders once you have made a booking. Our Education Booking Team are on hand to advise and help you create the best possible school trip to suit your needs and area of study.
Facilities

TOILETS: Toilets are available next to the Visitor Centre and shop including a disabled toilet and baby changing facilities. There are no toilets on the island.
PARKING: Coach parking available a short walk from the site
ACTIVITIES: Handling collection available for advance booking, please contact the site for bookings.
SHOP: Gift shop on-site, we recommend you bring your class in small groups at a time.
Learning Resources

A Teachers' Kit is a free educational tool packed with everything you need to give your group a deep insight into the place you are visiting. Featuring historical information, suggestions for activities, and high-quailty images, this resource is a comprehensive toolkit for group leaders of various subjects and key stages. Kits also include key site information, facilities, plans and hazard information.

Edited and translated versions of our Teachers' Kits are available to support you and your group if you are visiting from another country.
Find out more

03703330606

School visits from September 2020

Education bookings for learners of all ages and abilities will be open from 31 August, and you'll be able to book for visits from September 2020 to March 2021. If you already have a booking with us in that time, we'll be in touch over the next few weeks.

In the meantime if you have a query related to an existing booking or would like more information please email bookeducation@english-heritage.org.uk

We look forward to seeing you again soon.