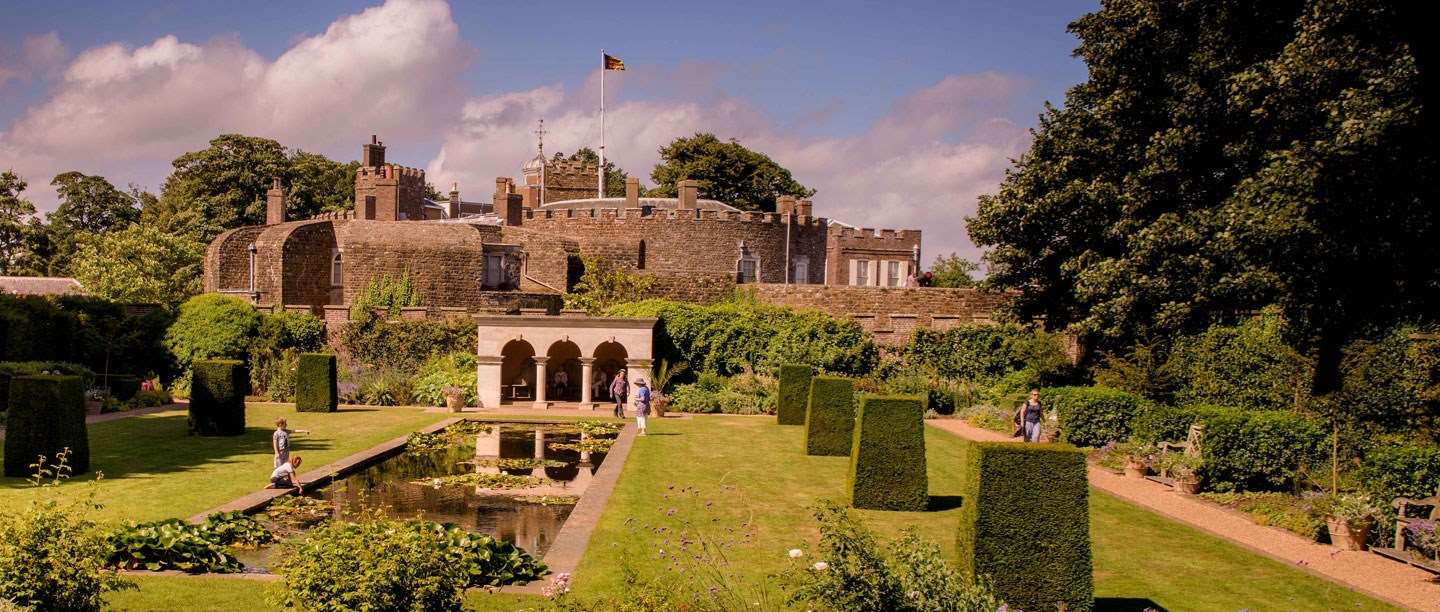 THE QUEEN MOTHER'S GARDEN AT WALMER CASTLE
Explore a serene focal point to the gardens at Walmer Castle, created by leading garden designer Penelope Hobhouse. Gifted to her upon her 95th birthday, the Queen Mother declared "I have been given many flowers before, but never a garden".
Walmer's gardens have continually evolved under successive Lords Warden. The Queen Mother's Garden takes their evolution further by providing a contemporary feature to sit alongside the older surrounding designs. Enjoy the subtle features and exquisite design of this jewel-in-the-crown of Walmer's historic gardens.
The Garden
The Queen Mother's Garden is designed along classical lines reflecting Penelope Hobhouse' interest in Islamic gardens. The result is a tranquil combination of still water, rich planting and cool shade.
An elegant arched pavilion is reflected in the still water of the central rectangular pool. It is surrounded by deep borders with sculptural plants such as tall, purple headed cardoons, deep blue Agapanthus, purple Verbena, scented roses and mauve alliums. In the late spring large terracotta pots are full of brightly coloured tulip varieties, such as 'Rem's Favourite', and the 'Paul's Scarlet' Hawthorn trees around the outside are full of rich red blossom.
The Designer
A prolific and highly regarded garden designer and author, Penelope Hobhouse is also a renowned garden historian. Over her successful career she has designed gardens across the world, and won significant accolades for bringing historic gardens into the public imagination. Her work has seen her receive the Victoria Medal of Honour, the highest award presented by the Royal Horticultural Society.
The 20th Anniversary
In 2017, Walmer saw the 20th anniversary of the opening of the Queen Mother's garden. The anniversary year was one of celebration for the gardens at Walmer. Recognized at South & South East in Bloom 2017, the gardens received Silver Gilt in the category of Heritage Garden of the Year. At the same time, the Horticulture Week Custodian Awards saw Walmer named overall winner in the category of Best Garden/Arboretum.
Continually improving and evolving, there is always something new to see and enjoy at Walmer. Visit the castle and experience these award winning gardens for yourself.
Plan your Visit