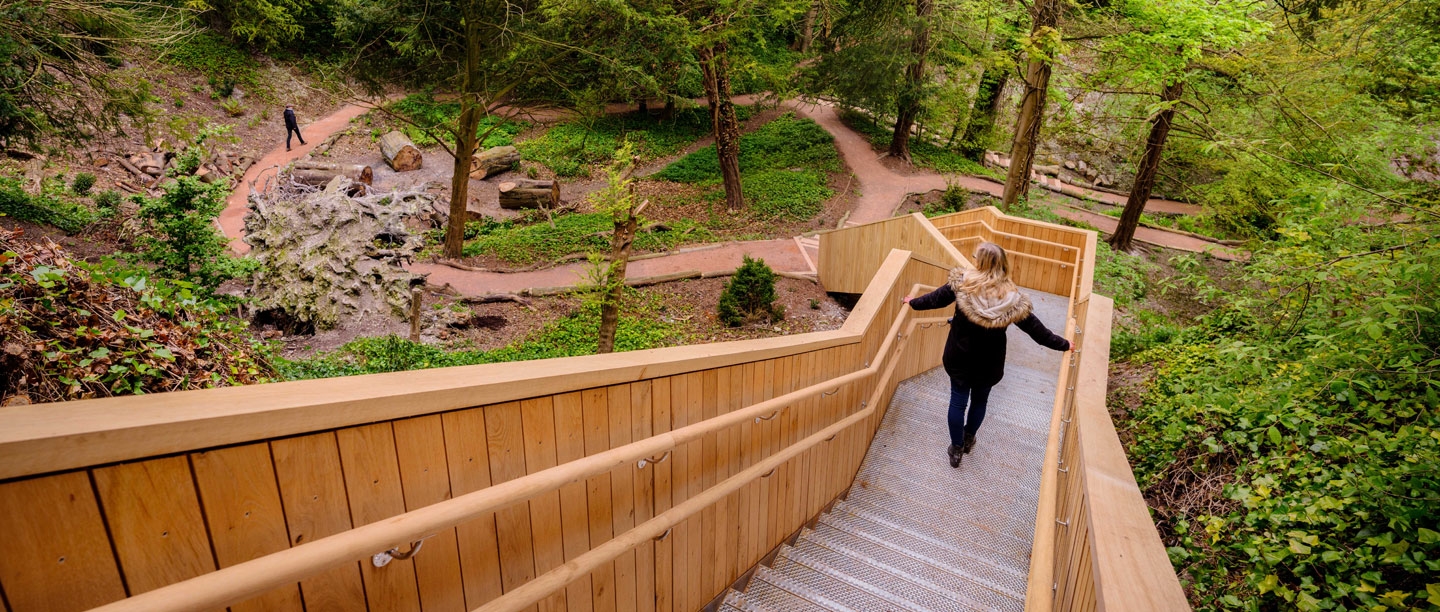 Re-Discovering Walmer's Lost Pleasure Grounds
In a £2.3m project now completed at Walmer Castle, we've taken action to revive and reunite gardens begun by William Pitt the Younger, assisted by his niece, Lady Hester Stanhope.
The wild flower meadow known as the Paddock and the planted former chalk quarry called the Glen were once part of a delightful 19th-century garden landscape that nature, over time, partially reclaimed such that both were inaccessible.
Read on to find out what we've done to recover these lost features, re-unite them into the pleasure grounds, and re-present them for visitors to now enjoy.
Background to the Project
Begun in 1802 by William Pitt , the landscaping we've restored was first completed by Lord Liverpool after 1806, then enjoyed and adapted by successive Lords Warden. Notably, the Broadwalk was introduced by the 2nd Earl Granville in the late 1860s, and its 'keyhole' view was then created by the 7th Earl Beauchamp during his tenure as Lord Warden (1913-34).
The Glen became overgrown, and was difficult to access for around a hundred years. Prior to our intervention it had reached a critical point in its decline. In the woodland walk, holly and yew trees blocked light and suppressed the ground flora below. No space was available to re-establish upper canopy trees lost in the gales of 1987 and 1990. In the Paddock meadow, open areas became filled in by self-set trees, pushing out grassland flora and fauna. A lack of wayfinding clues, poor path surfaces, and restricted access made it difficult for visitors to enjoy this area of the site.
Were we to have let this continue, an important element of William Pitt's legacy and a major part of Walmer Castle's evolution from coastal fort to stately home would become undetectable, and the story of the pleasure grounds disconnected from the story of the castle. Urgent intervention was needed, and thanks to the support we received, it has been possible to halt the deterioration and revive this wonderful historic landscape.
Discover the history of Walmer's Gardens
The Plans
In addition to the rejuvenation of the historic pleasure grounds, the project afforded an excellent opportunity to improve our visitor facilities. We undertook the following work during the course of the project:
Paths throughout the woodland have been restored according to historic plans
We've helped the historic grounds reclaim their natural flora, fauna and habitats
We've managed the meadow to support the vulnerable and distinct chalk grassland flora and fauna
We have re-presented the Glen, inspired by evergreen plantings mentioned in letters written by Lady Hester Stanhope
We've restored the 'keyhole' view created by the 7th Earl Beauchamp and recorded photographically in the 1920s.
The gardeners' compound has been re-developed improve facilities for the care and maintenance of the garden
We've created a new Glasshouse Café, allowing visitors to enjoy refreshments in the beautiful setting of the Kitchen Garden
We've installed new tactile interpretation panels, and introduced a free family trail leaflet, updated multimedia guide, volunteer led tours and activities along with new toilet facilities
We've worked with our community in outreach and on-site activities, as well as offering additional job roles and volunteering opportunities
We've created a hub for community and educational activity through a new purpose-built learning room
The Project Underway
May 2018
The Project Begins
Work officially begins on the project with a groundbreaking ceremony held at Walmer by Walker Construction.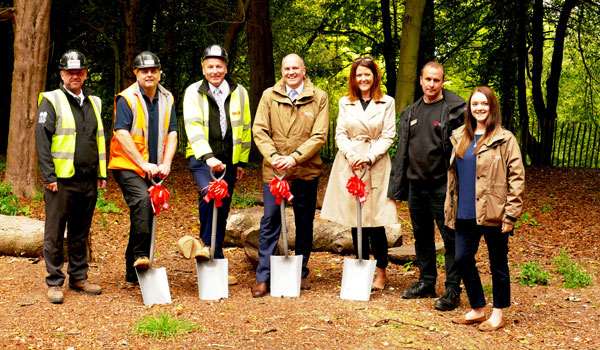 June 2018
Construction work begins on the new learning room, replacing old pre-fabricated buildings that made up the gardeners compound.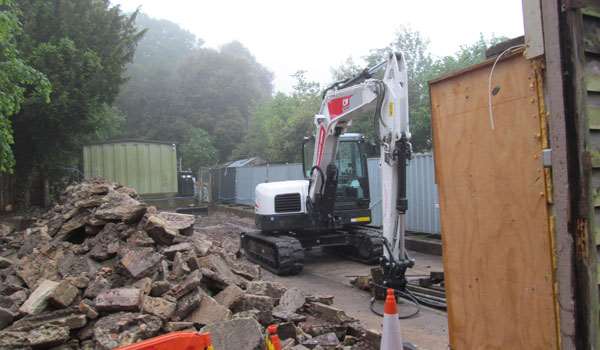 Go behind the scenes
Join presenter Charles Rowe on the English Heritage Podcast, as he meets senior properties historian Paul Pattison and head gardener Mark Brent. In this episode, discover the story of the castle and its gardens, and find out what you can see now that our project is complete.
Working with our Community
A key aspect of this project is the value we hope it will bring to those living in the local area, which is why community engagement has been made a key element of the project's objectives. Support provided by the National Lottery Heritage Fund has allowed us to open up new opportunities for local people to get involved in the gardens. We are working with a diverse range of community groups, including young people, schools, families and people with disabilities and mental health difficulties, to ensure our offer is as inclusive and empowering as possible.
As the project progresses, we will implement a number of additional community outreach and on-site activities, from horticultural and creative workshops, to gardening activities, flower shows and garden tours. We intend for Walmer to become a hub of community and educational activity with learning and volunteering opportunities at its heart.
If you would like to take part in this project, visit our volunteering page and find out what opportunities are available at Walmer today. You can also browse our jobs page to find out about upcoming employment opportunities in the gardens.
Find out More