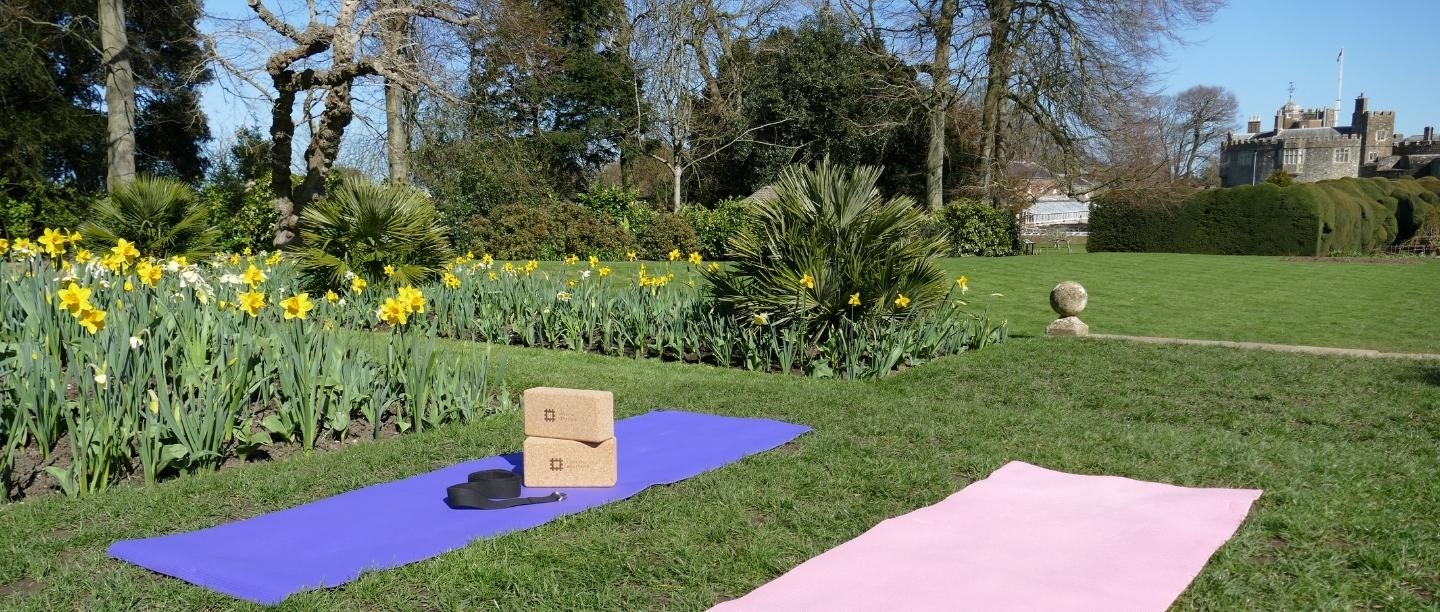 WELLBEING AT WALMER
At Walmer Castle and Gardens, we offer a wide range of therapeutic wellbeing activities to suit individuals of all ages and abilities. Set against the backdrop of our beautiful gardens and seaside estate, take part in activities such as yoga, meditation, Shinrin Yoku, and mindful walking, among many other activities that can help enrich your life both physically and mentally.
BEGINNERS HATHA YOGA WITH CHARLOTTE
If you're new to yoga, join us in Walmer Castle's gardens in the perfect class to start with — it incorporates the foundations of yoga practice and is a gentle introduction to yoga, meditation, and breathing techniques. In Sanskrit, Hatha means 'force' and translates to 'sun and moon' - Ha meaning 'Sun' and tha meaning 'Moon'. Just like opposites hot and cold, they give us balance. Hatha Yoga, the physical practice of asana, is the common thread of most varied styles and forms.
Every Thursday at 10.30am
Book Now
CHAIR YOGA AND MEDITATION WITH CHARLOTTE
Chair Yoga is a gentle practice in which poses are performed whilst seated in a chair for support. Working within your own capability, chair yoga in our gardens can help you feel stronger, increase your flexibility and the ability to mobilise, bend, twist, stretch, and keep fit, and calm the mind through breathing techniques.
Every Tuesday at 11.30am
Book now
DRUM MEDITATION WITH WENDY
Connect to your heart beat... Find your rhythm...
Join together outside in ceremony to honour and connect to the drum, the ancestors, and yourself on a deep level in this drum meditation session. Drawing on the ancient principles of shamanism, one of the earliest and most primal healing ways known to man, Wendy will guide you through a process of meditation and visualisation to help you restore harmony, balance and personal power.
Monday 18 July, 22 August, 19 September, 17 October at 10.30am
Book now
FOREST BATHING WITH VANESSA
Reconnect with nature, and find relief from the everyday stresses of life, at Walmer Castle and Gardens.
Experience our beautiful and tranquil grounds in this Shinrin Yoku 'Forest Bathing' workshop. You will be guided to connect with the natural world through slow, mindful walking and a series of activities — 'invitations' — designed to open up all your senses. This will help you access all the health benefits that nature can provide and bring about an increased sense of relaxation and mental clarity.
Saturday 30 July, 13 August, 10 September, 8 October at 8am. Sessions last three hours.
Book now
LAUGHTER YOGA WITH WENDY AND LOUISE
Laughter truly is the best medicine, and Laughter Yoga is based on the principal that our bodies benefits from laughing even when we're only pretending.
Using a combination of deep breathing techniques from yoga and playful laughter exercises, practiced in groups where you can make eye contact and connect with your sense of childlike fun, Laughter Yoga floods your body with 'happy hormones' and helps you feel relaxed, restored, and positive. As long as you are willing to have a go, you will enjoy the psychological and physiological benefits of laughter in our Moat Garden.
Tuesday 2 August, 6 September, 4 October, 10.30am
Book now
MEDITATION WITH CHARLOTTE
Meditation and mindfulness of breath is the foundation of many wellbeing practices across the world, including yoga, Pilates, and Tai Chi amongst others. Regular meditation practice can bring about incredible benefits like increased focus, reduced stress, and a greater sense of calm in all areas of life.
This session offers you the opportunity to practice guided meditation and mindfulness of breath in the beautiful surroundings of Walmer Castle and Gardens.
Every Monday 6.30pm
Book now
SLOW FLOW YOGA AND MEDITATION WITH CHARLOTTE
The rhythmic flow of the waves crashing on the beach, the wind moving through the trees, and the birds singing overhead, combined with the textures of the surroundings and smell of the fresh sea air, helps anchor our thoughts and relax our senses. In this slow, restorative yoga session on the beach, we will focus on flowing from pose to pose in harmony with the nature that surrounds us.
Every Tuesday 8am
Book now
VINYASA YOGA WITH CHARLOTTE
Vinyasa is a style of yoga in which poses are carefully choreographed together to form a fluid sequence of movement. The poses and breathing are connected to provide full body and breath awareness. Just like a dance, poses flow one to another and are often repeated a number of times. There is something very nurturing about moving with your breath and allowing your body to flow in new directions, gazing inward in a meditative state of mind to help switch off from modern life and become mindful, especially in our serene gardens.
Every Monday 5.30pm
Book now
WALK-INTO-WELLNESS WITH SAMANTHA
We are social beings and are not meant to live in isolation, closed off from nature. It's no wonder then that, in recent years, when so many of us have been cut off from friends and family and the outside world, many people have struggled to maintain good mental health.
This free, weekly session is run for and by people who share a common interest in improving their wellbeing by reconnecting with nature and each other. Every Thursday, come rain or shine, join Samantha for a short walk around Walmer Castle's beautiful gardens, then enjoy a cup of tea, a group discussion on any given wellbeing topic, and a short meditation or grounding exercise to close the session.
Every Thursday 2.45pm
Book now