History of Western Heights, Dover
Plans to fortify the hills above Dover were drawn up after war broke out with France in 1778. Standing on the Western Heights today, looking at the sweeping views over the town, harbour and castle and, on a fine day, the clear silhouette of the French coast, it is easy to understand why military planners saw the need to embark on this huge project.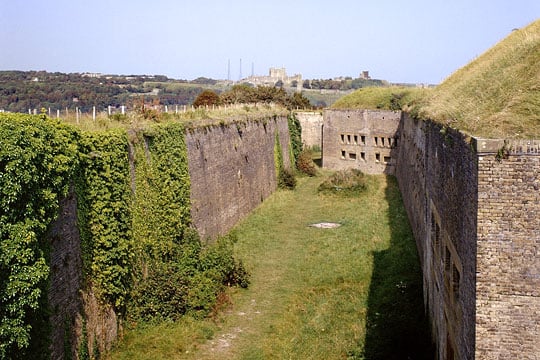 The English Heritage properties – which form only a part of the extensive network of fortifications – are situated on the north side of the hill. They include the North Centre Bastion and the Drop Redoubt. 'Redoubt' means detached fort, and 'The Drop' was the name formerly given to the area in which it is situated.
In 1779 money was first allocated for fortifications on the Western Heights but it was not until 1781 that the Board of Ordnance bought 33 acres (13 hectares) of land in order to construct the defences first proposed in the 1778 plan – though by the end of the war, in 1783, the works had not been completed. A 1784 map shows a bastioned fort on the site of the present Drop Redoubt and a series of earthwork batteries.
Little further work was carried out until the outbreak of the Napoleonic Wars in 1793. Plans were then drawn up to enhance the existing fortifications: the defences were to consist of a citadel on the west side of the hill and a redoubt on the eastern side, connected by strong defensive lines.
The Drop Redoubt was built between 1804 and 1815. Commanding extensive views of the town, harbour and castle, it has barracks for 200 men and was intended to house twelve 24-pounder guns. When the peace treaty with France was signed in 1814 more than £200,000 had been spent on the vast network of fortifications here.
The perceived threat to Britain posed by Napoleon III, Emperor of France, led in 1859 to a review of the state of the nation's fortifications. As a result the northern side of the hill was totally relandscaped and the lines connecting the Drop Redoubt and the citadel were improved.
The massive ditches, between 9 metres (29 feet) and 15 metres (49 feet) in depth, were faced with brick. Covering fire from the Drop Redoubt and North Centre Bastion would have allowed the ditches to be swept with artillery and small-arms fire.
During the First World War the Heights were primarily used for barrack accommodation. Gun sites, pillboxes and blast shelters were constructed during the Second World War.
The Army finally abandoned the area in stages between 1954 and 1961.
Description
Today there is no access to the fortifications, but it is possible to view the Drop Redoubt and the brick-lined ditches from adjacent footpaths.
In parts the defences are overgrown, but it is still possible to gain a good impression of the enormous scale and complexity of this defensive project.
Further Reading
Burridge, DA, A Guide to the Western Height Defences, Dover (Dover, 1993)
Peverley, J, Dover's Hidden Fortress: the History and Preservation of the Western Heights Fortifications (Dover, 1996)