Sources for Wroxeter
This page provides a guide to the documents, books, artefacts and visual sources that you might like to consult if you are undertaking research on Wroxeter. Key sources are preceded by an asterisk.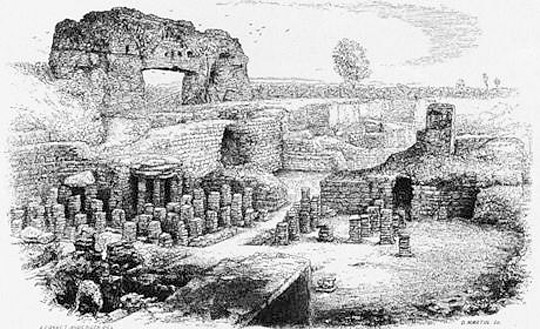 Primary Sources
The name of the town is recorded in a number of manuscripts including the 7th-century Ravenna Cosmography (Cod.Vatican.Urb. Lat. 961 fol 46; The Roman Map of Britain), and the probably 3rd-century Antonine Itinerary (Iter II and XII). It is also recorded in the late 1st-century Vindolanda Tablets (Tab. Vindol. 858 = Inv.no. T01.19. BM Registration no. 2004,0501.18, published in Bowman, AK, Thomas, JD and Tomlin, RSO, 'The Vindolanda Tablets (Tabulae Vindolandenses IV, part 1)', Britannia, 41 (2011), 187–224. This last is the only surviving contemporary reference to the town other than the forum inscription. It establishes that the Roman name of Wroxeter was initially Viriconium.
The Domesday entry for Wroxeter village can be viewed on The National Archives website for a small sum. It can also be found in print in the Philimore series of county volumes for Shropshire, in parallel with the original Latin text.
Shropshire Archives hold a number of key documents relating to Wroxeter site and village, including the Tithe map and Apportionment (SRO 2656/16–17) (1842 and 1840 respectively) and the first volume of Watton's Cuttings which has images of artefacts found at Wroxeter and other items of interest.
Henry Dryden's original excavation records, consisting of his first-hand account and measured drawings of the discoveries made in the farm yard in 1854–5 are contained in:
'A Catalogue of the collection of Drawings, Plans, Notes on Churches, Houses and various archaeological matters made by the late Sir Henry E L Dryden', Northamptonshire Record Office, NRO D(CA) 505.
Material Sources
There are two primary collections of artefacts from Wroxeter. Material collected in the antiquarian period up to the 1950s is generally held at Shropshire Museum or in the collections of the Shropshire Museum Service.
Some elements of the Bushe-Fox and Atkinson Collections, and all the post 1950 material from the baths and baths basilica sites, are held by English Heritage. Elements of this collection are on display in the site museum. The site archives relating to these excavations are also held in store.
The archive for George Fox's excavations at the baths is held by the Society of Antiquaries in London.

Published Collections
Barker, PA 'The plumbatae from Wroxeter', in De Rebus Bellicis, Part 1: Aspects of the De Rebus Bellicis. Papers presented to Professor EA Thompson, ed MWC Hassall, British Archaeological Reports British Series, (1979), 97–8
Casey, J, 'A coin of Valentinian III from Wroxeter', Britannia, 5 (1974), 383–6
Collingwood, RG and Wright, RP, Roman Inscriptions of Britain Volume 1, Inscriptions on Stone, (1965), 96–102 [inscriptions 286–302]
Henig, M, 'Corpus of sculpture of the Roman world: Great Britain, Volume 1: Roman sculpture from the north west Midlands', Fascicule, 9 (2004), 42–61
Morris, JA, Rowley's House Museum, Shrewsbury (Shrewsbury Roman Museum, 1938)
Rahtz, PA, 'Wroxeter Churchyard 1974', West Midlands Archaeological News Sheet, 17 (1974), 28–31
Tomlin, RSO, Wright, RP and Hassall, MWC, Roman Inscriptions of Britain Volume III: Inscriptions on Stone (1955–2006) (Oxford, 2009)
Webster, G, 'Some bronze objects from Wroxeter', Transactions of the Birmingham Archaeological Society, 78 (1962), 35–9
Wright, RP and Jackson, KH, 'A late inscription from Wroxeter', Antiquaries Journal, 48 (1968), 295–300
Visual Sources
The most accessible source of images is Shropshire Archives, which has more than 300 images of the site, including antiquarian engravings and scanned slides from the collection of Roger White, mainly relating to the excavation of the baths basilica, 1978–1990.
The estate map by John Rocque showing Wroxeter and its open fields is in Shropshire Archives (SRO SA 6900/1)
First-edition Ordnance Survey maps can be consulted at Shropshire Archives or through the British Library.
The earliest image of the 'Old Work' is to be found in the Mytton Papers, University of Birmingham Special Collections, Notes on Churches vol VIII fol 1651. It is an annotated version of the illustration published by Kathleen Kenyon in her 1940 article (see below).
Eight stereoscopic photographs issued by Francis Bedford were advertised in the 1860 version of the site guide. These were photographs of the excavations taken in 1859 and are of great value in recording many details of the site now lost. They have yet to be published in full but some are in the Shropshire Archives collection of historic photographs of Wroxeter.
A vivid idea of the appearance of the baths ruins when first excavated can be gained from the painting by Thomas Prytharch, now in the Gatehouse at Kenilworth Castle and in the care of English Heritage. His imaginative and lurid reconstruction of the 'Fall of Uriconium' is in the same location and, while fanciful, is worth seeing.
Antiquarian Accounts
Cosh, SR and White, RH, 'A rediscovered mosaic from Insula XXVI', in 'Wroxeter archaeology: excavation and research on the defences and in the town, 1968–1992', ed P Ellis and RH White, Shropshire History and Archaeology Transactions, 78 (2006), 141–7
Dickens, C, 'Rome and turnips', All the Year Round (14 May 1859), 53–9
Dukes, TF, 'Some account of the ancient city of Uriconium in the county of Salop, and of the Roman remains discovered at that station', Transactions of the British Archaeological Association, 3rd congress (Gloucester, 1848), 66–73
Eyton, RW, 'Wroxeter', Antiquities of Shropshire, vol 7 (1858), 309–19 [includes transcriptions of medieval documents relating to Wroxeter manor and church]
Johnson, H, 'The excavations at the cemetery, Uriconium', Gentleman's Magazine, 132:1 (1862), 398–405
Leighton, F, 'Memoir concerning the Roman baths discovered in the year 1788 at Wroxeter, the ancient Uriconium or Viroconium', Archaeologia, 9 (1789), 323–8
Lyster, J, 'A description of a Roman sudatory, or hypocaustum, found at Wroxeter in Shropshire, Anno 1701', Philosophical Transactions, 25 (306) (1706), 2, 226–33
Maw, G, 'The pavements of Uriconium', Journal of the British Archaeological Association, 17 (1861), 100–10
Rickman, J (ed), Life of Thomas Telford, civil engineer, written by himself; containing a descriptive narrative of his professional labours: with a folio atlas of copper plates (London, 1838), 23–5 and Appendix A, with plates [see also Leighton 1789 and Turner 2008]
Roach Smith, C, 'Roman sculptures found at Wroxeter', Collectanea Antiqua, III (London: privately printed, 1857), 29–32
Scarth, HM, 'Notices of Wroxeter, the Roman Uriconium, in Shropshire', Archaeological Journal, 16 (1859), 53–70
Turner, R, 'Thomas Telford the archaeologist', Antiquaries Journal, 88 (2008), 365–75 [has colour reproductions of Telford's watercolours of the 1788 excavations and is much more accessible than Rickman]
Wright, T, 'Uriconium', Journal of the British Archaeological Association, 15 (1859), 205–24
Wright, T, 'Uriconium. Second article – the inscriptions', Journal of the British Archaeological Association, 15 (1859), 310–17
Wright, T, 'Uriconium. Third article', Journal of the British Archaeological Association, 16 (1860), 158–62
Wright, T, 'Uriconium. Fourth article. Excavations made on former occasions on the site of the ancient city', Journal of the British Archaeological Association, 16 (1860), 205–17
Wright, T, 'Notes of the more recent discoveries at Wroxeter', Archaeologia Cambrensis, 3rd series, XIII (1867), 157–63

A Note on Thomas Wright's Publications on Wroxeter
There are many articles written by Thomas Wright on his excavations on the baths and elsewhere in the town. These are repetitive and often difficult to obtain. They were virtually all reworked to form the basis of his 1872 publication, Uriconium, and/or for the guidebooks he produced for the site.
Despite this, his reports and the book are difficult to understand and interpret, especially the section on the baths. Researchers for this area should instead use the reworked text of his excavations produced by Donald Mackreth (see Other Printed Secondary Sources).
This account also reproduces the many engravings produced of the ruins when first excavated. These images can now be supplemented by early stereoscopic photographs, some reproduced in White and Barker 1998 (see Other Printed Secondary Sources).
Excavation Reports
Major Excavations
Atkinson, D, Report on Excavations at Wroxeter (the Roman City of Viroconium) in the County of Salop, 1923–1927 (Oxford, 1942) [reprinted 1970]
Barker, PA, White, RH, Pretty, KA, Bird, H and Corbishley, MJ, The Baths Basilica, Wroxeter. Excavations 1966–90, English Heritage Archaeological Reports, 8 (London, 1997)
Bushe-Fox, JP, Excavations on the Site of the Roman town at Wroxeter, Shropshire, in 1912, Reports of the Research Committee of the Society of Antiquaries of London, 1 (Oxford, 1913)
Bushe-Fox, JP, Second Report on the Excavations on the Site of the Roman Town at Wroxeter, Shropshire 1913, Reports of the Research Committee of the Society of Antiquaries of London, 2 (Oxford, 1914)
Bushe-Fox, JP, Third Report on the Excavations on the Site of the Roman Town at Wroxeter, Shropshire 1914, Reports of the Research Committee of the Society of Antiquaries of London, 4 (Oxford, 1916)
Ellis, P, The Roman Baths and Macellum at Wroxeter. Excavations by Graham Webster, 1955–85, English Heritage Archaeological Reports, 9 (London, 2000)
Mackreth, D, 'The nineteenth-century excavations in the baths insula by Thomas Wright and others', in The Roman Baths and Macellum at Wroxeter. Excavations by Graham Webster, 1955–85, ed P Ellis, English Heritage Archaeological Reports, 9 (London, 2000), 347–75
Webster, G (edited J Chadderton), The Legionary Fortress at Wroxeter. Excavations by Graham Webster, 1955–85, English Heritage Archaeological Reports, 19 (London, 2002)

Minor Excavations
Barker, PA, 'Road widening at Wroxeter, 1964', Transactions of the Shropshire Archaeological Society, 58(2) (1968), 117–21
Barker, PA, 'Excavations on the site of the baths basilica at Wroxeter 1966–1974: an interim report', Britannia, 6 (1975), 106–17
Ellis, P and White, RH, 'Wroxeter archaeology. Excavation and research on the defences and in the town, 1968–1992', Shropshire Archaeological and Historical Society Transactions, 78 (Shrewsbury, 2006)
Fox, GE, 'Uriconium', Archaeological Journal, 54 (1897), 123–73
Houghton, AWJ, 'A Roman tilery and brickfield at Ismore Coppice, Wroxeter', Transactions of the Shropshire Archaeological Society, 57(1) (1961), 7–12
Houghton, AWJ, 'A Roman pottery factory near Wroxeter, Salop', Transactions of the Shropshire Archaeological Society, 57(2) (1964), 101–11
Houghton, AWJ , 'A water cistern at Viroconium (Wroxeter)', Transactions of the Shropshire Archaeological Society, 58(1) (1967), 19–26
Houghton, AWJ, 'The last mile of Watling Street east of Wroxeter', Transactions of the Shropshire Archaeological Society, 59(3) (1978), 214–24
Kenyon, KM, 'Excavations at Viroconium, 1936–7', Archaeologia, 88 (1940), 175–227
Kenyon, KM, 'Excavations at Viroconium in Insula 9, 1952–3', Transactions of the Shropshire Archaeological Society, 60 (1980), 5–73
Moffatt, C, 'Archaeological excavations at the anglo-saxon church of St Andrew, Wroxeter: 1985–6', Shropshire Archaeological and Historical Society Transactions, 66 (1989), 1–14
Morris, JA, 'Roman bridge at Wroxeter', Transactions of the Shropshire Archaeological Society, 44 (1930), 304–7
Morris, JA, 'Wroxeter excavations', Transactions of the Shropshire Archaeological Society, 46 (1932), viii–ix [includes reference to a surveyed plan copies of which are with the National Monuments Record and Shropshire Archives, but which is otherwise unpublished]
Morris, JA, 'Wroxeter excavations', Transactions of the Shropshire Archaeological Society, 47 (1934), 214–16
Pocock, RW, 'Note on the water supply of Uriconium', Transactions of the Shropshire Archaeological Society, 47 (1933), 78–80
Webster, G, 'The defences of Viroconium (Wroxeter)', Transactions of the Birmingham Archaeological Society, 78 (1962), 27–34
Webster, G and Daniels, C, 'A street section at Wroxeter in 1962', Transactions of the Shropshire Archaeological Society, 59(1) (1971), 15–23
Webster, G and Hollingworth, D, 'The Wroxeter aqueduct', Transactions of the Shropshire Archaeological Society, 56 (1959), 133–7

Remote Sensing
Baker, WA, 'Viroconium: a study of the defences from aerial reconnaissance', Transactions of the Shropshire Archaeological Society, 58:3 (1968), 197–219
Baker, WA, 'Aerial reconnaissance over Viroconium and military sites in the area in 1969', Transactions of the Shropshire Archaeological Society, 59:1 (1971), 24–31
Barker, PA, 'Aspects of the topography of Wroxeter (Viroconium Cornoviorum)', in Roman Urban Topography in Britain and the Western Empire, ed F Grew and B Hobley, Council for British Archaeology Research Report 59 (1985), 109–17 [accessed 10 March 2013]
Gaffney, C and Gaffney, VL, 'Non-invasive investigations at Wroxeter at the end of the twentieth century', Archaeological Prospection, 7:2 (2000)
Morris, JA, 'Aero-films of the excavations at Wroxeter', Transactions of the Shropshire Archaeological Society, 45, (1931), ix plus three pages of plates [these images now in the Historic England Archives]
St Joseph, JK, 'Roman forts on Watling Street near Penkridge and Wroxeter,' Transactions of the Birmingham Archaeological Society, 69 (1951), 50–56
Webster, G, 'Viroconium from the air', in Into the Sun: Essays in Air Photography in Archaeology in Honour of Derrik Riley, ed D Kennedy (Sheffield, 1989), 200–7
Welfare, H and Swan, V, Roman Camps in England (London, 1995), 150–68
White, RH and Gaffney, VL, 'Resolving the paradox: the work of the Wroxeter Hinterland Project', in The Archaeology of Roman Towns. Studies in Honour of John S Wacher, ed P Wilson (Oxford, 2003), 221–32
Wilson, DR, 'The plan of Viroconium Cornoviorum', Antiquity, 58 (1984), 117–20
Other Printed Secondary Sources
Barker, PA (ed), From Roman Viroconium to Medieval Wroxeter: Recent Work on the Site of the Roman City of Wroxeter, West Mercian Archaeological Consultants (privately printed, 1990)
Bassett, SR, 'The Roman and medieval landscape of Wroxeter', in From Roman Viroconium to Medieval Wroxeter: Recent Work on the Site of the Roman City of Wroxeter, ed PA Barker, West Mercian Archaeological Consultants (privately printed, 1990), 10–12
Bassett, SR, 'Medieval ecclesiastical organisation in the vicinity of Wroxeter and its British antecedents', Journal of the British Archaeological Association (1992), 115, 1–28
Cantrill, TC, 'Geological report on Uriconium', Archaeologia Cambrensis, 7th series, 11 (1931), 87–98
*Corbett Anderson, J, The Roman City of Uriconium at Wroxeter, Salop: Illustrative of the History and Social Life of our Romano-British Forefathers (London, 1867)
Crickmore, J, Wroxeter Viroconium (Salop) (SJ 565087) Romano-British Urban Defences, British Archaeological Reports British Series, 126 (1984), 168–71
Esmonde Cleary, AS, 'Wroxeter', in Extramural Areas of Romano-British Towns, British Archaeological Reports British Series, 169 (1987), 159–60
Fox, GE, A Guide to the Roman City of Uriconium at Wroxeter, Shropshire, Shrewsbury (Shrewsbury, 1913, 2nd edn 1925)
*Gaffney, VL and White, RH (with Goodchild, H), Wroxeter, the Cornovii and the Urban Process: Final Report on the Wroxeter Hinterland Project 1994–1997, vol 1: Researching the Hinterland, Journal of Roman Archaeology Supplementary Series 68 (Portsmouth, Rhode Island, 2007)
Kenyon, KM, Wroxeter Roman City. Viroconium (Shropshire) (London, 1949)
Mackreth, DF, 'Roman public building', in Urban Archaeology in Britain, ed J Schofield and P Leech, Council for British Archaeology Research Report 61 (1987), 209–28 [has a section at the end on reconstructing Wroxeter's public buildings]
Morris, JA, A Guide to the Roman City of Uriconium at Wroxeter, Shropshire (Shrewsbury, 1935)
Newman, J and Pevsner, N, 'Wroxeter', in The Buildings of England: Shropshire (New Haven and London, 2006), 718–27
Pannett, D, 'The River Severn at Wroxeter', Shropshire Archaeological and Historical Society Transactions, 66 (1989), 48–55
*Wacher, J, Towns of Roman Britain (London, 1993) [accessed 10 March 2013]
Webster, G, Wroxeter Roman City: The Roman Baths (London, 1965)
*Webster, G, The Cornovii (London, 1975, reprinted 1991)
Webster, G, 'The City of Viroconium (Wroxeter): its military origins and expansion under Hadrian', in SJ Greep (ed), Roman Towns: The Wheeler Inheritance. A Review of 50 Years' Research, Council for British Archaeology Research Report 93 (1993), 50–55 [accessed 10 March 2013]
Webster, G and Barker, PA, Viroconium: Wroxeter Roman City (English Heritage, 1985)
Webster, G and Stanley, B, 'Viroconium: a study of problems', Transactions of the Shropshire Archaeological Society, 57:2 (1964), 112–31
Webster, G and Woodfield, P, '"The Old Work" at the Roman public baths at Wroxeter', Antiquaries Journal, 46 (1966), 229–39
*White, RH, Wroxeter Roman City (English Heritage guidebook, London, 1999; revised edn 2010) [buy the guidebook]
White, RH, 'The evolution of the baths complex at Wroxeter, Shropshire', in Roman Baths and Bathing. Proceedings of the First International Conference on Roman Baths held at Bath, England, 30 March – 4 April 1992. Part 2, Design and Context, ed J DeLaine and DE Johnston, Journal of Roman Archaeology Supplementary Series, 37:2 (Portsmouth, Rhode Island, 1999), 278–91
*White, RH and Barker, PA, Wroxeter: the Life and Death of a Roman City (Stroud, 1998) [reprinted with revisions 2002]
*Wright, T, Uriconium: A historical account of the ancient Roman city and of the excavations made upon its site at Wroxeter in Shropshire, forming a sketch of the condition and history of the Welsh border during the Roman period (London and Shrewsbury, 1872)
*Wright, T, Guide to the Ruins of the Roman City of Uriconium, at Wroxeter near Shrewsbury (Shrewsbury, 1859, seven editions to 1867) [accessed 10 March 2013]
Unpublished Reports
Baker, W A, 'Air archaeology in the valley of the River Severn', PhD thesis, University of Southampton (1992)
White, RH and Dalwood, H, 'Archaeological assessment of Wroxeter' (1996) [accessed 10 March 2013]
White, P, 'Wroxeter Roman City. Feasibility Study of Proposed Development' (London, 1976)
White, RH, 'Final Report on excavations in advance of water main relining at Wroxeter Roman City', Shropshire Birmingham University Field Archaeology Unit Report No. 462.2 (2000)
White, RH and Hislop, M, 'Summary report on an archaeological evaluation and building record at Wroxeter Farm, Shropshire', Birmingham University Field Archaeology Unit Report No. 893.2 (2002)
White, RH, Marriott, J and Reid, M, 'Wroxeter Roman City, Shropshire. Conservation Plan', Ironbridge Institute, University of Birmingham (2010)