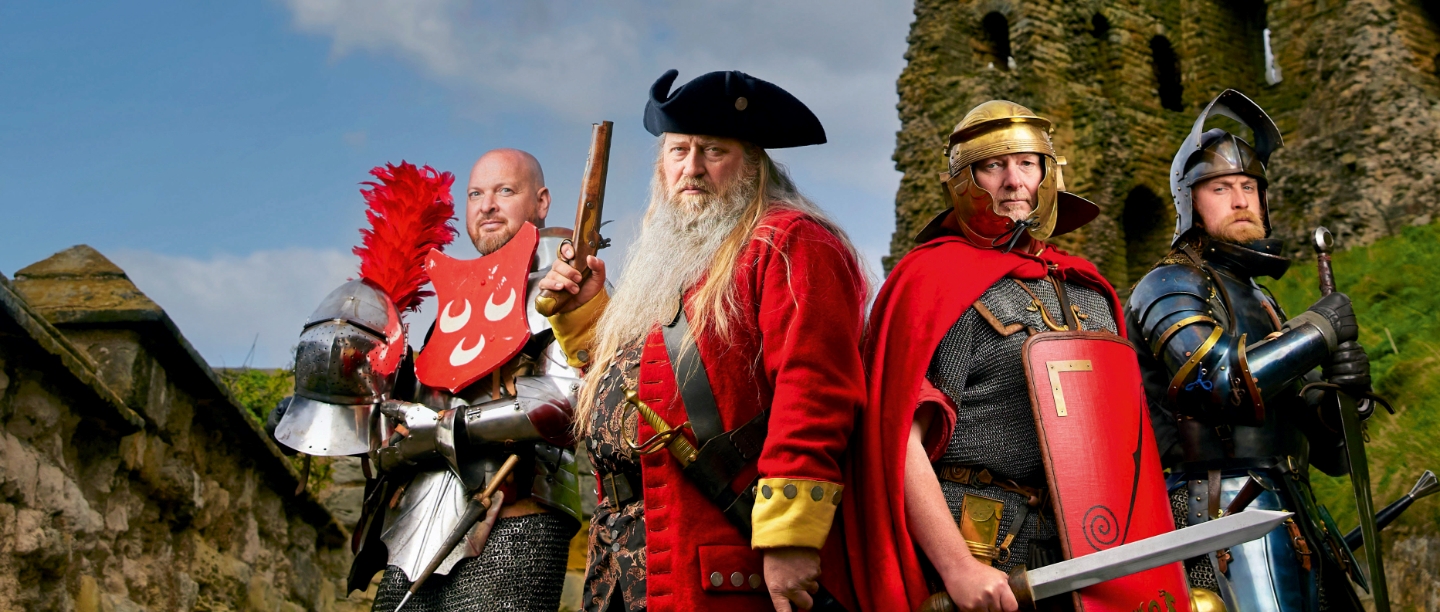 The Best Days Out in History
Switch up your summer and enjoy the best days out in history! Hear thundering hooves at the Legendary Jousts, the clashing of swords at the Knights' Tournaments, battle cries of the Roman conquerors and canon fire from the Pirates. Action-packed and great value days out for the whole family.
Summer Explorer Quests
This summer from 23 July, set off on a fun family adventure at one of many historic places across the country. We need your help to uncover the history of these sites. As our on-site reporter, can you explore the trail, find the missing stories and crack the secret code?
Use the search below to find events near you.
Find events near you
Places in your region
Knights
Savour some truly legendary live sport this summer
Witness the pomp and pageantry as brave knights and jousters battle it out in real tournaments, displaying feats of strength and skill to rival today's top athletes. Sample the sights, smells, and sounds of our atmospheric living history areas, and marvel at historical re-enactors, food tents and armour demonstrations that'll keep the whole family entertained. Experience the drama for yourself at one of our blockbuster historical events taking place across the country.
Find an event
A Brief History of Knights

Heading to one of our Knights and Jousts events? Read up on the history of knighthood in England before you go. In this article Historian Dr Charles Kightly breaks down the myths to reveal a brief history of medieval knights.

Victoria Pendleton: Jousting with an Olympic Champion

We challenged double Olympic gold medalist Victoria Pendleton to try the medieval sport of kings at Kenilworth Castle. See how she got on with wearing heavy armour and riding at up to 30mph while wielding a 12ft lance.

Around 2.8 kilometers of wire and up to a year of work. Join traditional maille makers Nick Checksfield and Mark Hale to reveal the skills and process of making a full coat of maille, as worn by knights at our summer events.
Romans
Face Pot Gallery
Face pots were widely used across the western provinces of Roman Britain and are some of the most striking artefacts we have to evidence everyday life under Roman rule. Intriguingly, despite their wide use, archaeologists aren't entirely certain about the function or importance of Roman face pots.
Visit our Face Pot gallery to create your own digital pottery masterpiece, see other people's creations and learn about what these curious ceramic pieces might have meant to people living in Roman Britain.
Visit the gallery
Who Were the Romans?

We've also gathered our range of articles and videos about Roman Britain on this page, along with information about our sites and events to help you plan your grand day out in Roman history.

Who was Hadrian?

Hadrian assumed control over the vast Roman Empire in AD 117 following the death of his adoptive father, Trajan. As emperor, he broke with the expansionist policies of his predecessors to focus on securing the Roman Empire within its existing borders.

Did the Romans Invent the Burger?

Food historian, cook, broadcaster and writer Annie Gray specialises in the history of food and dining in Britain from the 1600's to the present day. Here she takes us through the unlikely origins of the burger in Britain.
Pirates of England
Tales of swashbuckling pirates have been around for centuries, and they're a part of our pop culture – from the one-legged Long John Silver in Treasure Island, to the crocodile-crazed Captain Hook in Peter Pan and, more recently, the comedic Captain Pugwash and the swaggering Captain Jack Sparrow from Pirates of the Carribean.
But beyond the thrills and spills of fiction, who were the real pirates?
Read more
Cycling Guides

Whether you're a novice or bike enthusiast, our cycling guides offer a fun way to take in multiple sites this summer. Wheel your way across the Isle of Wight, find serenity in North Yorkshire, or tour across the Wiltshire countryside and its 5000 years of history.

Coastal Walks

Enjoy the great outdoors this summer and combine an invigorating seaside stroll with an inspiring visit to one of our historic sites, following these glorious routes along England's most beautiful coastlines.