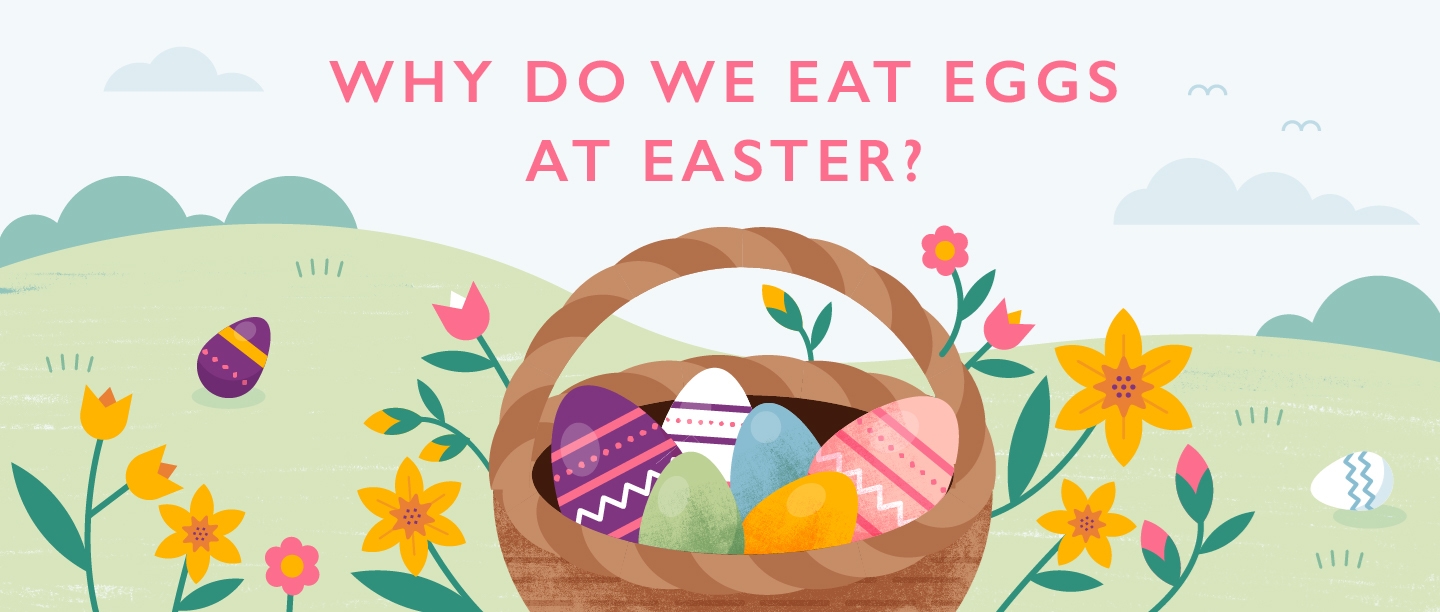 Easter is the most important date in the Christian calendar. Every year, Christians around the world remember Jesus' crucifixion and celebrate his resurrection on Easter Sunday. An important part of Easter celebrations today is giving (and eating!) chocolate eggs, and in the UK we buy about 80 million Easter eggs each year!
But how did eggs become such an important part of Easter celebrations? Find out with our mini history of the Easter egg: discover the medieval tradition of decorating eggs by dying them in bright colours, why an egg roll doesn't actually involve any bread, and follow our instructions to make your own colourful pace eggs.
Early Easter Eggs
Throughout history, people have given each other eggs at spring festivals to celebrate the new season. Eggs represent new life and rebirth, and it's thought that this ancient custom became a part of Easter celebrations.
In the medieval period, eating eggs was forbidden during Lent (the 40 days before Easter) so on Easter Sunday, tucking into an egg was a real treat! This was especially true for poorer people who couldn't afford to buy meat. Eggs were given to the church as Good Friday offerings, and villagers often gave eggs as gifts to the lord of the manor at Easter. Even royals got involved – in 1290, Edward I purchased 450 eggs, which were decorated with colours or gold leaf and given out to his household.
There were lots of superstitions about eggs at Easter too. Eggs laid on Good Friday were said to turn into diamonds if they were kept for 100 years, and if your egg had two yolks it was a sign you would soon become rich. Some people thought that eggs cooked on Good Friday and eaten on Easter Sunday would improve fertility and prevent sudden death, and it became the custom for people to have their eggs blessed before eating them.
On an egg roll!
In Lancashire in the 18th century, 'pace eggs' became very popular. Pace eggs were made from hard boiled hen, duck or goose eggs, with decorated shells dyed with bright colours – just like in the medieval period. They were given as presents at Easter, or to the actors at pace egg plays. Pace egg plays were medieval style mystery plays, with a theatrical fight between a hero and a villain. The hero character was usually killed, before being brought back to life to triumph over the villain. In many plays, the hero character was St George.
Pace eggs were also rolled along the ground in a race called an egg roll. Children would roll a decorated pace egg down a hill, and see whose egg rolled the furthest without breaking. It's possible that these races started as a symbol of the rolling away of the stone from Jesus' tomb.
Egg rolling is a tradition that still continues in some parts of England, although today it is chocolate eggs being rolled down the hill! There is an egg rolling event every year in Preston, Lancashire, but the most famous egg roll takes place in the United States of America, on the lawn of the White House, in Washington DC.
Chocolatey treats
While Easter eggs may once have been made from decorated hen, duck or goose eggs, today the eggs we give and receive at Easter are made for people with a sweet tooth!
The first English chocolate egg was sold by Fry's in 1873, and Cadbury's quickly followed them, introducing their own chocolate egg in 1875. These early Easter eggs were made using dark chocolate, and were smooth and plain, but in 1897 the famous Cadbury's Dairy Milk Chocolate was first introduced. Chocolate eggs made with this new recipe were very popular, and soon became Easter bestsellers. Even today, most Easter eggs are made using milk chocolate. There is a huge range available including milk, dark and white chocolate, and even eggs with our favourite sweets and chocolate bars included inside the packaging.
Decorate your own pace egg
The tradition of dyeing real eggs to make decorated pace eggs has almost disappeared, but with our step by step guide, you can bring back the tradition by making your own! Watch the video and follow our instructions to make your own colourful eggs – and it's up to you whether you eat them, give them away, or roll them down a big hill!
Decorate some pace eggs