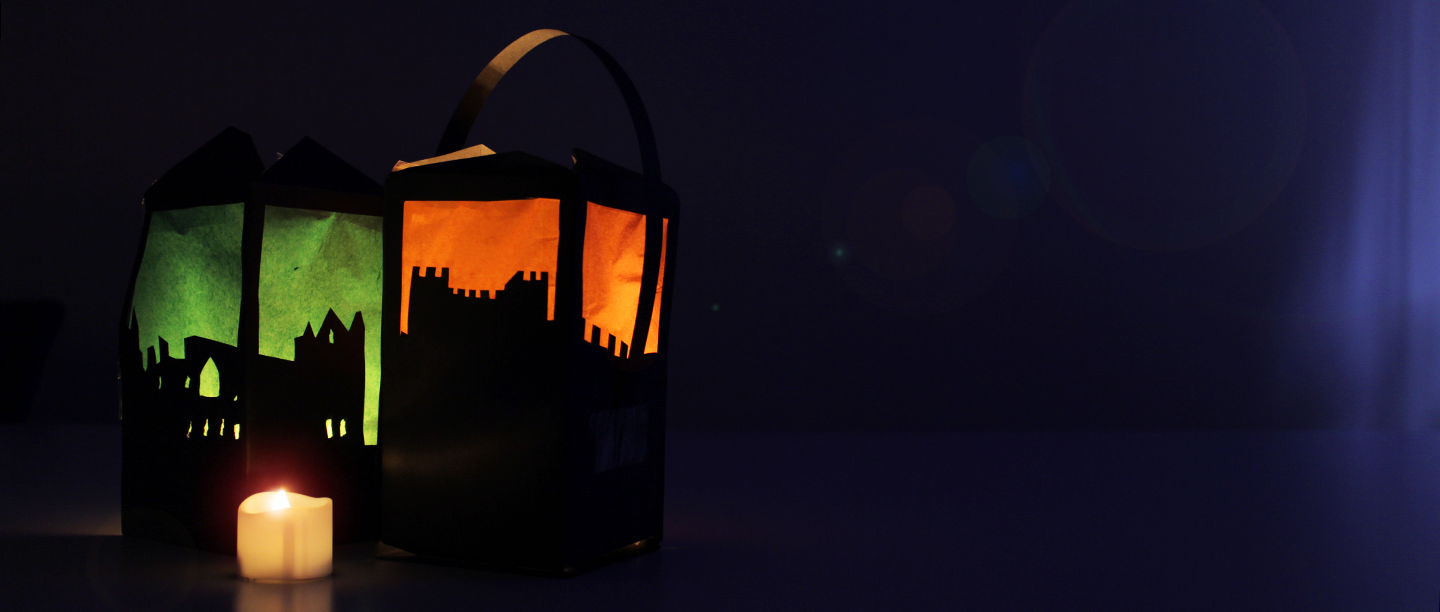 Make your own spooky castle or abbey lantern
This Halloween make your own paper lantern featuring the spooky silhouette of one of England's historic castles or abbeys.
Follow the instructions below to create your lantern using one of the six templates of iconic historic places. Then, take it along to one of our popular Halloween events for both kids and grown-ups.
You will need...
2 x sheets thick black card
1 x sheet thin coloured paper or tissue paper
Sticky tape or glue
Scissors
A marker pen
Battery-powered LED candles
and one of the templates below...
Watch the video
Download one of the templates below, then follow along with our step-by-step video to make your own castle or abbey silhouette lantern. Which historic place will you choose?
First things first...
Choose your historic place
Start by choosing which historic castle or abbey you want to feature on your Halloween lantern. We have printable templates for six historic places, including a mighty Tudor fortress, an elegant Elizabethan castle and even the abbey ruin that inspired Bram Stoker's Dracula.
You can print your design on plain white paper, as we will transfer it to your card in the following steps.
CLICK ON A TEMPLATE TO DOWNLOAD THE PDF:
Step 1
Cut out your template
Start by carefully cutting out your printed template using your scissors. Ask a grown-up to help you with this bit. Cut around the edges (including the tabs) and remember to cut out the white 'sky' areas too as these will be filled with your coloured tissue paper.
Step 2
Transfer it
Next, use the marker pen to transfer your silhouette design onto your black card. Be sure to include the tabs, and as much detail of the building as you want on your finished lantern.
Step 3
Cut it out
Use your scissors to carefully cut out the design on your black card. Ask a grown-up to help you. Take your time with the details of turrets, arches and chimneys to make your castle or abbey as realistic as possible. Or, if you prefer, go for a more simplistic design.
Step 4
Fill the gaps
Time to add some colour! Cut out squares of your tissue paper to fit over the open 'sky' areas of the black card, and fix these to the back using sticky tape or glue. These will be the windows that let light out of your lantern.
Step 5
Fold it up
Next, fold it all up. Make a fold along:
the centre of each black card piece, between the two windows
the edge of each tab for sticking
the edge of the square base piece
Each of your two pieces now forms two sides of the lantern, with a base folded underneath and triangular 'lid' flaps on top.
Step 6
Stick it together
Stick down the tabs using sticky tape or glue, to close your lantern into a box shape. Finally, cut out a long strip of black card and stick it in an arch over the top of your lantern to form the handle.
All that remains is to drop your LED candles inside and watch your castle or abbey glow! Use the flickering type for the best effect.
We love to see how your crafty creations turn out. Share your pictures with us on Facebook, Twitter and Instagram using the hashtag #englishheritage.
Join us for Halloween
Kids and families will have a frighteningly good time at our historic places this Halloween, with terrifying trails, spooky storytelling and creepy crafts at our castles, abbeys and houses.
And come nightfall, brave grownups can explore some of the country's eeriest castles and discover the darker side of history.
Bring your silhouette lantern along to one of our thrilling events.
Find out more