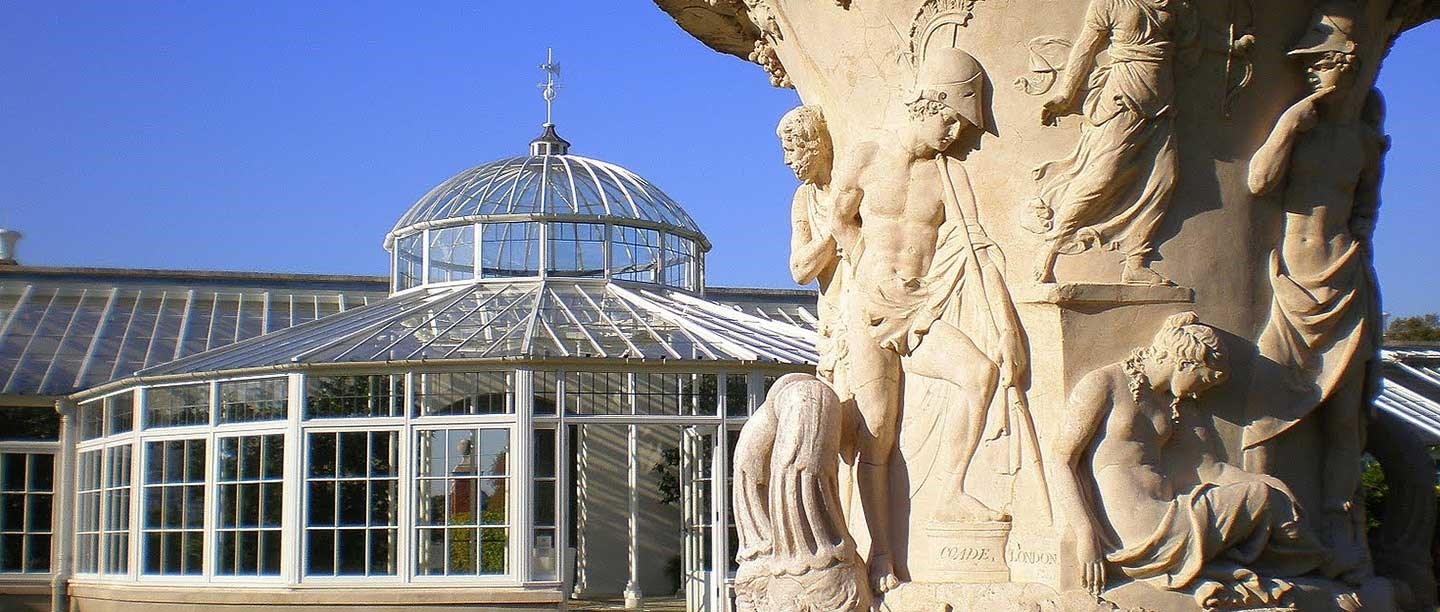 Eleanor Coade
Eleanor Coade was a highly successful Georgian craftswoman and businesswoman. At a time when industry was totally dominated by men, she ran her own business making beautiful architectural and garden ornaments from her own brand of artificial stone.
Lived: 1733–1821
Field: Manufacturer
Key fact: Invented and manufactured the high quality stone that bears her name, which was so hard-wearing that many sculptures made from it remain in pristine condition today.
A secret formula
Eleanor Coade was born in Exeter in June 1733, the daughter of a wool merchant. In the mid-1760s, after the family had moved to London, she set up in business in the City, selling linen.
After her father's death in 1769, she bought the premises of an ailing business run by Daniel Pincot at Narrow Wall, Lambeth, which was making a type of artificial stone. Here she began to experiment with her own formula. She sacked Pincot as her business partner two years later and continued as sole owner of the company.
The artificial stone that Eleanor Coade invented and produced, and which bore her name, was one of the most widely used materials of the 18th century. A ceramic material – whose recipe remained a closely guarded secret – Coade stone was exceptionally resistant to weathering and erosion. Its versatility made it immensely popular for a great variety of sculptures, large and small – monuments, statues, garden ornaments and furniture, and architectural details.
In demand
From her factory in Lambeth, Eleanor was soon dispatching a huge number of Coade stone sculptures and architectural elements across Georgian Britain and beyond. Many of them were created by the brilliant sculptor John Bacon, the factory's chief designer.
Coade stone was used by every leading architect and designer of the day, including Robert Adam, John Nash and John Soane. Most of the pieces made from Coade stone were in the neoclassical style, although a few were Gothic, including some sculptures at Battle Abbey, East Sussex.
Over 650 surviving Coade stone sculptures have been traced today, not only across the British Isles but as far afield as Russia, South Africa and Brazil.
Coade stone at Chiswick House
At Chiswick House in west London there are several Coade stone sculptures. In 1813 the architect Samuel Ware added a 300-foot conservatory in the gardens of the 18th-century villa for the 6th Duke of Devonshire. South of it, the duke's gardener, Lewis Kennedy, laid out an Italian garden with a formal, symmetrical layout and intricate box-edged flower beds. On either side of its central path stand replicas of two magnificent Coade stone vases (the originals are now in the conservatory).
The originals are copies of two celebrated ancient vases: the Medici Vase, which is decorated with the story of the mythical Greek heroine Iphigenia, and the Borghese Vase, featuring worshippers of Dionysus, the Greek god of wine.
Visit Chiswick House and Gardens
Later Life
Though Eleanor used the name Mrs Coade, she never married – Mrs was a title assumed by unmarried women in business at this time. Apart from a period of 14 years from 1799 in partnership with her cousin John Sealy – when the firm became Coade and Sealy – she remained in sole charge of the business. In 1799 the company opened a spacious showroom, Coade's Gallery, near the south end of Westminster Bridge to better display their wares.
In later life Eleanor Coade was an active philanthropist, helping those in need – usually women in difficult circumstances. Several bequests to women in her will stipulated that none of their husbands were to touch the funds she had left to them.
Sealy died in 1813, and the firm continued to flourish until Eleanor's death in 1821, aged 88. On her death her manager, William Croggon, bought the factory, and Coade stone remained in use for at least a decade before the firm eventually closed in the 1840s.
Legacy
Eleanor Coade was an exceptional figure, who not only created a fine product but also ran a highly successful business at a time when industry was dominated by men. The author John Fowles, who lived in her former home, Belmont House in Lyme Regis, Dorset, described her as 'that very rare thing, both an artist and a successful early woman industrialist'. Although we know little about her personal life, she must have been remarkably independent and strong-minded as well as creatively talented to have built a business that flourished for over 50 years.

Top image: Detail from one of the replica Coade stone urns in the Italian garden at Chiswick House, west London
© David Nice
Visit Chiswick House

Discover Chiswick House, an 18th-century villa inspired by the architecture of ancient Rome, set in gardens that were the birthplace of the English Landscape Movement.

History of Audley End

Find out more about the history of Audley End, one of the greatest early 17th-century houses in England, set in a landscape which was later remodelled by 'Capability' Brown.

Women in history

Read about the remarkable lives of some of the women who have left their mark on society and shaped our way of life – from Anglo-Saxon times to the 20th century.