Track and field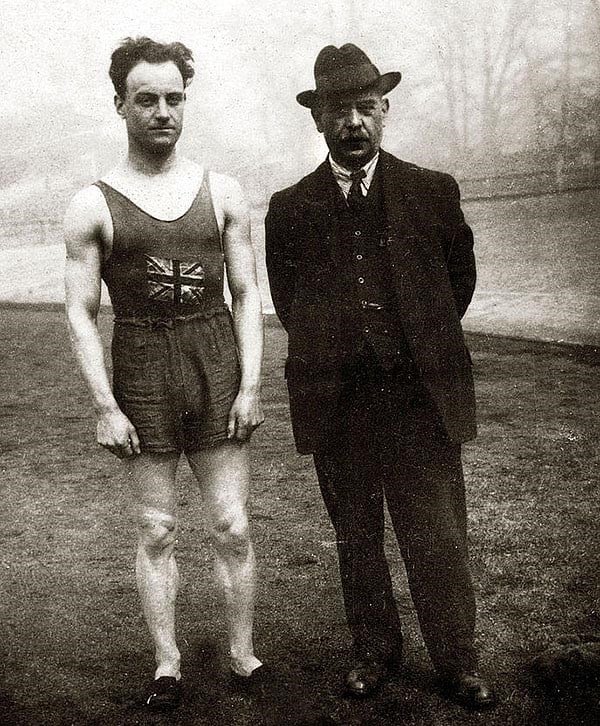 Thanks to the film Chariots of Fire (1981), the Olympic exploits of the athlete Harold Abrahams (1899–1978) (above, crossing the finishing line) are well known. He took the gold medal for the 100 metres at the Paris games in 1924, becoming the first European to win an Olympic sprint title.
Abrahams also held the English long jump record for some 30 years, and went on to become a successful barrister, journalist and athletics administrator. His English Heritage plaque is at 2 Hodford Road, Golders Green, on the house in which he was living with his mother, Esther, at the time of his Olympic triumph.
Abrahams was coached to his 1924 gold medal by Scipio Africanus 'Sam' Mussabini (1867–1927), who was himself awarded a blue plaque in July 2012, just before the London Olympics. Using cameras to analyse running techniques and developing a pioneering running action called the 'poly' swing, the Blackheath-born athletics coach saw his protégés win a total of eleven Olympic medals over five games.
Mussabini is commemorated at his former home at 84 Burbage Road, which, appropriately, lies within sight of the athletics stadium at Herne Hill where he coached Abrahams and other Olympic medallists including Reggie Walker, Willie Applegarth and Albert Hill. Hill won gold medals in both the 800 and 1,500 metres at the 1920 Antwerp games.