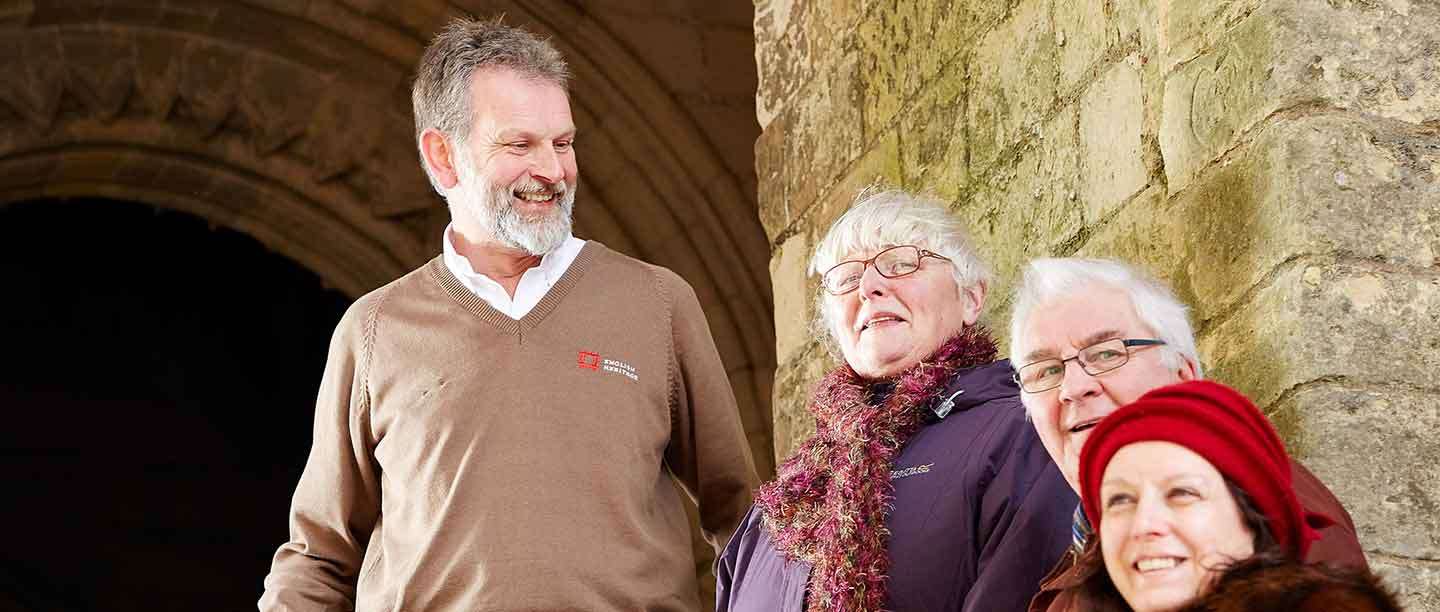 Resources for Trade
We offer a range of marketing materials to help you promote your visits to English Heritage properties.
To keep in touch and find out the latest news, events and experiences for groups, join our mailing list and we'll send you a bi-monthly e-newsletter.
You'll also receive the biannual Group Visits Guide, bursting with inspiring ideas of places to visit, plus useful information such as average length of stay, catering facilities and coach parking.
Our twice-yearly newsletter, Attractions, is a great way to keep up to date with our latest events, offers and ideas for the perfect group visit.
Our image library
Our image library holds images from many of our sites around England. These images are free to use for your publicity, we only ask they are copyrighted to © The English Heritage Trust.
If you have any specific image requests, or cannot find a suitable image in our library selection, please contact us.
You can browse a selection of the images in our library below.
View image library
Group Visits Guide
The Group Visits Guide is your essential companion to English Heritage properties. Featuring inspiring itineraries and useful information such as catering and coach parking facilities it also contains booking details for each property.
View it online or join our mailing list to automatically receive your copy. By joining our mailing list you will also receive Attractions, our twice-yearly newsletter and a monthly email full of the lastest developments for groups at English Heritage.
View Online
Travel Trade Guides and Newsletters
Our Publications
You may find our publications useful to keep up to date with the latest developments, when planning visits or looking for inspiration.
Attractions Spring/Summer 2019

Our Spring/Summer issue of our Attractions newsletter features our new booking procedure for Tintagel Castle following the completion of our new bridge, the reveal of our Christmas events and much more.

Attractions Autumn/Winter 2019

Our latest issue of our Attractions newsletter features Tintagel's stunning new footbridge, Kenilworth's gorgeous elizabethan gardens and much more.
To help you plan your visit we can arrange a free familiarisation visit. You and a guest can visit the site without charge, talk to staff about your forthcoming trip and see for yourself what facilities are available to make your visit go smoothly.
To arrange a familiarisation trip please contact us, allowing at least four weeks to set up your visit.
In the Know
Find out what's new and noteworthy at English Heritage properties by signing up to receive our bi-monthly email and twice yearly Attractions newsletter.
Packed with information about planned or recently completed projects, seasonal highlights and special events it's a great way to find inspiration for your next adventure.
SIGN UP NOW
Special Events
Take advantage of great group discounts at hundreds of events every year. highlights include the t George's Day Festival at Wrest Park in April, our summer season of medieval jousts and combat at castles countrywide and our annual weekend re-enactment of the Battle of Hastings held in October.
FIND OUT MORE
Postcard from Dover Castle

Postcard from Whitby Abbey
Stay in Touch
Contact Us

If you can't find the answers you need in our FAQs, please get in touch with the team. We're happy to help with any booking questions or marketing queries you may have.

traveltrade@english-heritage.org.uk

English Heritage, Travel Trade Marketing Team, 29 Queen Square, Bristol BS1 4ND, England.

Join our Mailing List

Follow the link to sign up to our mailing list and receive useful updates from us. Like our annual update on trade admission pricing and opening times and our bi-annual Attractions newsletter.