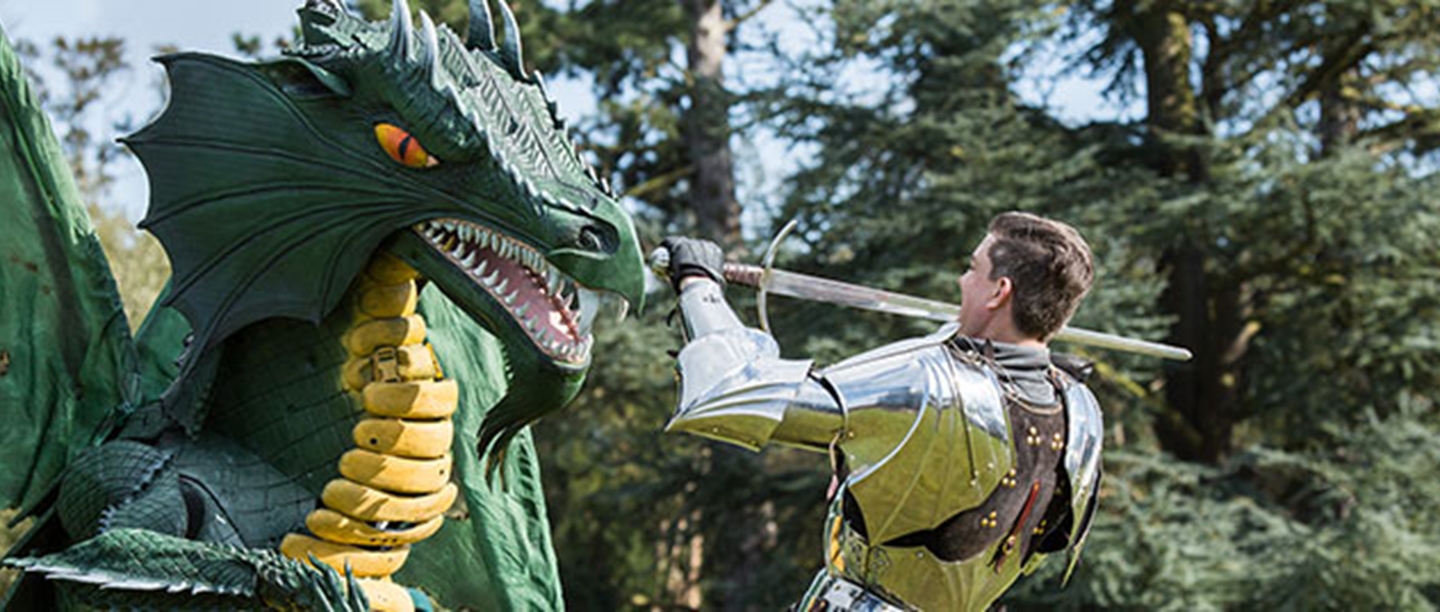 Published: 16 April 2018
Category: Things To Do
Step back in time and explore thousands of years of history at Wrest Park's St George's Festival (21-22 April). Celebrating 20 years in 2018, it's the biggest St George's Day event in the country.
You'll watch the lance-splintering action of live jousts, meet Roman soldiers and Victorian royalty, and witness the ultimate battle between good and evil when St George takes on the dragon.
We caught up with Cate Milton, Wrest Park's Event Manager, to find out what to expect from this year's St George's Festival.
Why do we celebrate St George's Day?
It's a brilliant opportunity to celebrate our nation's past with displays, activities and re-enactments. Holding it at Wrest Park means we have plenty of room for our 8000 visitors.
Who was St George and why is he so well known?
Many people assume St George was born in England, but he was actually born in what is modern-day Turkey and died in Lydda (modern-day Israel). He was a Christian soldier in the Roman Army and was later executed for his religious beliefs.
They made him a bit of a hero in England thanks to the medieval legend about how St George slayed a dragon. We don't actually know that much about the real St George, but it's the man from these legends that we think of when we're thinking of St George today.
Find out more about the history of St George.
The St George's Festival at Wrest Park is one of the biggest events of its kind in England. What makes it so spectacular?
It's partly the brilliant festival atmosphere created by the performers and staff on the day, but there's also just so much for everyone to see and do. I think that's why we see lots of people coming back year after year.
We've got jousts, falconry demonstrations and kings and queens wandering about. Kids can even learn basic circus skills and take a lesson at our knight school.
And it helps that we hold it at Wrest. It's a beautiful place any time of year, but especially during the festival, when we have the flags fluttering and all the brightly coloured tents dotting the grounds. Plus, if you want to get away from the crowds, the gardens have plenty of quiet spots to escape to and enjoy the views.
What's new in 2018?
We've got the 'Clash of the Romans' tournament this year where two teams of 12 will have spear throwing competitions and battle it out to be the champions. There's also the 13th-century joust, which is is different from later jousts, because it doesn't use a tilt rail. The jousters get up to 40mph on their horses, so it's exhilarating to watch.
How does the festival help bring the past to life?
The event features performers and re-enactors from the Romans all the way through to the Second World War, so you've got thousands of years of history to soak up. You'll be able to explore a 17th-century military base, chat with Queen Victoria, play with Edwardian toys and try on armour in the medieval camp. The displays in the arena are great fun to watch, but there are loads of other opportunities to really get hands-on with history.
There's plenty of fun for the kids, what can adults do?
Adults can wander around the medieval encampments and chat to our re-enactors about daily life more than 500 years ago. Or, if you fancy a bit of shopping, we have more than 20 traders selling historical, unique gifts. Falconry impresses kids and adults alike and often our jester makes the adults laugh more than the kids!
If you're in need of a sit down and drink, there'll be plenty of places selling food and drink. We've also got a medieval pub – The Stagger Inn.