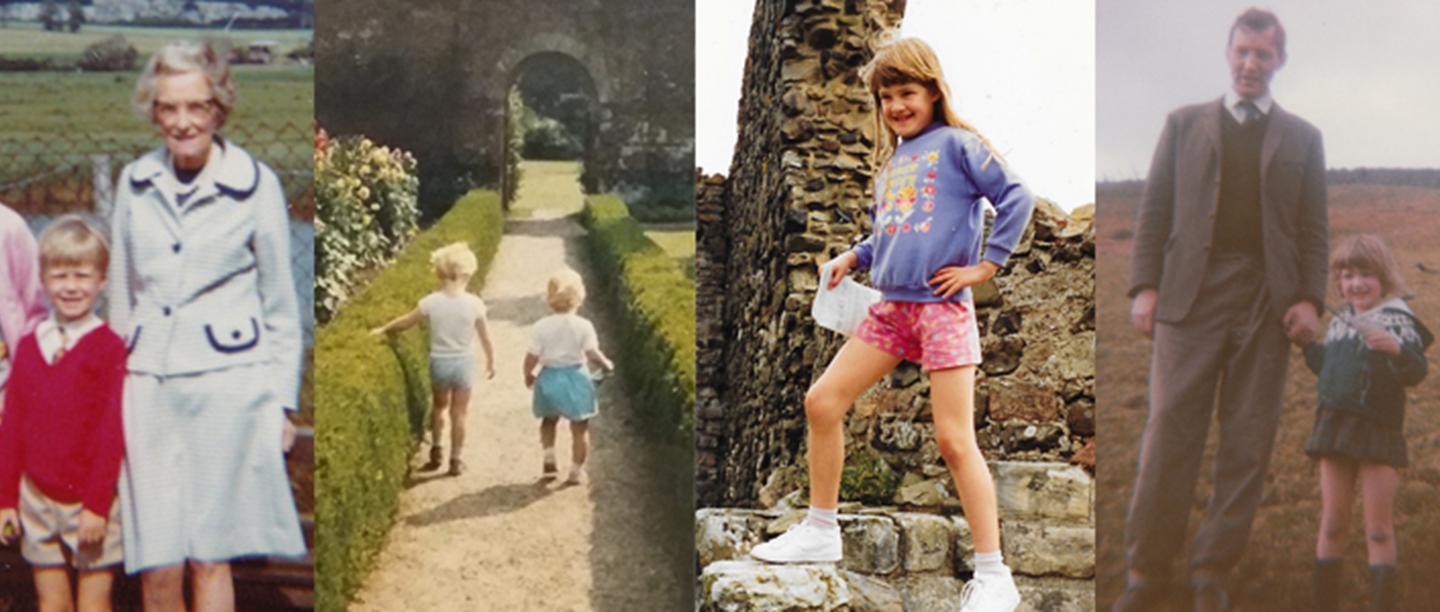 Published: 21 March 2017
Category: Your Stories
Throughout March, for Women's History Month, we've been looking at pioneering women and role models from the past whose stories inspire us today. But not all inspirational figures have lived in castles, challenged the status quo, or discovered something world-changing
Some of the most inspiring people pack up picnics. They plan days out which fire the imagination, or they write books that spark a lifelong interest in someone. These women and men built our love of history, and therefore helped make the English Heritage team what it is. You won't find some of them in the history books, but they have contributed to telling the story of England.
For our final Women's History Month 2017 post, we wanted to share these unsung stories as a thank you. We asked our team who or what inspired them to love history: here's what they said.
We'd love to know your answers too, so do let us know in the comments.
Kate Mavor – English Heritage Chief Executive
The person who sparked a love of history in me was undoubtedly my father. A great appreciator of historic buildings, he sought out heritage sites where we could picnic as a family and clamber over the ruins. With four children in tow, he would wander off round the site, absorbed in his own imaginings of plainchant or clashing steel. The sense of place and beauty certainly rubbed off on me.
On my wall at home, I have a perfect drawing of Glasgow Cathedral which he draughted from memory while away on national service – he was an architect manqué. He also loved historic artefacts such as Russian icons, antiquarian books, Roman sculptures, a piece of Bonnie Prince Charlie's bedspread and buttons from a jacket worn at Culloden! I grew up in a home dotted with fascinating bit and pieces, all with their own stories, inspiring a life-long enthusiasm of my own.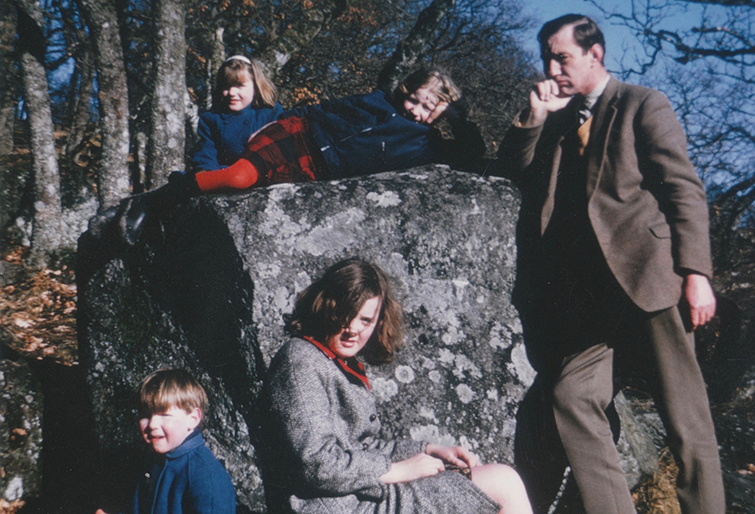 Kate (on the rock) with her family
Eleanor Matthews – Assistant Curator of Art at Brodsworth Hall & Gardens
I love stories. I was named after Eleanor of Aquitaine, so I've always loved the story of a lady who was queen of both England and France. However, the story which inspired me to love history is one about a little girl on a farm during the Second World War. My grandma told me how her first memory of the war was that the ice-cream man stopped visiting the village on Sunday evenings, which upset her. All at once, it was like a star had shone brightly inside my young mind. My grandma – my grandma! – had actually lived through the Second World War.
I listened eagerly to her stories of Italian prisoners of war coming to the family farm to pull sugar beet in time for the harvest. Of evacuees coming to the village from Hull and Sunderland, of bomb craters, soldiers in khaki, sweet rationing and gas-masks drills. They made me realise that ordinary people lived through what we now call 'history', and how their stories are just as exciting as those of the kings and queens. I'm not at all surprised that I'm now a curator of a country house. The miniature kingdom of a country house holds the stories of many people, and there's always something new about Brodsworth Hall's family and staff to learn and share.
Ellie (left) clambering on ruins, (right) with her grandma.
Kathryn Bedford – Curator of Archaeology, South East Region
My mum loved history and I was always visiting museums and historic sites growing up. A trip that really stands out is going to Osborne with the school at the age of 11 and getting picked to be dressed up as Princess Louise. I remember being shocked how difficult it was to walk in a crinoline!
History became personal though when I was exploring under my house with my brother a few years later and found a newspaper that had been left by the builders in 1927. Suddenly my house, something ordinary and boring, became a mystery. Who built it? What were they like? Why did they leave their paper behind? A single object raised so many questions and I had to find out more…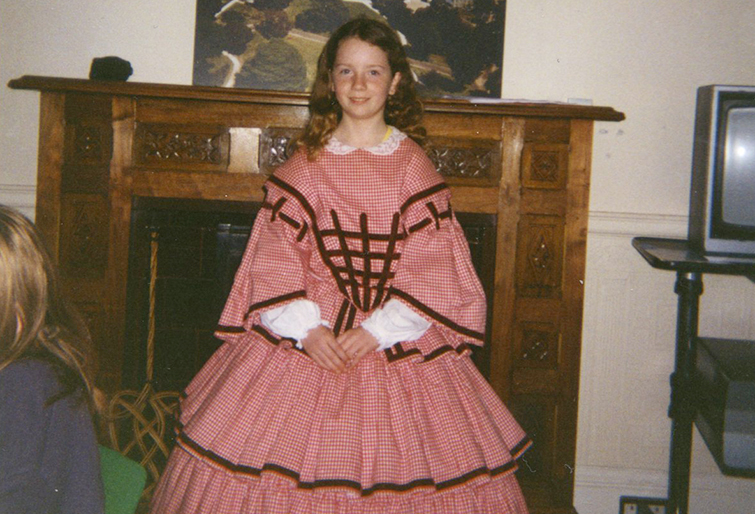 Eleven year old Kathryn dressed up as Princess Louise
Jeremy Ashbee – Head Properties Curator
I owe my love of history, Normans, castles and all, to my grandmother. When I was 2 or 3, she dragooned the whole family into a holiday in Normandy, taking the car across on a ferry. I can remember still her explaining the funny name of the ferry – Senlac.
She told me about how in the distant past, hundreds of knights and their horses had been ferried across the channel in the other direction, and how on a hill called Senlac, they had fought a terrible battle against the king of the English, Harold, killing him by shooting an arrow in his eye. (She had no doubts about this, and ever since, neither have I!) And inevitably all through the holiday she pointed out things associated with the story – inns and restaurants named after William the Conqueror, the castle where he was born and the church where he was buried.
I must have enjoyed it, because this continued back in England: I'm lucky to have grown up near Rochester, with its lovely Norman cathedral and fantastic castle. I think my earliest memory of an English Heritage site would be a trip up the tower, aged maybe 3 or 4. I can't really remember the architecture or the history, but the sight of a sheer drop, labelled as 100 feet, has never gone away!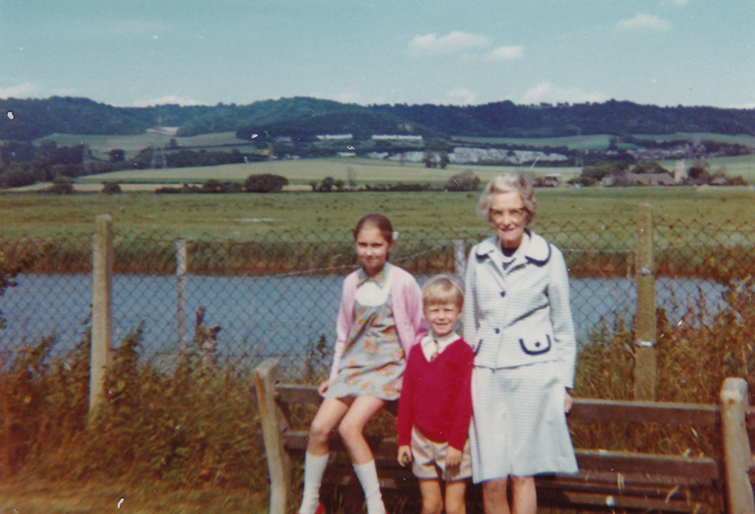 Jeremy with his grandmother
Isabelle Jones – Volunteer at Eltham Palace
Even though I previously enjoyed learning about history, I never really personally connected to a single figure until recently when I discovered Suzanne Valadon.
She started life, in 1865, in shaky circumstances, as she was born into relative poverty. From a young age she had to work multiple jobs to get by; until she began to model for popular artists like Renoir and Degas. This provided her with an opportunity to train as an artist, and, eventually, through hard work and she started to make her own art. Her transition from female model to female artist was practically unheard of during her time, and because of her popularity she was able to become one of the earliest named female artists in Europe.
Her drive and ambition reminds me to work hard and persist, even if my goals seem farfetched. Her story cemented my love of history, as I strive to uncover the lives of more strong extraordinary women like Suzanne.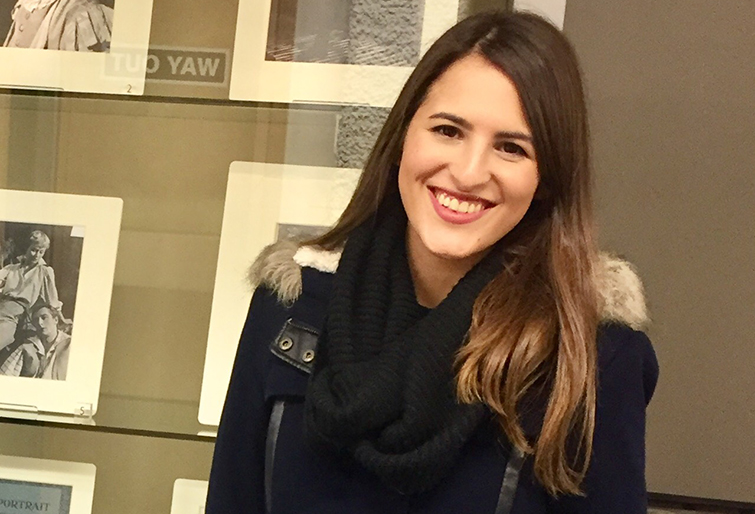 Isabelle volunteers at Eltham Palace during her university holidays. She studies English Literature and History of Art at Birmingham University.
Anne Simpson – Historic Properties Steward at Mount Grace Priory
In 1982 I began living in East Rounton, North Yorkshire. Gertrude Bell's grandfather had bought the Rounton and Arncliffe's estates (including Mount Grace Priory) and she was a frequent visitor. I had often seen her memorial window in the village church, but it was not until I read a review of a biography on Gertrude in 1997 that I was inspired to find out more. A local woman who had done enough with her life to warrant a biography!
Gertrude moved easily in a masculine world and on her own terms. Nobody told her what she could or could not do. OK, she was lucky to be born with brains into a wealthy family with enlightened parents, but the world in which she lived would have expected women to marry and stay at home. Neither of which she did. She completed a modern history degree at Oxford, travelled extensively, was a renowned mountaineer, archaeologist, gardener, historian, linguist, and influenced the world stage amongst other things. She is remembered only, if she is at all, for her part in the setting up of modern Iraq following the First World War. A few paragraphs cannot begin to tell her story.
She had a mind of her own, and put words into actions. Whilst I could not aspire to a part on the world stage, her story gives you the confidence that no matter what you are doing or where you have come from, then women can compete in a man's world.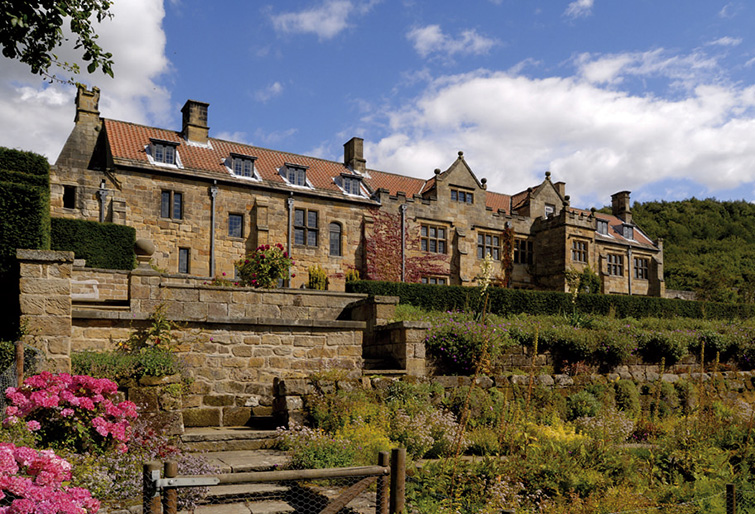 Mount Grace Priory, where Gertrude Bell spent her weekends
Rowena Willard Wright – Senior Curator of Collections
It was my dad who inspired me to love history, or more accurately, was my enabler, as I was always fascinated by historic spaces. When I was three he was a security guard in Kent and at weekends was employed to guard empty old buildings, so he took me with him. Standing in the Victorian science theatre at Broomhill House, with its solemn, even gloomy, atmosphere – it was like I had been given personal access to another world and its secrets.
Later we moved to Lincolnshire, where I visited local castles, country houses and went on many cycle rides out on the straight, flat roads to the medieval village churches that could be seen on every horizon. Our holidays were also planned around historic sites and I amassed a sizable collection of souvenir bookmarks and guidebooks!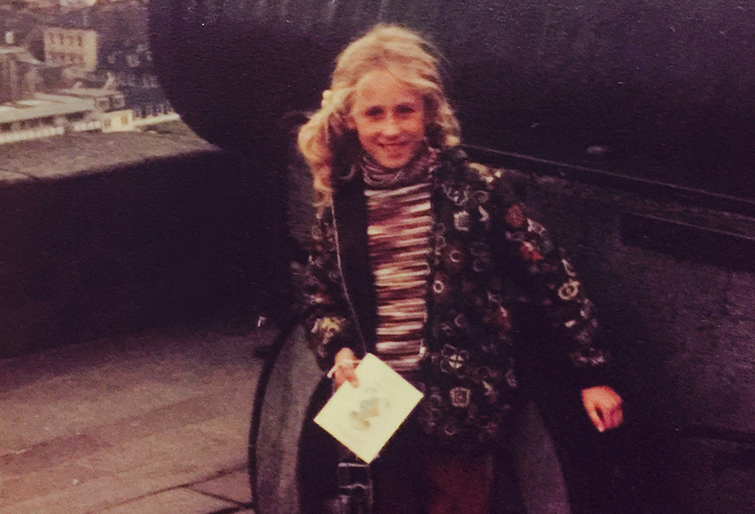 Rowena on a visit to Edinburgh Castle, guidebook in hand!
Clare Wilson – Digital Content Editor
Reading Jane Austen's classic Pride and Prejudice, aged 13, it was a bit of a shock to realise that people who lived centuries ago had a sense of humor. Although I've been visiting (and enjoying) heritage sites since before I could toddle properly, history all seemed very serious before that. A lot of wars, scandal, gruesome death and a cocktail of bad smells.
Stories became my way into history from then onwards, and my dad has been my main conspirator in this. I started reading historical fiction because of him – Georgette Heyer's Regency novels (which I've 'borrowed' from his shelves…) and Ellis Peters' Cadfael are particular favourites. My mum is very practical – she always used to comment that it would have taken a lot of work to keep everything clean in all the stately homes and castles we visited as children. I'm really glad that nowadays we're telling more stories of ordinary people – ones who laughed and loved, but did all the work too. It's great to be able to do this in innovative digital ways too. It makes the past seem much less distant.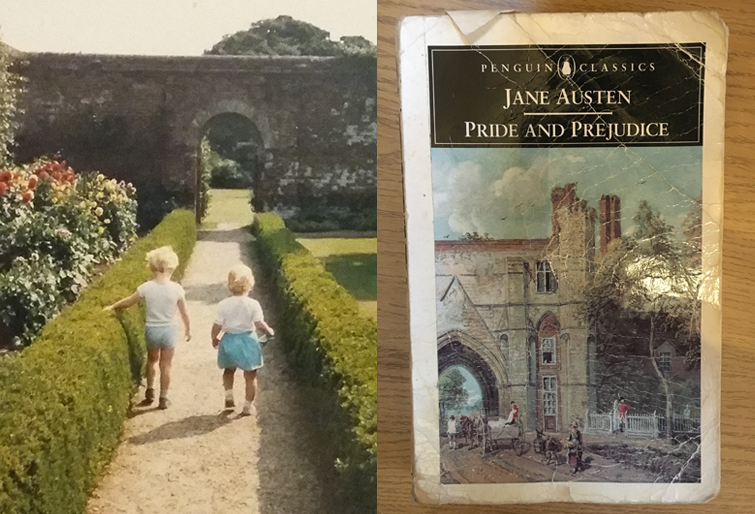 Clare (left) with her older brother and (right) her original copy of Pride and Prejudice
Andrew Roberts – Properties Historian
The novelist Rosemary Sutcliff inspired my childhood love of history. My favourite of her books The Eagle of the Ninth (1954) tells of Marcus Aquila, a young Roman centurion who was badly injured in battle and forced to leave the army. Deprived of the chance to follow his father's career in the military, Marcus embarks upon a perilous mission to the north of Hadrian's Wall to find a military standard lost in in battle by his father's disgraced legion.
As a child, I was excited by the stories of great heroism and adventure, but even more profoundly captivated by how Sutcliff made Roman Britain real through the beauty and pain of everyday life, love, and friendship. When I read the novel again a few months ago, I was delighted to re-discover a vivid description of Marcus' visit to 'Chilurnium' – a fort on Hadrian's Wall. This is Chesters Roman Fort, and I recently completed my first exhibition for English Heritage here.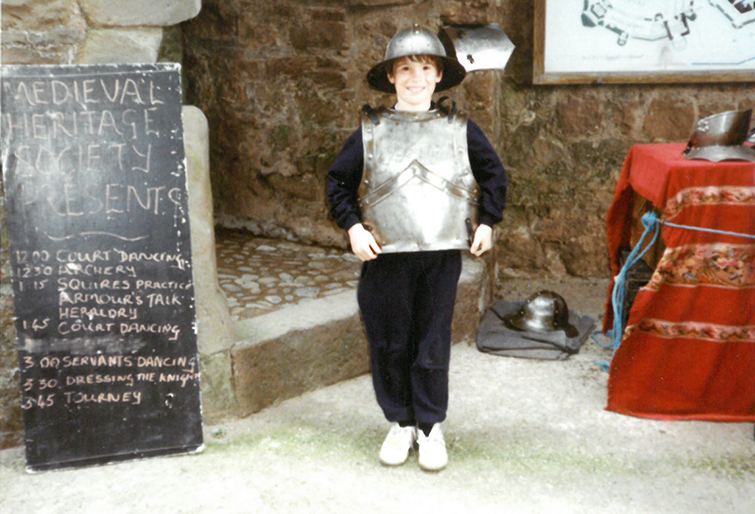 Andrew trying on some armour, on holiday in Wales.
Susan Greaney – Senior Properties Historian
Someone who I'm particularly inspired by in my work today is Maud Cunnington. She was a pioneering archaeologist and a curator, most famous for excavating a site called Woodhenge, which is a couple of miles away from Stonehenge. She excavated it in the 1920s with her husband (who was curator of the Wiltshire Museum in Devizes) and wrote up the report afterwards. It was Maud who decided to display the monument in the way you see it today, with the concrete posts showing where the wooden posts had stood in prehistory. And she didn't just dig at Woodhenge, she dug at many other famous prehistoric sites in Wiltshire including Knap Hill, West Kennet, and the Sanctuary.
Maud was fairly groundbreaking in her techniques too. She recorded every single find from every single post hole. That means we can go back to her records today and reconstruct exactly where everything was found on a site. For the 1920s, that was pretty unusual. She was elected president of the Wiltshire Archaeological and Natural History Society, the first woman to hold that position. Many of the learned societies at the time were exclusively for men (the Society of Antiquaries of London excluded women entirely until 1920), so that was a major achievement.
She's someone I would think ought to be better known; she's one of those slightly hidden figures from the world of archaeology.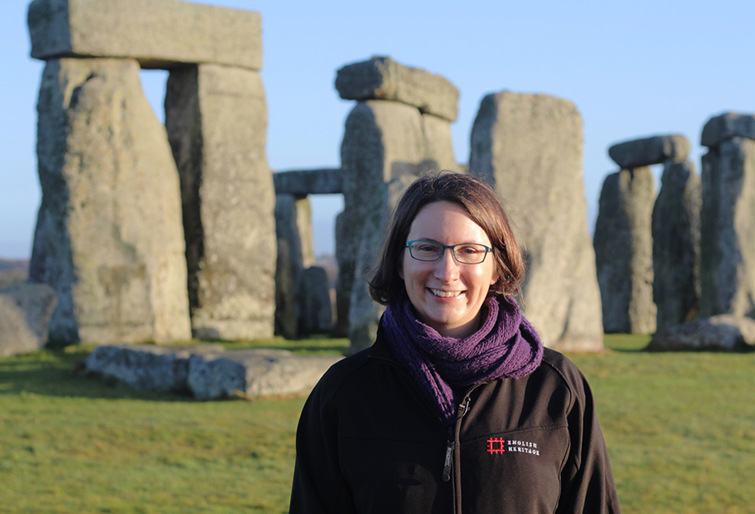 Susan at Stonehenge