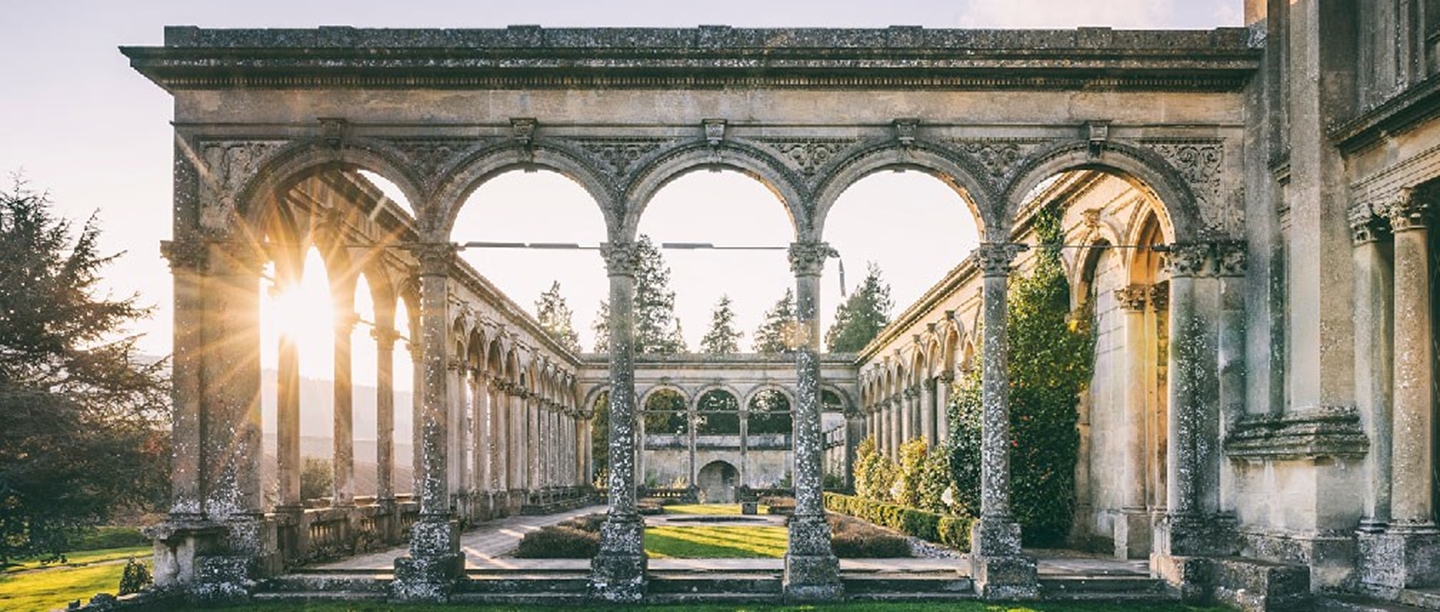 ENGLISH HERITAGE GARDENS IN SPRING
With longer, brighter days and the warmth gradually returning, it's time to get out and start exploring. Experience spring in all its glory with a visit to one of our expertly cared for historic gardens in England.
Enjoy delicate snowdrops, spring daffodils and vibrant blossoms as our gardens burst into colour. Here's our pick of some of the best spring gardens to visit this season.
Audley End House and Gardens
Discover the majestic 18th century landscape of Lancelot 'Capability' Brown at Audley End House and Gardens. Take in the sweeping views and look out for pockets of vibrant seasonal planting. This includes delicate snowdrops, aconites, hellebores and some early daffodils by late February. In the parterre and Pond Garden, watch as our striking displays of spring bedding plants come into flower.
In March make sure you visit our Victorian Kitchen Garden, where you can enjoy stunning pink peach blossoms. Later in the season, we'll start to see apple and pear blossoms, too. While you're here, watch our gardening team hard at work growing heritage fruit and vegetables ready for the season ahead. They use varieties in keeping with those grown and used in the 1800s, so feel free to ask them any questions and pick up some new tips.
Plus, look out for new growth on the deciduous trees in April and don't miss the celebrated arrival of tulips.
Visit Audley End House and Gardens
Brodsworth Hall and Gardens
Take a stroll around the 15-acre grounds of Brodsworth Hall and Gardens, originally designed in the 1860s. The gardens are still maintained in Victorian style with colourful flowering and ornate topiary, some of which dates back 150 years.
Highlights this season include the blossoming of more than 500,000 snowdrops. We plant them in swathes with winter aconites in the Rose Dell so you'll see a charming carpet of white and buttercup yellow. We also love it when we start to see our 36 varieties of daffodils open up in early spring, reminding us that winter is now behind us.
Look out for our colourful displays of hyacinths in the bedding within the Victorian flower garden from March. This is also a great place to admire more than 22,000 spring bedding plants as well as 7000 spring bulbs, which we change every year.
Visist Brodsworth Hall and Gardens
Osborne
Pay a visit to the holiday home of Queen Victoria at Osborne this season. See the flowering of more than 14 varieties of pink, red and white camellias, which are a sure sign that spring has arrived. In March, watch the gardens come to life with the flowering of 28 different historic varieties of daffodils, all of which were introduced to the UK before Queen Victoria died in 1901.
Later in the spring, we'll be unveiling our lemon and orange trees, which have been planted outside beside the walled garden. Oranges are of particular interest, as the tree has only produced one in the past 15 years. However, this year has bucked the trend with plenty of fruit showing already.
Be sure to look out for Parma violets, one of Victoria's favourite flowers, which grows over the winter but stops around mid-March as the temperature starts to rise. In the Pleasure Garden, take in colourful displays of hellebores, followed later in the season by vibrant tulips and daffodils in April.
Visit Osborne
Walmer Castle
Explore the historic grounds of Walmer Castle this spring, and discover its transformation from 16th century defence force to the idyllic country estate of today. Meander through the enchanting Woodland Walk and see thousands of snowdrops, bluebells, cyclamen and fritillaries right up until April.
A clear indicator of spring is the presence of tulips, and Walmer Castle is home to many. Between April and May take a look at the tulips around the gardens including the dramatic deep-purple 'Queen of the Night' in the Queen Mother's Garden. Take a stroll through the Woodland Walk and you'll see many naturalised varieties, too.
Take your time exploring the gardens and enjoy the swathes of Narcissus in the moat and meadow, including varieties such as 'Sir Winston Churchill'. In the wildflower meadows enjoy a pretty walk among thousands of delicate cowslips and primroses.
Visit Walmer Castle
Witley Court
Imagine Victorian spring garden parties taking place around the romantic 19th century ruins of Witley Court, as the gardens become a riot of colour this season.
One of many highlights this season is the colour on the parterre. Explore the striking contrast of bulbs against the bedding plants and delight in the flowering camellias and rhododendrons in pinks, reds, whites and purples.
Walking around the East Parterre, designed in 1854, enjoy the warm spring palate of orange and yellow wall flowers and red Bellis perennis. This year we've also got lots of hyacinths mixed in with the bedding plants including Hyacinth 'Yellow Stone', white 'Carnegie' and the unusual Erythronium pagoda outside the visitor centre. The parterre will be hard to miss with an impressive 4000 bedding plants and 4000 bulbs.
Our gardeners advise looking out for Witley's hidden gems including Stachyurus praecox in the winter garden and Narcissus 'February Gold' and Camassia quamash in the wilderness.
Visit Witley Court
Things to do this Spring