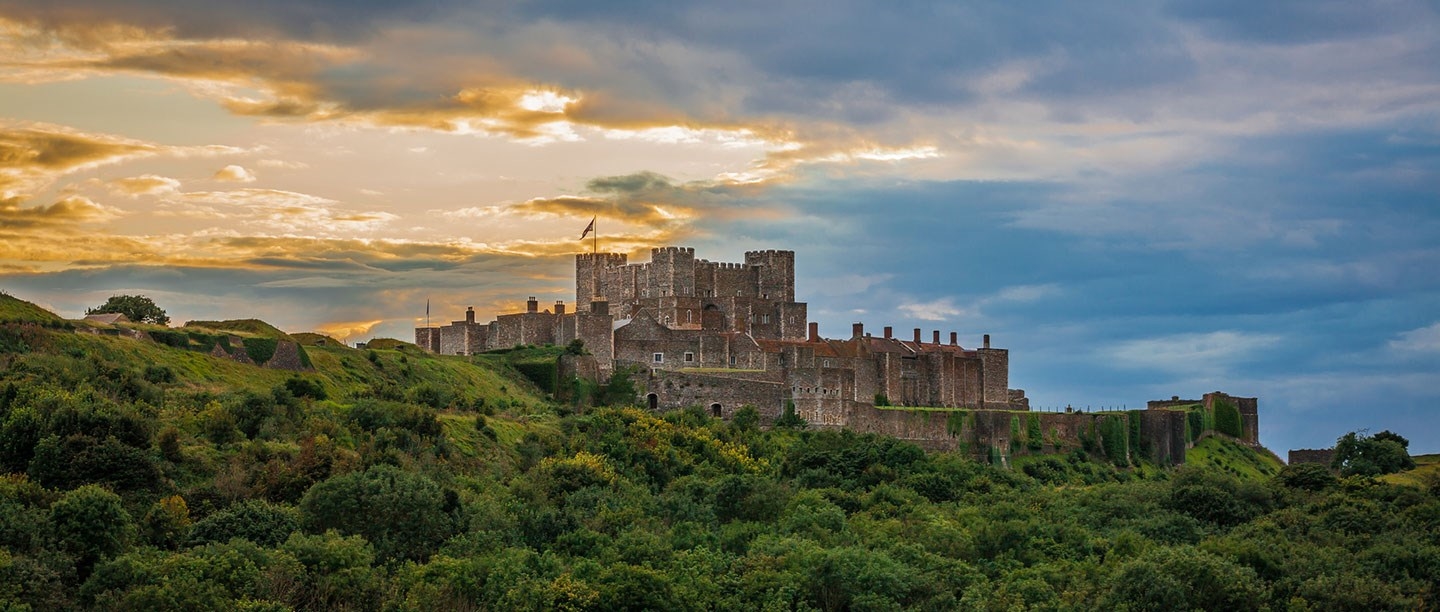 Why visit Kent?
Although today the Kent coastline is peppered with quiet, traditional seaside towns, history tells us a more exciting tale that's waiting to be uncovered. Kent's position as the gateway to England means that it is home to some of the most impressive historic sites in the country, which can be easily packed into a short break.
For over 900 years, Dover Castle has towered above the coastline, acting as an important fortress and defence post against possible invasion. Further up the coast, you can find the Roman Forts at Richborough and Reculver, where the Romans landed and began their invasion that would forever change Britain.
The strategic importance of Kent throughout the centuries has led to towns and villages flourishing. Canterbury Cathedral is one of the most spectacular buildings in England, and pilgrims have flocked there for centuries. You can stroll through the city's medieval centre and take a punt along the gentle River Stour. If a traditional taste of the English seaside is more your style, head to Margate, Ramsgate or Broadstairs to sample their wide sandy beaches and picturesque marinas.
Often described as the Garden of England, over one-third of Kent is covered by Areas of Outstanding Natural beauty. There are award-winning beaches, marshes and ancient woodlands and of course - the famous white chalk cliffs. With all this on offer, it's easy to see why Kent is a popular destination for a weekend break.
Place(s) To Stay
Key:
Multiple places
Place
Castle
Day 1: The White Cliffs
Dover Castle
As the point in England closest to mainland Europe, Dover has been touched by almost every major event in English history from the Norman Conquest to World War II, and this depth of history is reflected in the things you can see and do there. You can expect to spend an entire day at Dover Castle.
Originally there was an Iron Age hill fort near where Dover Castle now stands. The Romans built a lighthouse on the hill and next door is the Anglo Saxon church of St Mary in Castro, both of which you can still visit. Then in 1066 the Normans began building the mighty fortress you see today.
Start your day at Dover by exploring the medieval court in the imposing Great Tower built by King Henry II. The chambers and halls are richly decorated with wall hangings and brightly painted furniture to give you a flavour of the luxury and splendour of a royal court.
The kitchens on the ground floor of the tower are stocked with great metal pans and hearths, to give an idea of sweltering work which went in to keeping the people at Dover Castle fed and comfortable. Once you're finished exploring the interiors, climb up to the roof to enjoy views across the castle, Channel and - on a clear day - France.
From the highs of the roof, head underground to Dover's tunnels, which were used as a military base, planning centre and hospital during the Second World War. Take a guided tour of the tunnels to find out how Vice-Admiral Bertram Ramsay organised the evacuation of over 338,000 British and French troops from Dunkirk, one of the most extraordinary events of the war.
Day 2: Coastal Defences
Walmer Castle
From Winston Churchill to the Duke of Wellington, the illustrious custodians of Walmer Castle have all left their mark on this seaside fortress.
Originally built by Henry VIII as part of a chain of gun forts along the coast, Walmer has a relatively peaceful history. William Pitt the Younger turned the castle into a home beside the sea, and you can wander through the cosy reception rooms and bedrooms. The Duke of Wellington often stayed at the castle - in fact he died there in 1852 - and you can still see his original 'Wellington' boots in an exhibition on his life at the castle.
During the First World War Prime Minister Asquith used Walmer to host informal meetings of his War Council with Churchill, Kitchener and others. See the dining room where they discussed tactics while fierce fighting raged less than 30 miles across the English Channel.
Outside, Walmer's gardens are both large and varied. Take a walk along the 80m long Broadwalk flanked by bulbous 'cloud' hedges. The Queen Mother's garden also provides an oasis of serenity, and fruits and vegetables from the kitchen garden are used in the castle café today. After you have finished exploring in the gardens, it's a two minute walk to the long pebbly beach.
Day 2: Coastal Defences
Richborough Roman Fort
Further north towards Ramsgate, Richborough Roman Fort and Amphitheatre is one of the most important Roman sites in Britain. In AD 43, Emperor Claudius's soldiers defended their invasion of Britain, and you can explore the huge stone walls which protected the site from Saxon raiders.
You can use the audio guide to explore the spacious site on foot and imagine its heyday - although Richborough is now 3km inland, in Roman times it stood on the coast of the Wantsum channel. A monumental 25m high arch (one of the largest in the Roman Empire) stood near the waterfront to mark the beginning or end of a sea voyage.
The fort is only about 1.5 miles from the charming medieval town of Sandwich, with its timbered buildings and tranquil river. It's possible to take a boat to and from Sandwich - check with the site ahead of your visit for times.
Where to Stay
Explore Kent with a stay at one of our unique holiday cottages in the grounds of Walmer Castle and Dover Castle. You can visit the sites after they have closed to the public and soak up centuries of history in style.
Getting There and Getting Around
The South East is well served by London's international airports if you're coming from overseas.
BY CAR: Kent is easy to visit by car with several major roads and smaller more scenic routes. During the summer months the coastal towns and roads can get crowded, so always check the traffic before you leave.
BY BUS: Walmer is served by the Stagecoach East Kent service 82/82A, while Dover is on Stagecoach East Kent lines 15, 15X, 80, 80A and 93.
BY TRAIN: There are train stations at Walmer and Dover Priory (1 mile from Dover Castle) operated by Southeastern. Please note services are currently disrupted between Dover Priory and Folkestone. If travelling by train, travel via Canterbury East or Deal and Walmer to Dover if possible.
BY BIKE: Kent's relatively flat landscape and long coastline make it perfect for recreational cyclists. You can plan on-road or traffic-free routes using the National Cycle Network.
Find out more about planning your travel to and around Kent on the Visit Kent website.
Members Do More

Delve deeper into the past and enjoy unlimited access to over 400 historic places. Annual membership starts from £43.50

Overseas Visitor Pass

If you're visiting from aboard, choose between a 9 or 16 day pass and receive unlimited access to England's greatest historic attractions from just £30

Family Property Guides

Get the most out of a your trip with our family property guides, packed with things to look out for and places to play to keep the whole family entertained.

More Travel Guides

Discover more itinerary ideas for weekends away and short breaks in England with our Travel Guides