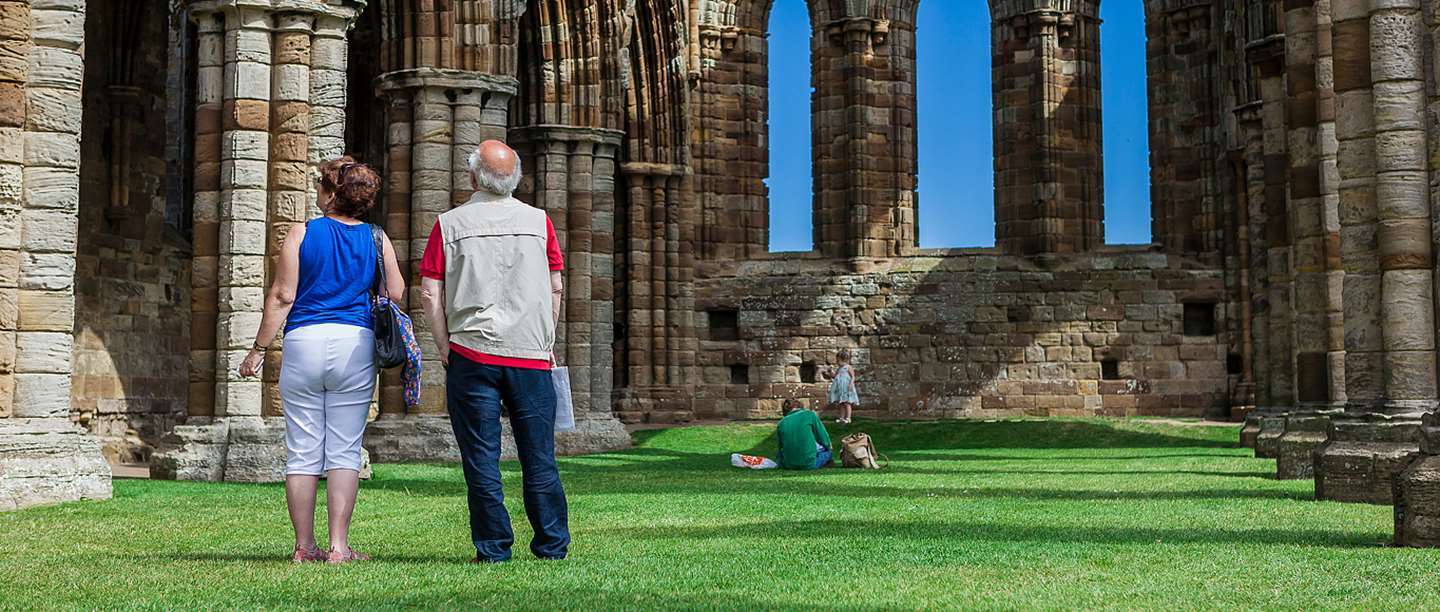 Peaceful Escapes
Ever feel like you need to escape the 21st century and get some headspace?
The ruins of a great abbey or priory are the perfect place for reflection, contemplation or just a bit of peace and quiet.
Breathe the fresh coastal air at the spectacular Whitby Abbey in Yorkshire, lose yourself among the ornate architecture of Wenlock Priory, or escape to Lindisfarne Priory, one of the most peaceful spots in England.
WHITBY ABBEY, NORTH YORKSHIRE
One of the most important religious centres in the Anglo-Saxon world, the prominent headland over Whitby was at the centre of spiritual life in England for more than 600 years. Walk among the towering arches and buttresses of this vast ruin to imagine the life of monks in the 7th century, and find peace of your own on this tranquil clifftop. Don't forget to pick up an audio tour as your enter, to hear the stories of Whitby's past vividly brought to life while you explore.
Visit Whitby Abbey
LANERCOST PRIORY, CUMBRIA
Now a place of peace and tranquility, the Augustinian Lanercost Priory has a troubled past. Close to Hadrian's Wall, it was the target of frequent attacks from Scottish raiders and invaders. Despite this, today the noble 13th-century church survives to its full height, housing fine monuments. Get lost among the soaring triple arches of this beautiful ruin in its remote setting and imagine life 800 years ago.
Visit Lanercost Priory
NETLEY ABBEY, HAMPSHIRE
The most complete surviving Cistercian abbey in southern England, much of Netley's 13th-century church still stands, along with many monastic buildings. The remains, set among beautiful woodland, came to be celebrated in the 19th century as a perfect medieval ruin, and an inspiration for Romantic writers and poets. Netley is the ideal location to explore the writer or artist in you, or to simply enjoy the peaceful surroundings of a beautiful place steeped in ecclesiastical history.
Visit Netley Abbey
CLEEVE ABBEY, SOMERSET
Cleeve Abbey is said to contain the finest cloister buildings in England. Enjoy a sense of monastic life as it was 800 years ago, along with the magnificent cloister buildings and the 15th century refectory with glorious angel roof. Cleeve is situated in a beautiful countryside valley, ideal for walking and exploring.
Visit Cleeve Abbey
BUILDWAS ABBEY, SHROPSHIRE
The impressive ruins of this large abbey are close to the River Severn, and include a rare example of an unaltered 12th-century church with beautiful tile-floored chapter house. Its wooded setting makes Buildwas a private and peaceful space. Wenlock Priory is a short distance away, along with the Iron Bridge.
Visit Buildwas Abbey
WENLOCK PRIORY, SHROPSHIRE
For a demonstration of Cluniac architecture in all its elaborate glory, look no further than Wenlock Priory. Much of the intricate decoration here still survives, including parts of the great 13th-century church. Close to the beautiful town of Much Wenlock, this holy place is a perfect escape. Visit the topiary-filled cloister garden for some quiet contemplation, and admire the octagonal 'lavabo' water vessel built in around 1220 for monks to wash their hands.
Visit Wenlock Priory
LINDISFARNE PRIORY, NORTHUMBERLAND
Completing our list of peaceful places to escape is Lindisfarne Priory. On Northumberland's famous Holy Island and only reachable by a causeway at low tide, the priory is the ideal place to escape daily life. Lindisfarne was founded almost 1,400 years ago and was later at the forefront of Viking raids. The ruin also offers spectacular views of the island, and the adjacent coastline is popular for hiking and exploring. Few places in England are quite as peaceful or as restful as this unique hideaway.
Visit Lindisfarne Priory