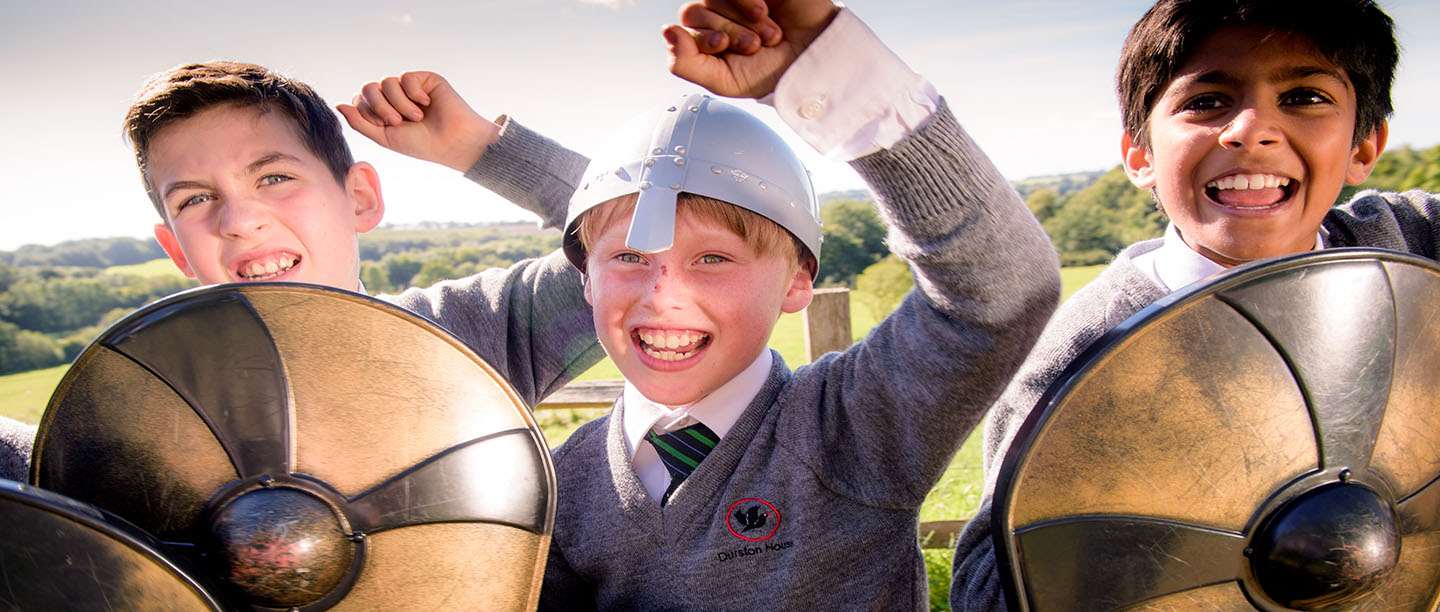 Schools
What better way to learn about 1066 and the Battle of Hastings than by walking in the footsteps of William the Conqueror and King Harold at Battle Abbey.
"A fantastic educational experience for the whole class; the Battle of Hastings was brought to life with battle cries, sword swinging and fantastic scenery that inspired all the pupils."

Hannah Vaghan
KS2 teacher
Curriculum Links
Step back in time and bring 1066 and the curriculum to life:
KS1-3: Local history study
KS2: Edward the Confessor and his death in 1066
KS3: The Norman Conquest
KS3: The development of Church, state and society in Britain
KS3: Religion in daily life
KS4: OCR: History A; Study of the historic environment. History B; History around us, British depth study, The Norman Conquest 1060 - 1087. AQA: Section B; British depth studies including the historic environment, Norman England. Edexcel: Paper2B1; Anglo Saxon and Norman England 1060 - 1088.
KS5: OCR: Unit Y102/Y132; Anglo Saxon England and the Norman Conquest 1035 - 1107. AQA: Unit HIS2A; Conqueror and Conquest c 1060 - 1087. Edexcel: Paper 2, Option 2A.1; Anglo Saxon England and the Anglo-Norman Kingdom c1053 - 1106
KS2-3 Geography: Why did the battle take place here?
KS2-3 Drama: Become Saxon and Norman soldiers, charging up the hill
KS2-3 Religious Studies: Why was an abbey built on the site and who lived there?
Free Self-Led Visits
Enjoy a free self-led visit to Battle Abbey and design your own day to suit your curriculum needs. Use the activities in our new Teachers' Kit to show your students first-hand what it was like to be a Norman charging across the battlefield during the Battle of Hastings. Understand how it felt to be part of the Anglo-Saxon shield wall, or how the Norman cavalry helped them to victory. By standing on the battlefield where history was made your students can better comprehend the events leading up to the Battle of Hastings and beyond. Using our new Discovery Chest explore Battle Abbey and learn about the lives of the monks who lived and worked there through fun activities and handling items.
ENQUIRE NOW
Expert-led Discovery Visits
Our expert-led Discovery Visit is a great way to bring the Battle of Hastings to life. Pupils will dress up, handle weapons and delve deeper into this important subject and date in history. Just £100 per session (for approximately 30 pupils).
FIND OUT MORE
Plan Your Trip
We have a wide range of materials to help support your visit and make school trip planning easy. Our Teachers' Kits include activity ideas and practical tools such as Hazard Information Sheets and Risk Assessments to help you make the most out of your visit and create unique learning experiences before, during and after your trip. Use the contents page and icon key in the Teachers' Kit to access and download the most useful and relevant information for your class to suit your groups age range and key stage.
We also offer free planning visits for group leaders once you have made a booking. Our Education Booking Team are on hand to advise and help you create the best possible school trip to suit your needs and area of study.
Facilities

PARKING: Large car park near entrance for cars and minibuses; there is a daily parking charge. Town centre coach park in Market Road, a 10 minute walk.
ACTIVITIES: Free Discovery Chest can be booked in advance of your visit. Free downloadable resources on the website. Bookable workshops available by arrangement. Interactives available in the visitor centre. Playground area with picnic benches.
TOILETS: Toilets (including accessible toilets) at the visitor centre.
SHOP: Shop on site selling a books and gifts. Goody bags available to pre-order.
LUNCH: Picnic area with tables and benches for packed lunches. A large café on site. Seating available inside and outside the café.
ACCESSIBILITY: There are steps to some areas and a gravel pathway to help you avoid some of these. There are steep slopes. A suggested route for visitors with limited mobility is available upon request.
How To Book

03703330606

Education Opening Times

February and March - Wednesday to Sunday, 10.00 - 16.00
April to September - 10.00 - 18.00
October - 10.00 - 17.00
November - Monday and Friday, 10.00 - 16.00
December to January - Closed