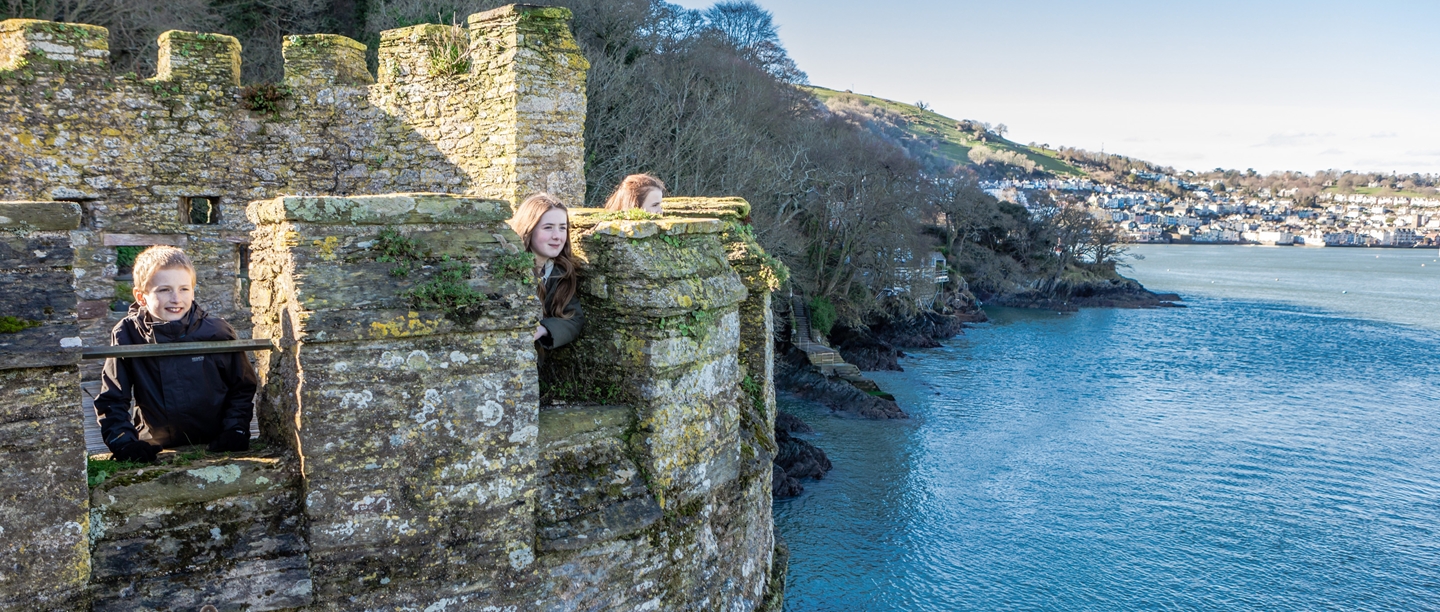 Schools
Begun in 1388 to protect the town and harbour from attack, Dartmouth Castle has been added to and updated over time, as it continued to protect the coastline for over 600 years. It has survived the Hundred Years War, the Spanish Armada, the Civil War and served in both World Wars, and this long history is now told through new multimedia interpretation.
Curriculum Links
Support your teaching in the classroom by stepping out of it. A visit to Dartmouth Castle will help you bring learning to life, covering multiple topics across the curriculum and Key Stages.
KS1 History: Significant historical events, people and places in the locality
KS2 History: A local history study. A study of an aspect or theme in British history that extends pupils' chronological knowledge beyond 1066
KS3 History: A local history study. The development of Church, state and society in Medieval Britain 1066-1509 and in Britain 1509-1745. Challenges for Britain, Europe and the wider world 1901 to the present day
Free self-led visits
Explore the Gun Tower, one of the first purpose-built coastal artillery forts in Britain. See the displays of weaponry and armour, try on helmets and handle cannon balls and shots. You can also see where the original medieval harbour chain was and how it worked, blocking enemy ships from entering the Dart estuary. Look out for interpretation around the castle to discover the story of Dartmouth during the World Wars and don't miss the open-air platforms for heavy guns and the Victorian gun battery, brought to life with a dramatic sound and light installation.
Enquire now
Plan your trip
We have a wide range of materials to support your visit and make school trip planning easy. You can find all our site-specific information and tools below, and for Covid-19 risk assessments and measures we've got in place please visit our what to expect page.
Download our free resources to help you make the most out of your visit and create unique learning experiences before, during and after your trip. We also offer free planning visits for group leaders once you have made a booking. Visit our bookings page to start planning your trip!
Facilities

GUN TOWER: Indoor areas are open; we ask that small groups of 15 access the Gun Tower at one time. Narrow stairways require careful negotiation to maintain social distancing.
PARKING: There is limited parking at the 'Pay and Display' car park located 12 metres from the entrance. This is not managed by English Heritage. Parking on the access road is free. Coaches are not able to access the narrow approach road to the site.
FERRY ACCESS: A local ferry service is available from the Ferry Dock in Dartmouth to the Ferry steps of the Castle. The service is bookable with the provider and payable directly to them.
TOILETS: The public toilets are open.
FOOD AND DRINK: You are welcome to bring a picnic to enjoy in the grounds. There are benches located around the site, and a small lawn area available for picnicking.
SHOP: The shop sells a range of English Heritage gifts and souvenirs. Please bring your students in supervised small groups of up to five.
Education Site Opening Times

We offer free self-led education visits during school term time*.

*Free education visits are not offered on UK public holidays or during the operation of additional fee paying public events at English Heritage sites.

April-October: Monday-Sunday 10-5pm
November-March: Saturday-Sunday 10-4pm