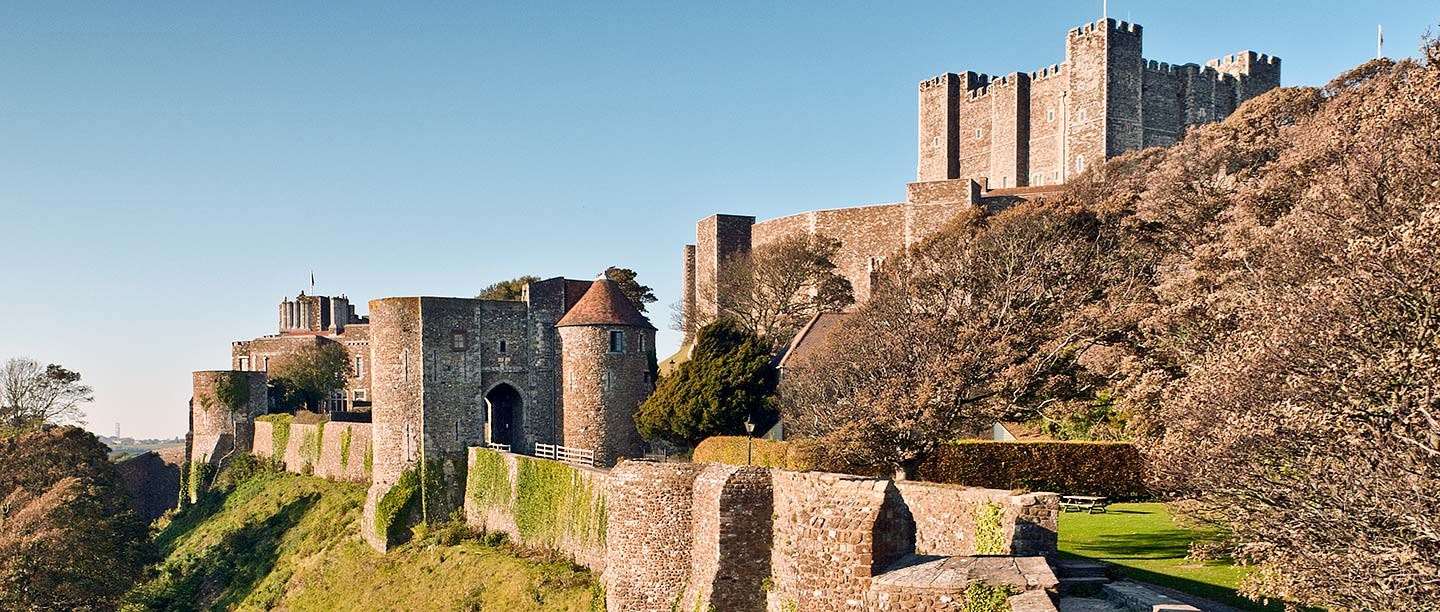 Dover Castle: History and Stories
Commanding the shortest sea crossing between England and the continent, Dover Castle has a long and immensely eventful history. Known as the 'key to England', this great fortress has played a crucial role in the defence of the realm for over nine centuries, a span equalled only by the Tower of London and Windsor Castle.
Find out more about Dover Castle's history below.
Dover Castle's History
The chalk of Castle Hill has been shaped and reshaped over the centuries into massive earthworks, ditches and mounds. Imposing walls and towers have been raised and networks of tunnels excavated beneath them. Henry II began the building of the present castle in the 1180s, and ever since its buildings and defences have been adapted to meet the changing demands of weapons and warfare.
The Dover Pharos: A Rare Survival
Within the walls of the medieval castle stands a much older building, dating from a time when Britain was an outpost of the Roman Empire. The Romans built a lighthouse here after they invaded in AD 43, to guide ships into the harbour.
The Dover pharos is now one of only three Roman lighthouses to survive from the whole of the former Roman Empire. It is also the most complete standing Roman building in England.
Read more about the Dover pharos on Google Arts & Culture
Dover in two world wars
Throughout the First World War, Dover harbour was one of the main links in the chain supplying Britain's armies in Europe. Thousands of soldiers came to the area to defend the port at all costs, with their headquarters at the castle.
During the Second World War Dover was again on the front line, against attack from both air and sea. From 1939 the tunnels in the cliffs beneath the castle housed the command centre for naval operations in the Channel, and it was from here that the extraordinary evacuation of the British Army from Dunkirk was masterminded in May and June 1940.
Read more about Dover's role in the Second World War – and watch this short film to see how English Heritage has restored an anti-aircraft gun used in the First World War and now at Dover Castle, where identical gun batteries were used to see off German Zeppelins.
Buy the Guidebook

Packed with plans, reconstructions and historic images, this guidebook tells the story of how the castle's defences were adapted to meet the needs of modern warfare right up to the Cold War.

Plans of Dover Castle

Download these PDF plans of Dover Castle to see how this great fortress has evolved over time.

Dover on the Front Line

This guidebook tells the story of how a network of tunnels, first cut within the white cliffs during the Napoleonic Wars, played a vital role in Britain's defences in the Second World War.