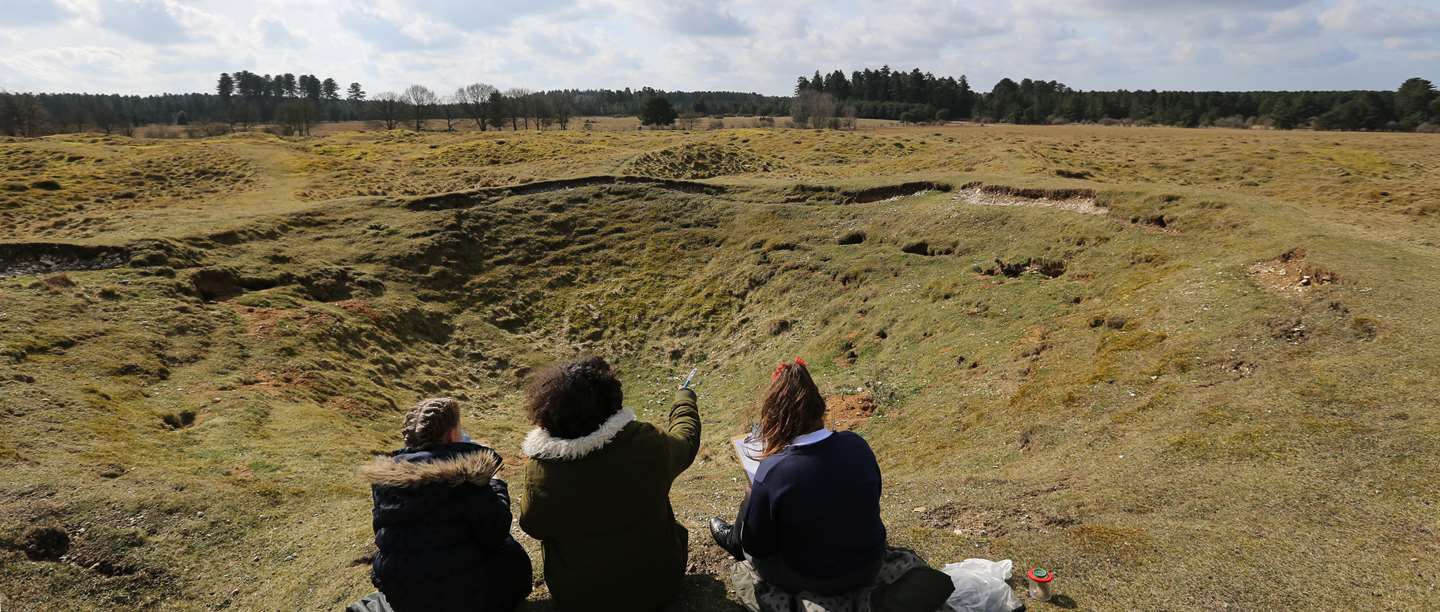 Schools
"The children loved walking around the site to see where other mine shafts were and how people worked down the mines. There has been so much follow up work based from the trip which has excited the children from written work to art, geography and of course history!"
Amy Dunning
Teacher, North Denes Primary School
Curriculum links
As one of the oldest industrial sites in Britain, education at Grimes Graves offers a fantastic insight into pre-history mining technology and the development in historic eras over the centuries.
KS2 History: Changes in Britain from Stone Age to Iron Age
KS3 History: An aspect or theme in British history that consolidates and extends pupils' chronological knowledge from before 1066
KS1-3 History: A local history study
Free self-led visits
Grime's Graves is the only Neolithic flint mine open to visitors in Britain. This grassy lunar landscape of 400 pits was first named Grime's Graves by the Anglo-Saxons, but it was not until one of them was excavated in 1870 that they were identified as flint mines dug over 5,000 years ago. A small exhibition area illustrates the history of this fascinating site. Visitors over the age of 10 can descend 9 metres (30ft) by ladder into one excavated shaft to see the jet-black flint.
Set amid the distinctive Breckland heath landscape, Grime's Graves is also a Site of Special Scientific Interest and a habitat for rare plants and fauna.
Please note that Grime's Graves has recently had a Health and Safety review and unfortunately this means that the pit cannot be accessed by children under the age of 10, this has been changed due to benchmarking from other tourism attractions including Go Ape and the Scouts. Please call us on 0370 333 0606 if you have any questions.
Find out more
PLAN YOUR VISIT
We have a wide range of materials to support your visit and make school trip planning easy. Download our free resources to help you make the most out of your visit and create unique learning experiences before, during and after your trip.
We also offer free planning visits for group leaders once you have made a booking. Our Education Booking Team is on hand to advise and help you create the best possible school trip to suit your needs and area of study.
Facilities

PARKING: Free car and coach parking, containing 50 spaces, approximately 500 metres from site entrance
SHOP: Shop selling a range of English Heritage gifts
EXHIBITION: Introductory exhibition at the visitor centre, which displays information about Neolithic mining
TOILETS: Two port-a-loos on site
LUNCH: Groups can use the picnic area
Find out more

03703330606

School visits from September 2020

Education bookings for learners of all ages and abilities will be open from 31 August, and you'll be able to book for visits from September 2020 to March 2021. If you already have a booking with us in that time, we'll be in touch over the next few weeks.

In the meantime if you have a query related to an existing booking or would like more information please email bookeducation@english-heritage.org.uk

We look forward to seeing you again soon.