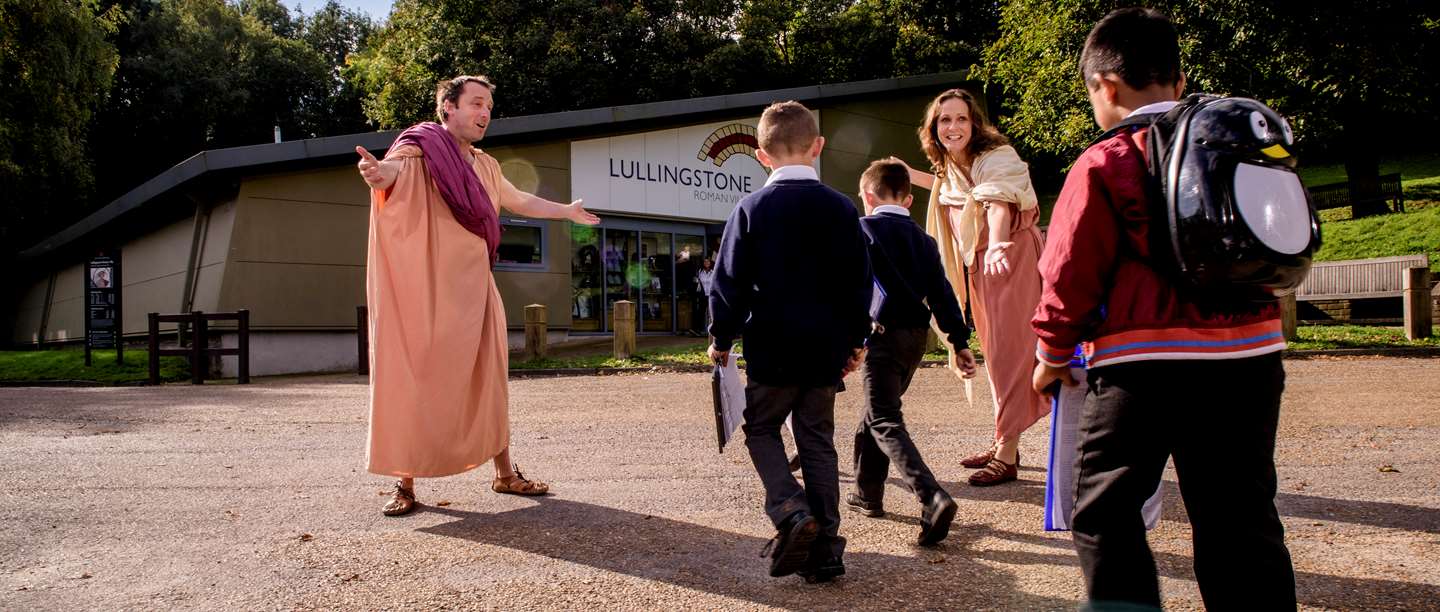 Schools
Lullingstone Roman Villa provides a hands-on insight into Roman Britain, and into the lives of the people who lived at the villa. Book a school visit to Lullingstone to bring the curriculum to life in a fun and engaging way.
Curriculum links
Lullingstone Roman Villa provides cross-curricular links across numerous subjects in a fun and engaging way.
KS1-3 History: Local history study
KS1-3 Art: See the beautiful mosaics and discover how they were constructed
KS2 History: The Roman Empire and its impact on Britain; the 'Romanisation' of Britain and the impact of technology, culture and beliefs
KS2 Geography: Discover why the villa was built in this location
KS2-3 Religious Studies: What is the significance of the house church?
KS3 History: Study of an aspect or theme in British history from before 1066
Free Self-Led Visits
Enjoy a free self-led visit to Lullingstone Roman Villa and design your own day to suit your curriculum needs. Lullingstone is one of the most important and complete Roman villas in Britain and its outstanding mosaics and a collection of finds shed light on the lives of its affluent Roman occupiers. Take advantage of our learning space complete with a birds-eye view of the villa's remains.
Enquire Now
Expert-Led Discovery Visits
Let our experts lead a hands-on Discovery Visit for you. At just £100 per session for a class of up to 30 pupils, they're a great way for your students to discover what life was like in Roman Britain, through exciting hands-on learning activities.
We're expanding our education opportunities at Lullingstone Roman Villa and are introducing new expert-led Discovery Visits, which will be available from April 2020. Please look out for further updates this winter.
Find out more
Plan Your Trip
We have a wide range of materials to support your visit and make school trip planning easy. Download our free resources to help you make the most out of your visit and create unique learning experiences before, during and after your trip.
We also offer free planning visits for group leaders once you have made a booking. Our Education Booking Team is on hand to advise and help you create the best possible school trip to suit your needs and area of study.
How to book

0870 333 0606

Education Opening Times

March: Monday, Friday to Sunday 10.00 – 16.00
April to September: Monday to Sunday 10.00 – 18.00
October: Monday to Sunday 10.00 – 17.00
November: Monday, Friday to Sunday 10.00 – 16.00
December to February: Saturday and Sunday 10.00 – 16.00