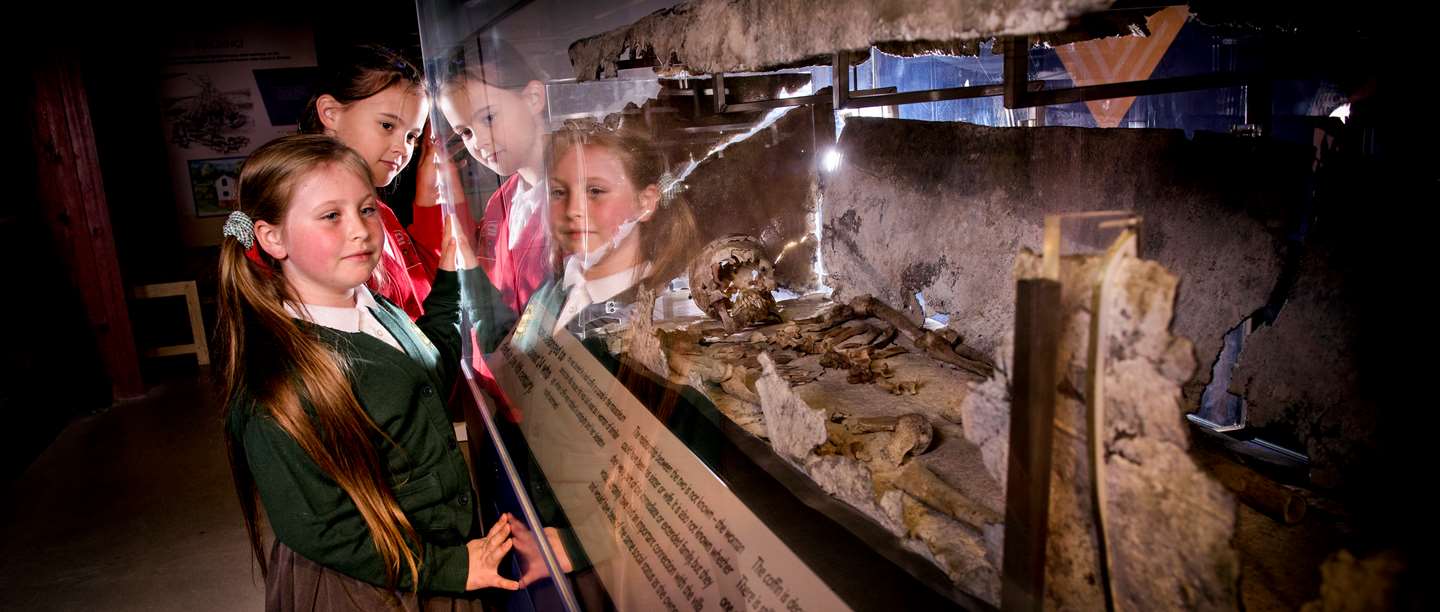 Schools
Lullingstone Roman Villa provides an insight into Roman Britain, and into the lives of the people who lived at the villa. Book a school visit to Lullingstone to bring the curriculum to life in a fun and engaging way.
Information about your visit
A visit to one of our sites will inspire your students and bring your teaching to life. We'd like to reassure you that we're following Government guidance to make your trip as safe and enjoyable as possible.
Important information to consider before you book:
To keep everyone safe we've introduced limits on visitor numbers and school groups, so please bear this in mind when booking your trip.
Find out more about what to expect on your school visit, which also includes our Covid 19 Risk Assessment.
To make the planning process as easy as possible, make sure you check our Plan Your School Trip section at the bottom of this page, for updated information on the facilities at the site as well as our free resources.
As usual, you'll need to book your visit at least 14 days in advance. Please check our Terms and Conditions for full details.
Although is it not a requirement, any teachers, parents, or students aged 16 years can check in via the NHS Test and Trace app, using the NHS QR code posters displayed at the site entrance. Please factor this into your travel/arrival time. For more information about how we are handling your personal data for NHS Test and Trace please visit this page.
We're continually updating our education offer in line with government guidance. Most of our English Heritage sites are now open, including indoor spaces and cafes. At some sites you might not be able to use our handling collections or costumes as part of a free self-led visit, but where we can provide hands-on items in a safe way we will. We've adapted our Discovery Visit workshops to follow government guidelines, but for certain sessions this hasn't been possible – please check our schools webpages for further information.
There may be areas of our sites which are closed, so please check what's available for your school group on our property webpages and with our booking team. They can put you in touch with our Education Visits Officers who can offer help and guidance, so you can make the most of your school trip.
Curriculum links
Support your teaching in the classroom by stepping out of it. A visit to Lullingstone Roman Villa will help you bring learning to life, covering multiple topics across the curriculum and key stages.
KS1 History: Significant historical events, people and places in the locality
KS1-3 Art: See the beautiful mosaics and discover how they were constructed
KS2 History: A local history study. The Roman Empire and its impact on Britain; the 'Romanisation' of Britain and the impact of technology, culture and beliefs
KS2 Geography: Human geography: types of settlement and land use, why the villa was built in this location
KS2-3 Religious Studies: What is the significance of the house church?
KS3 History: A local history study. A study of an aspect or theme in British history that consolidates and extends pupils' chronological knowledge from before 1066
KS3 Art: History of art, craft, design and architecture, including periods, styles and major movements from ancient times up to the present day
Free Self-Led Visits
Book a free self-led visit to Lullingstone Roman Villa and organise your day to suit your curriculum objectives. Lullingstone is one of the most important and complete Roman villas in Britain and its outstanding mosaics and a collection of finds shed light on the lives of its affluent Roman occupiers. Take advantage of our learning space complete with a birds-eye view of the villa's remains.
Enquire now
Expert-Led Discovery Visits
We aren't running Discovery Visits at this site at the moment – we're unable to adapt our sessions in a way that would still provide a quality, immersive education experience. We can get in touch with you once it's running again – just sign up below to be notified when bookings are open.
Register your interest
Plan Your Trip
We have a wide range of materials to support your visit and make school trip planning easy. Download our free resources to help you make the most out of your visit and create unique learning experiences before, during and after your trip.
We also offer free planning visits for group leaders once you have made a booking. Our Education Booking Team is on hand to advise and help you create the best possible school trip to suit your needs and area of study.
Enquire now

School visits

We're pleased to confirm we're now taking bookings online until 30 September. All bookings must be made at least 14 days in advance.

Our site staff and education team are still working hard to keep everyone safe and we continue to follow government guidance.

Due to the current situation we can't answer calls as quickly as we'd like to. If you'd like more information about a site, email us and we'll put you in touch with an Education Visits Officer.