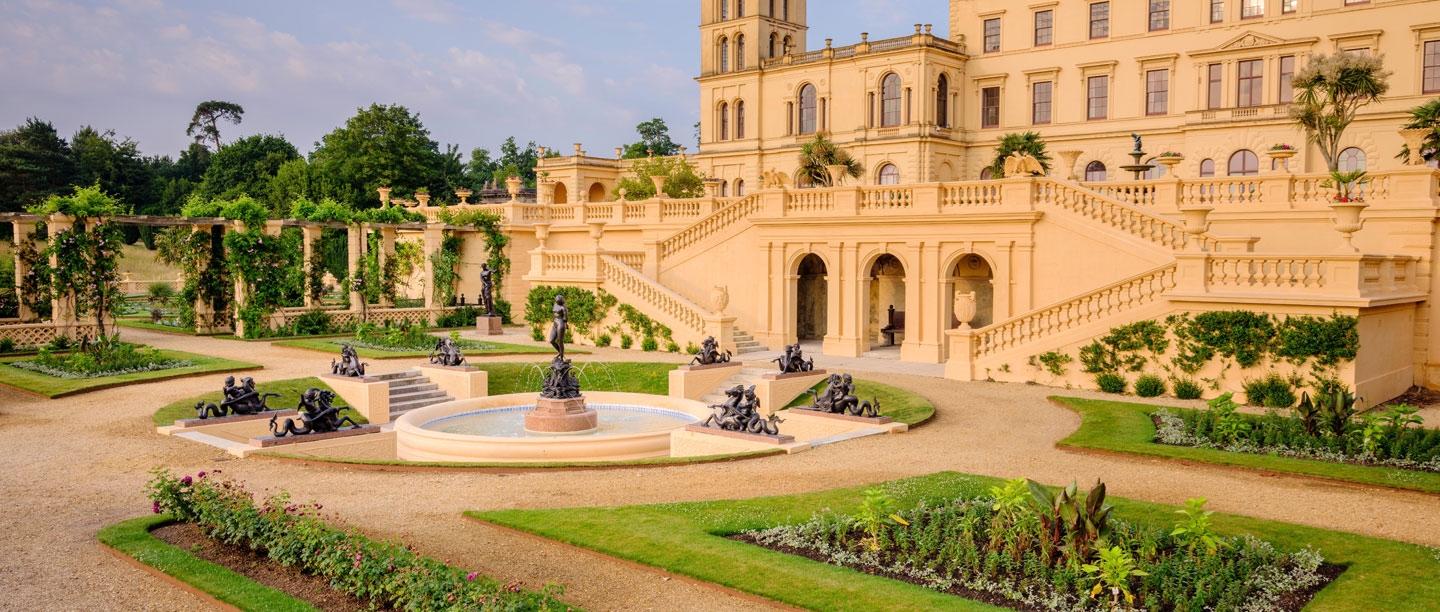 Osborne's Garden Terraces
Explore our ornate garden terraces on your visit to Osborne. Complementing the Italianate style of the house, the terraces feature striking flowering displays throughout the year, and offer a breathtaking view across the grounds.
Flowering Displays
Seasonal bedding displays were rapidly gaining popularity during the 19th century. New and faster modes of transport allowed new plants to be introduced from all around the world, and seasonal bedding became more fashionable as wealthy landowners sought to show off their horticultural prowess.
In the present day, Osborne's terraces are planted twice a year, with summer flowering plants from mid May and spring flowering plants from mid October. Each time the display is changed, it can take Osborne's team of gardeners up to five weeks to put as many as 20,000 new plants into the beds.
Enjoy our seasonal garden highlights
The Pavilion Terrace
Alongside Prince Albert and Thomas Cubitt, Ludwig Gruner, art advisor to Queen Victoria, assisted in the design of the terraces, and his influence helped to enhance their Italianate look and feel. Keep an eye out for statues depicting the Four Seasons here, as well as the alcove from which Victoria would enjoy her breakfast.
Writing of the rich variety of plants used in the Pavilion terrace plantings, Victoria described air thick with the scent of orange blossom, roses and jasmine. Today, the historic design of the bedding has been reinstated using plants introduced to Britain before Queen Victoria's death.
The Upper Terrace
The upper terrace is home to some of the most important plants in Osborne's collection. Against an outside wall lives the famous royal myrtle, grown from a sprig taken from the nosegay given to Queen Victoria by Prince Albert's grandmother upon leaving Gotha in 1845. Cuttings from this very plant have been used in royal wedding bouquets, including those recently held by Catherine, Duchess of Cambridge and Meghan, Duchess of Sussex.
Discover the story of The Osborne Myrtle
The Lower Terrace
In the centre of the lower terrace is the burbling Andromeda fountain, bought by Queen Victoria during the Great Exhibition in 1851. Sitting amid a crystal clear central pool, nearby is the ornate shell alcove, decorated with shells from Osborne's beach. Both the fountain and shell alcove were painstakingly restored as part of a project to rejuvenate the terraces, completed in 2017.
Explore our project to restore the Terraces