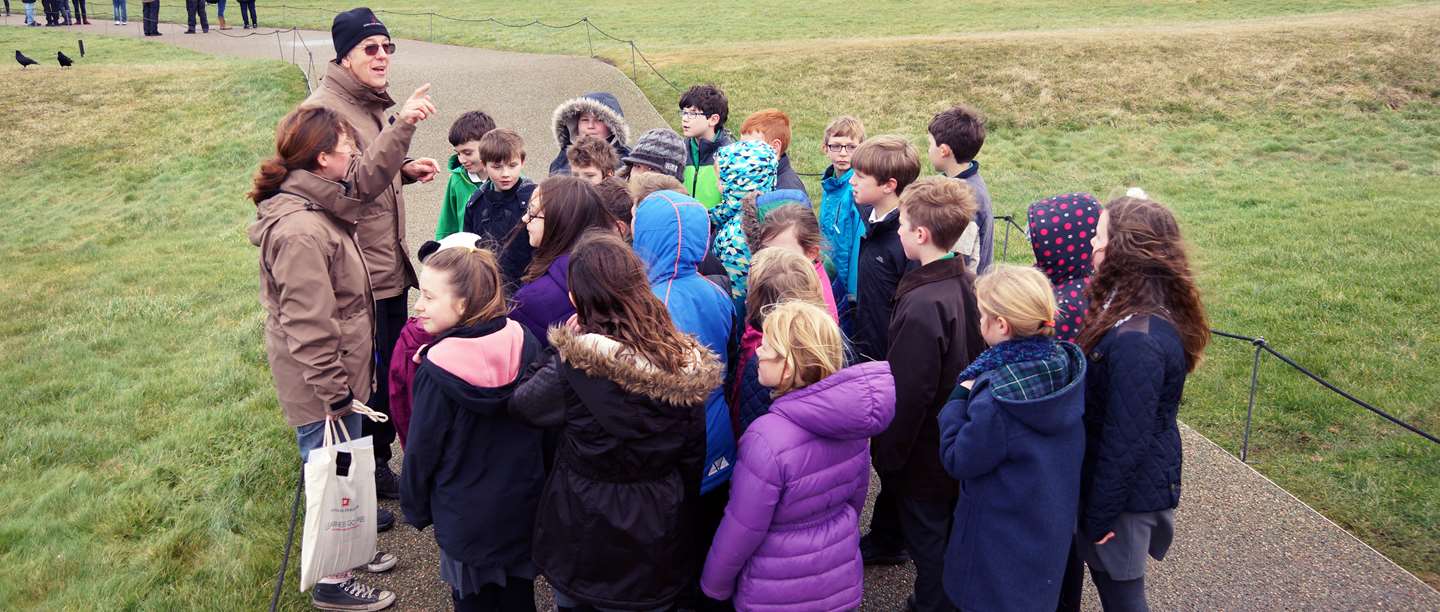 Schools
The world-famous Stonehenge has inspired people for millennia. Bring your school group and discover a fantastic range of cross-curricular options designed for every key stage.
"I loved today. It was really interesting. The bit in the Neolithic houses was cool. The volunteers taught us about the artefacts. The huts had flint axes, and red deer horns which were amazing! I want to be a pilot when I'm older, but if that doesn't work out, I'd like a job here!"

Year 7 Pupil from Stonehenge School, Amesbury
Information about your visit
Our number one priority remains the health, safety and security of all of our visitors, staff and volunteers. Our staff are still working hard to keep everyone safe and make sure you and your group have an enjoyable visit.
You and your group don't need to have a COVID Pass to visit, but please don't visit if you or any of your group have symptoms of Covid-19, have tested positive or if you've been asked to self-isolate. We'll always follow the latest government guidance, and if anything changes we'll update this page to let you know our plans.
Important information to consider before you book:
Face coverings are now legally required in all our indoor public places, including our visitor centres, shops, on all on-site transport, and in our cafes except when you are eating or drinking (unless exempt)
To keep everyone safe we're continuing to limit visitor numbers at some sites and in some indoor spaces. Please book as soon as possible to secure your preferred trip date and times.
In order to process your enquiry as quickly as possible, please ensure you have provided the following information, or have this information ready when you speak to one of our advisers: visit arrival and departure time; age range of the group; subject(s) to be studied; learning objective; number of learners and leaders; name of trip organiser; name of trip leader; SEND requirements. Go to our bookings page to make an enquiry or update an existing booking.
Find out more about what to expect on your school visit and make sure you download our COVID risk assessments; download a free copy of managing education visits during the pandemic and if you're participating in a Discovery Visit download our managing Discovery Visits during the pandemic risk assessment
To make the planning process as easy as possible, make sure you check our Plan Your School Trip section at the bottom of this page, for updated information on the facilities at the site as well as our free resources.
You'll need to book your visit at least 14 days in advance. Please check our terms and conditions for full details.
Although is it not a requirement, any teachers, parents, or students aged 16 years can check in via the NHS Test and Trace app, using the NHS QR code posters displayed at the site entrance. Please factor this into your travel/arrival time. For more information about how we are handling your personal data for NHS Test and Trace please visit this page.
At some sites you might not be able to use our handling collections or costumes as part of a free self-led visit, but where we can provide hands-on items in a safe way we will. We've adapted our Discovery Visit workshops to keep you and your group safe at all times, but for certain sessions we're still working on this – please check the Discovery Visit section and Facilities section on this page below for further information.
Enquire Now
Curriculum Links
Support your teaching in the classroom by stepping out of it. A visit to Stonehenge will help you bring learning to life, covering multiple topics across the curriculum and key stages.
KS1 History: Significant historical events, people and places in their own locality
KS1 Geography: Geographical skills and fieldwork
KS2 History: A local history study. Changes in Britain from the Stone Age to the Iron Age
KS2 Geography: Geographical skills and fieldwork: use fieldwork to observe, measure, record and present human and physical features in the local area. Human geography: types of settlement and land use
KS3 History: A local history study. A study of an aspect or theme in British history that consolidates and extends pupils' chronological knowledge from before 1066
KS3 Geography: Human geography: understand how human and physical processes interact to influence and change landscapes and environments
KS4 History: OCR Specification B 2c. Introduction to history around us
KS4-5 Business/Leisure and Tourism: Heritage Management
Free Self-Led Visits
Studying late Neolithic hunter gatherers and Bronze Age religion? We challenge you to find a better site to help you cover the topic than the world famous Stonehenge. It's a unique opportunity, whatever your area of study, for your class to explore the most outstanding prehistoric monument in the British Isles. Enjoy a free self-led visit and explore the site your way.
Download the Teachers' Kit below for information and activities to help you discover the story of Stonehenge, or use these resources available online:
Enquire now
Expert-led school visits
Let us help you inspire your students with our hands-on expert Discovery Visits, led by one of our experts and great value for up to 30 students.
Please note, only our Stones and bones: Stonehenge in its landscape (KS1-3) and Neolithic Life at Stonehenge (KS2-3) Discovery Visit sessions are currently available.
Find out more
Plan your trip
We have a wide range of materials to support your visit and make school trip planning easy. Download our free resources to help you make the most out of your visit and create unique learning experiences before, during and after your trip.
We also offer free planning visits for group leaders once you have made a booking. Our Education Booking Team is on hand to advise and help you create the best possible school trip to suit your needs and area of study.