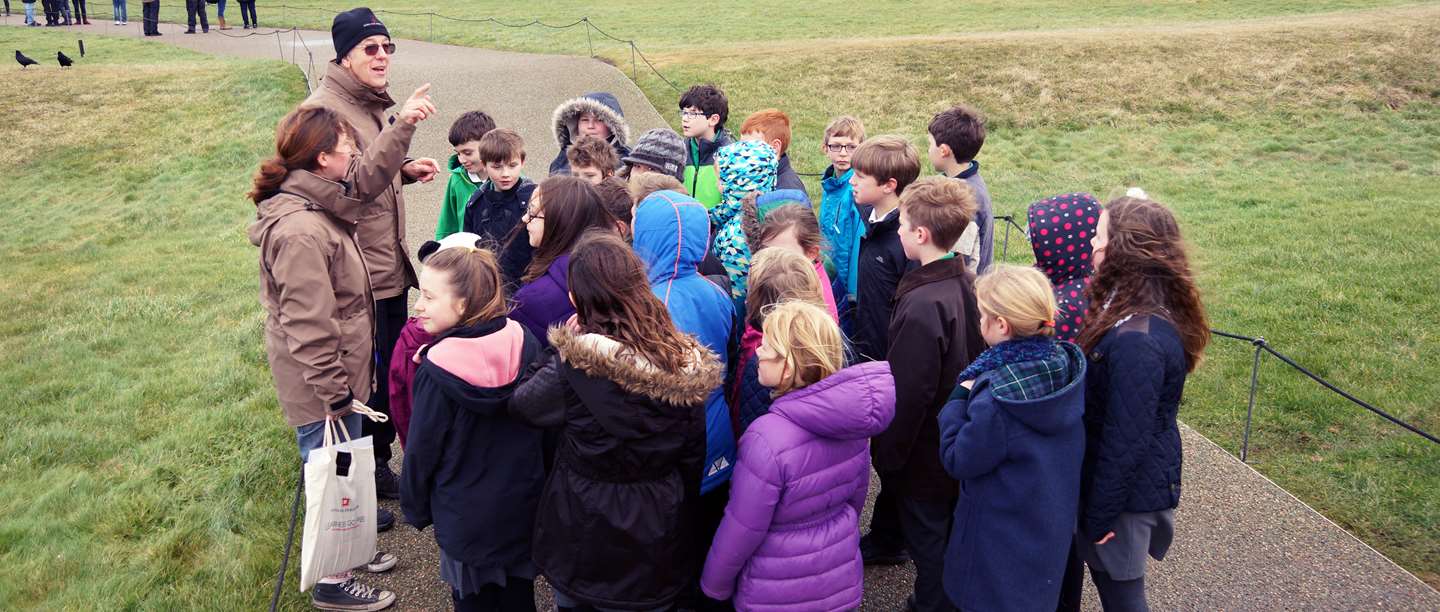 Schools
The world-famous Stonehenge has inspired people for millennia. Bring your school group and discover a fantastic range of cross-curricular options designed for every key stage.
"I found Stonehenge was a very enjoyable day. It made me think about Stonehenge even more".

Jack, Year 5 Student, Queen's Crescent Primary School
Curriculum Links
Support and your teaching in a fun and engaging way, with a visit to Stonehenge.
KS1 History: Significant historical events, people and places in their own locality
KS1-3 History: A local history study
KS1-2 Geography: Human geography; geographical skills and fieldwork
KS2 History: Changes in Britain from the Stone Age to the Iron Age
KS2-3 Design & Technology, English
KS3 History: Study of an aspect or theme in British history that consolidates and extends pupils' chronological knowledge from before 1066
KS4 History: OCR Specification B 2c. Introduction to history around us
KS4-5 Business and Enterprise, Heritage Management
Free Self-Led Visits
Studying late Neolithic hunter gatherers and Bronze Age religion? We challenge you to find a better site to help you cover the topic than the world famous Stonehenge. It's a unique opportunity, whatever your area of study, for your class to explore the most outstanding prehistoric monument in the British Isles. Enjoy a free self-led visit and explore the site your way.
Download the Teachers' Kit below for information and activities to help you discover the story of Stonehenge, or use these resources available online:
Enquire Now
Expert-led school visits
Let us help you inspire your students with our hands-on expert Discovery Visits, led by one of our experts and great value for up to 30 students.
Stones and bones: Stonehenge in its landscape (KS1-3)
Neolithic life at Stonehenge (KS2-3)
The business of heritage and tourism (KS4-5)
Find out more
Free travel to Stonehenge for local schools
Available from September 2019, connect with local history and bring your teaching outside of the classroom into a hands-on environment, with free bus travel to Stonehenge for local schools within a 10 mile radius of the site. Our bus will collect you and your class in the morning to bring you to the site, then take you back to school in the afternoon. There are 30 seats available for your students on the bus, and we can accommodate one class per day using this service. Because of this, places are limited and are allocated on a first come first served basis. Please book at least 2 weeks prior to your visit date.
Please contact Stephanie.Robbins@english-heritage.org.uk to book.
Enquire now
Plan your trip
We have a wide range of materials to support your visit and make school trip planning easy. Download our free resources to help you make the most out of your visit and create unique learning experiences before, during and after your trip.
We also offer free planning visits for group leaders once you have made a booking. Our Education Booking Team is on hand to advise and help you create the best possible school trip to suit your needs and area of study.
Facilities

EDUCATION ROOM: Our education room is available for either a morning or afternoon slot. This space has its own toilets, bag storage and an interactive whiteboard. Please note, it's mainly used for our expert-led sessions.
ACTIVITIES: Free explorer backpacks full of hands-on activities can be booked in advance of your visit. These include activities at the stones and in the wider landscape.
LUNCH: Packed lunches are available to order in advance at £4.25 per child, with a free staff lunch with every 10 packed lunches ordered. Please contact the Bookings Team for more information. There's also plenty of space for picnics for students to have their lunches. Unfortunately we do not have any indoor space for lunches.
PARKING: Free coach parking is available. A maximum parking of 2 hours is allowed on site.
Discovery Visits

Our Discovery Visit Guide provides you with everything you need to know about our expert-led Discovery Visits at Stonehenge. It includes a breakdown of the learning objectives and details on how to prepare for the sessions, plus ready-made Risk Assessments, to take the hassle out of planning.
Learning Resources

A Teachers' Kit is a free educational tool packed with everything you need to give your group a deep insight into the place you are visiting. Featuring historical information, suggestions for activities, and high-quality images, this resource is a comprehensive toolkit for group leaders of various subjects and key stages. Kits also include key site information, facilities, plans and hazard information.

With all history GCSEs now requiring a study of the historic environment, we've also created a site proposal form to help you with your planning in conjunction with OCR.

This Teachers' Guide supports the Stonehenge Through Time Activity, which you can add to your school visit booking. It includes prior learning suggestions, an activity guide and activity sheets.

The Explorer Backpacks are free to use during your visit and are filled with activities and resources to explore and discover Stonehenge. This guide includes a map of Stonehenge and activity sheets. Add the backpacks to your school visit booking.

TRANSLATIONS
How to book

0370 333 0606

Education Opening Times

March to May: 09.30 - 19.00
June to August: 09.00 - 20.00
September to October: 09.30 - 19.00
November to February: 09.30 - 17.00

Discovery Visits are available during term time and run from Tuesday to Thursday.